With just 48 hours notice, Dana Alvarez is Suddenly Audrey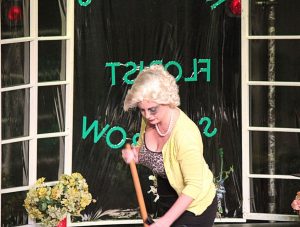 Little did Dana Alvarez know when she was cutting her thespian teeth as the swing on the Seminole Gulf Railway Murder Mystery Train that she was developing a much-needed niche skill. But her ability to step into a role on moment's notice is exactly what Director Tyler Young needed on Wednesday, when he got the go-ahead to bring the final weekend of Little Shop of Horrors to the Cultural Park Theater stage after it had be cancelled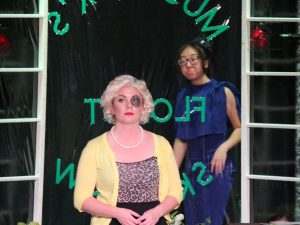 earlier in the month due to a COVID-19 exposure. Although he and the cast were pinging off the walls to do the musical's final three shows, Erin Webb was no longer available to play the role of Audrey. Enter Dana Alvarez.
Alvarez is the Artistic Director of Melody Lane Performing Arts Center. A storied theater veteran, Alvarez is intimately familiar with both sides of the footlights.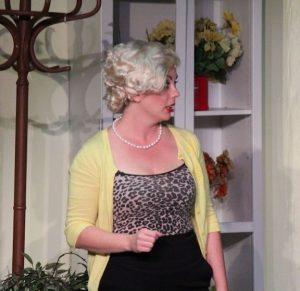 As a performer, she has appeared in the roles of Gertrude in Seussical, Marian in Music Man, Emma in Jekyll and Hyde and Nellie in South Pacific, all at Cultural Park Theater. On the other side of the boards, she has directed more than 25 major musicals, including three Disney pilot productions.
"I wanted to do Little Shop," said Dana a mere matter of hours before the show's Friday night re-opening. "I talked to Tyler back when he was holding auditions, but as I was juggling Peter Pan and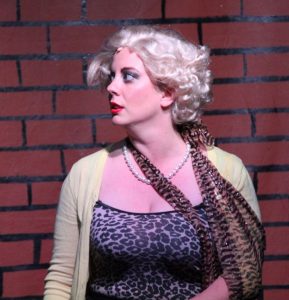 The 25th Annual Putnam County Spelling Bee as director for Melody Lane, there was no way I could make the time for all the rehearsals I'd need to be at in order to do Little Shop. But I did offer to be an understudy and come to a few rehearsals, but Tyler didn't think that was necessary."
Until Wednesday.
"He calls me up and asks if my offer's still stood." A nervous laugh echoes through the phone.
This isn't the first time Alvarez has stepped into a show at the last moment.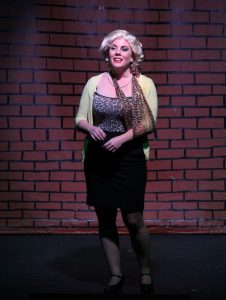 In addition to serving as swing on the Murder Mystery Train for two years, she filled in for Young last year during Cultural Park's run of Urinetown when one of the cast members had a conflict for a single show.
"But that time, I had two weeks to prepare and it was a much, much smaller part."
Audrey, of course, is the female lead in Little Shop of Horrors.
Young handed her the script on Wednesday night after she left Melody Lane for the day.
"I worked at the studio until 8," Dana recounts. "Tyler called Bobby [Rosso,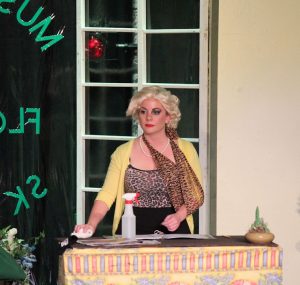 who plays the male lead, Seymour] and a couple of other cast members and we met at his office and worked about two and a half hours."
They read through the script and did a little bit of blocking, but spent the bulk of their time on the music.
"I'd never done Little Shop before," Dana continues. "I'd seen it. I've sung the music a million times in my car. 'Suddenly Seymour' is like everybody's go-to musical theater audition song.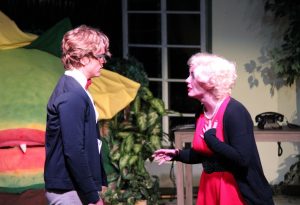 But even though I knew the songs that Audrey sings, there were still the speaking lines and where I was supposed to be in each scene."
She had less than 48 hours to put it all together.
In fact, she had just 20 or so hours before dress rehearsal, and everyone else in the cast was counting on her. After all, they didn't want the final three shows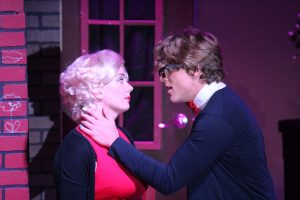 to be cancelled for a second, and final, time.
Alvarez was up until 3:00 a.m. on Thursday morning and awake again after a few hours of sleep. But somehow, she was ready by go-time for dress rehearsal at 7:00 p.m. that night. She gives Bobby Rosso much of the credit for getting her ready to go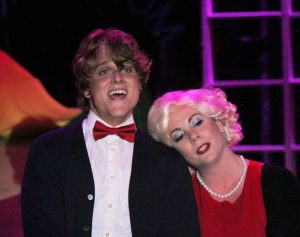 on stage.
"I couldn't have done it without Bobby. He's been my tutor. About an hour before the dress rehearsal started, he walked me through the entire show as far as where I needed to be and the props I needed to use. If it weren't for him, I wouldn't know what I was doing."
Rosso' stood in Dana's shoes. [Figuratively, not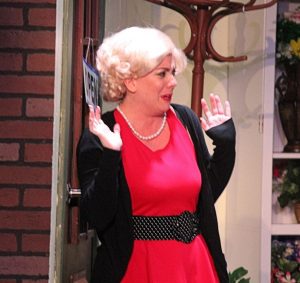 literally.]
Rosso himself joined the production during the musical's first tech week, when the actor who'd originally been cast in the lead had to bow out unexpectedly. In a short amount of time, Rosso learned not just his, but every line and lyric of every single character in the show.
"He's a pro," Dana effuses. "I worked with him a few years ago. I haven't seen him like this, though. From start to finish he's amazing."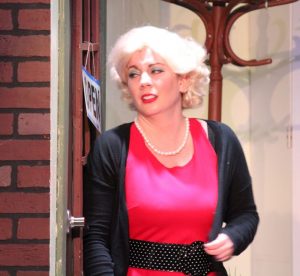 As is Alvarez, who clearly works well under pressure.
"Theater stress is a positive stress," Dana demurs.
Because of her duties first as a teacher at Oasis Elementary (where she founded the musical theater program) and now at Melody Lane Performing Arts Center, Alvarez has not had the chance to act as much as she'd like over the last dozen years. So she's enjoying every second of the sudden chance to be on the other side of footlights.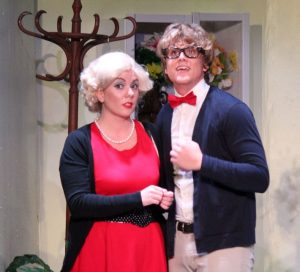 "Just focusing on my part is actually a lot less work than directing a show, where you have to know every line and every lyric that's recited or sung by every character. This is kind of a vacation from the way I normally do theater. I'm not worrying about the seating, the lights, sound or the costumes."
Perhaps.
But there are only a handful of actors capable of stepping in to a major role at the very last moment.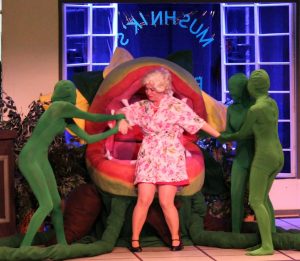 Erin Sisk did it in Andorra on just three hours notice when Danica Murray had to be rushed to Shands for a life-saving operation .
Jessica Walck has done it a couple of times at The Naples Players as well.
But you'd be hardpressed to find an actor or other performer who hasn't experienced the "actor's nightmare," a dream in which they are about to go on stage and cannot remember their lines, songs or rehearsal instructions. In fact, playwright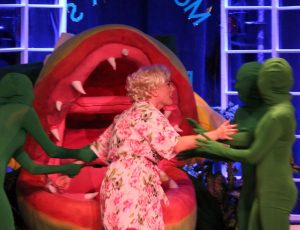 Christopher Durang even wrote a short comic play by that title that depicts an accountant named George who is mistaken for an actor's understudy and forced to perform in a play for which he doesn't know any of the lines.
"Now I'm living that reality," Alvarez quipped over the phone.
But by the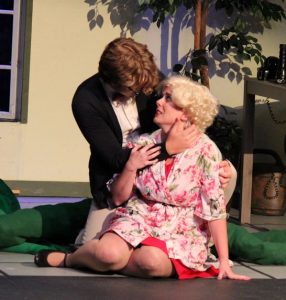 time of dress rehearsal, she not only knew the songs and all of her speaking lines, but most of her blocking assignments and what she was supposed to be doing with the various props interspersed throughout Mushnik's Skid Row Flower Shop.
"I was surprised by how much I retained in such a short amount of time," Dana remarks introspectively as the interview comes to a close.
And just like that, Dana Alvarez was Suddenly Audrey.
Enjoying every moment of her dream come true.
January 30, 2021.