'Five Times in One Night' reminds us of important universal truths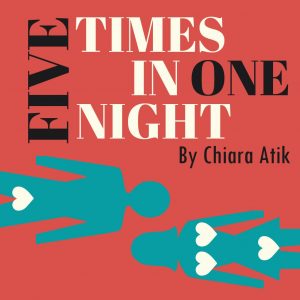 Chiara Atik's salaciously titled Five Times in One Night opens tomorrow night at Lab Theater. It's a comedy replete with an endless stream of easy, honest laughs. They come in two varieties. There are those that are situational in the best tradition of Will and Grace or The Big Bang Theory. But others, perhaps the preponderance of them, work to release tension. After all, any honest examination of the sex act and sexual mores invariably includes awkward moments, embarrassing revelations and painfully uncomfortable, oft-cringe-worthy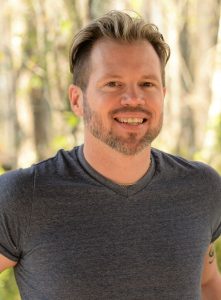 disclosures (think the bedroom scene in "The Power of No" episode of Everyone Loves Raymond). And there's oh-so-much sexual tension in Chiara Atik's masterfully-crafted script.
Atik subtitles her play "A Hilarious Exploration of Sex Through the Ages." In this vein, she takes us on a journey that begins curiously with Armageddon and ends inversely in the Garden of Eden. There are three stops in between these end points, with Chris Heartwell and Tamicka Armstrong playing the couples featured in each of the five vignettes.
Heartwell and Armstrong are sensational.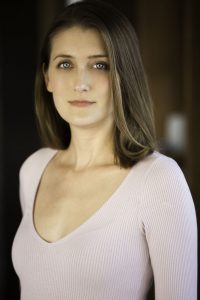 Both have hinted at being ready for leads in their previous roles. Heartwell distinguished himself in the Alliance for the Arts' fringe festival fundraiser Vampire Lesbians of Sodom and as the creation in Richard O'Brien's Rocky Horror Show for New Phoenix Theatre. Armstrong stole the show as polyamorous Pip in Lab's pre-COVID psychodrama How to Transcend a Happy Marriage and played Go to Hell Kitty and one of the merry murderesses in Cultural Park's production of Chicago.
In spite of – or perhaps because of – the sensitive subject matter that Chiara Atik tackles in the play along with the nudity included in final act and Madelaine Weymouth's relentless and uncompromising direction, Heartwell and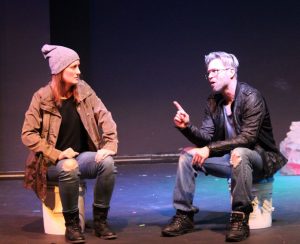 Armstrong seem to have developed a great deal of chemistry on and off the boards. But because their characters and the storylines in the first four acts place them at odds with one another, they're required to conceal their connection until the final act. And that makes what they've accomplished in this production all the more impressive.
For example, the first act takes place somewhere in the future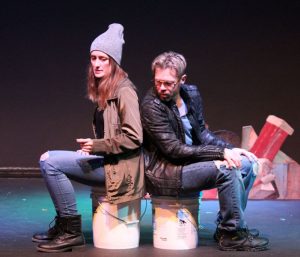 following a nuclear holocaust that has, to their knowledge and belief, killed every other human being on the planet except for them. [Too bad that Atik didn't premise this vignette on a rogue virus gone wild. Never mind, about now you'd probably favor a nuclear holocaust over another year or so COVID.] Rather than band together in an ongoing effort to survive in a post-apocalyptic world a' la Survivor, Mel and Djuan live in separate silos miles apart and rarely see each other.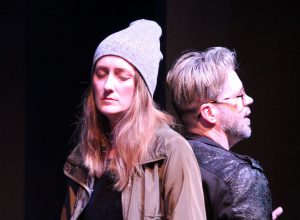 But now Mel is thinking that perhaps it's their responsibility to repopulate the earth. (Or maybe he's just horny and that's just his sounds-good argument for them hooking up.] She counters that not only doesn't she see how the math of that would work, but the very thought of him makes her want to throw up in her mouth. [I'm paraphrasing.] But when you drill down on what's really going on here,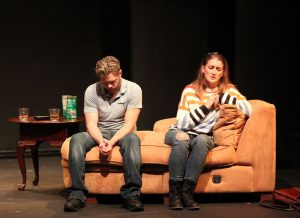 a universal truth comes to light. A man uses sex to connect with a woman. A woman needs to connect with a man before she can entertain the idea of intimacy. And wait until you see what Djuna devises to bridge that seemingly irreconcilable impasse!
The second act is also poignantly deceptive (or deceptively poignant). Without revealing what's going on between them, a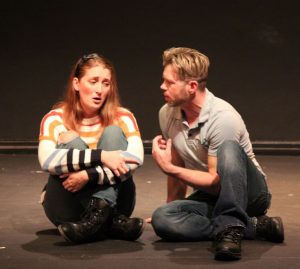 couple is spending a final night together before they go their separate ways. She's in love with him. He doesn't feel the same. That notwithstanding, she wants to make love one last time. And that's the universal truth that this vignette illustrates. Sometimes, sex can be that last good bye. Sometimes, sex can provide one or both partners with needed closure. But don't take my word for it. I refer you here to the resident philosopher of the Boomer generation, James Taylor. "Do me wrong, do me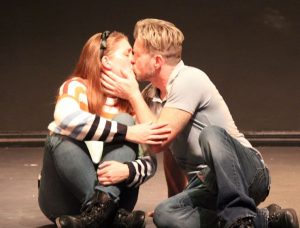 right, go on and tell me lies but hold me tight, save your goodbyes for the morning light, but don't let me be lonely tonight."
The third sketch is based on actual letters passed between legendary 12th century lovers Abelard and Heloise. He's a distinguished Parisian professor. She's a young impressionable student looking for an instructor. "Fuck Plato,"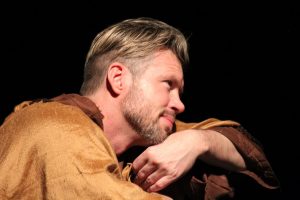 Abelard tells Heloise when she suggests that they need to spend more time studying the Greeks. He's distracted by more enthralling subjects and finds in Heloise an apt student and quick learner, if you catch my drift. If you're fan of or have ever read Boccaccio's Decameron or Chaucer's Canterbury Tales, this may prove to be your favorite vignette – especially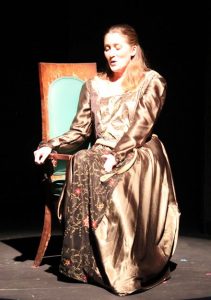 since the playwright and director cleverly couch the couple's exchange of letters as though they were modern-day texts or emails. But there's a darker modern-day metaphor at operation in this act of the play. For as charming as Abelard and Heloise may be in this vignette, the storyline nonetheless involves an adult teacher taking sexual advantage of an underage student. So if Act Three functions as a morality play in a #metoo and #timesup culture, the denouement could serve as a lesson to anyone in one in a position of power or authority who takes sexual advantage of a someone in their care or charge, regardless of age – the couple's assertions that "it was worth it" notwithstanding.
The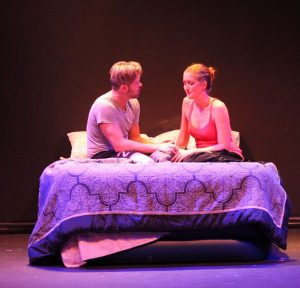 fourth act of Five Times in One Night is Atik's most brutally honest assessment of sex in modern times. It features a young married couple who've become bored with each other in bed. After saying some really horrible things to each other about what they're thinking about during the act, she blurts out [cue Gaga] that she likes it rough. The admission then leads to a spirited discussion of the things they can do to reinvigorate the lust in their flagging love life. It's tempting to be diverted by the specter of sex games. There are articles and guides galore on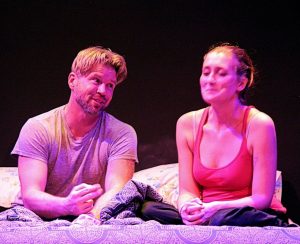 "tried-and-true techniques" to spice things up in the bedroom. But the message here is far simpler and straightforward. It's critically important to the health of any relationship to communicate honestly and often about what you want and need in bed. Since (harkening back to Act One) connection is key to creating the predicate for intimacy, communication is essential for connection. Or as sex and relationship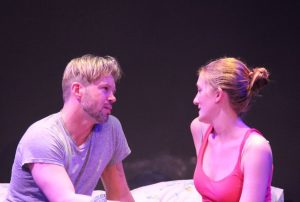 educator Kate McCombs points out, "When you avoid those vital conversations [about what you want and need in bed], you might avoid some awkwardness but you're also settling for suboptimal sex."
The final act has Heartwell and Armstrong recreate that storied day in June (June 9th to be exact) when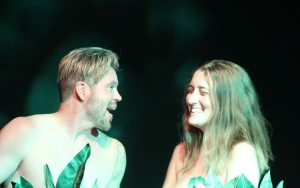 Adam and Eve invented sex. Atik's message here could n0t be any clearer. Between two consenting adults, sex is fun. Sex is innocent. Sex is full of discovery, wonderment and unabashed joy. No agendas. No power plays. Just pure pleasure and a sense of adventure. An essential biological act. As God intended. (After all, as Charley Harper once pointed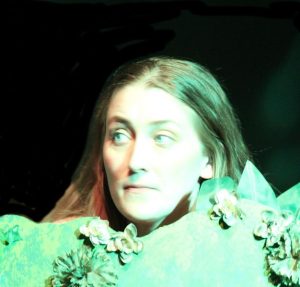 out, "Who gave me the penis, Alan?")
In addition to wonderful chemistry and handling a heavy line load with aplomb, Heartwell and Armstrong deftly display a constellation of complex emotions ranging from longing, loneliness and lust to anger, angst and awkwardness. Interestingly, their previous roles provided scant experience in navigating the motives and objectives underlying these types of feelings,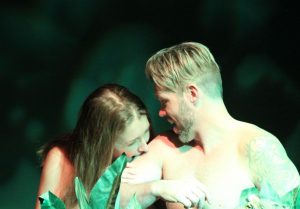 so it was clearly incumbent upon Madelaine Weymouth to convey her malleable young actors to the next level in their evolving careers – which portends well not only for them and the productions in which they're cast in the future, but for the theater-going audiences who catch their shows.
Lab Theater Artistic Director Annette Trossbach has long operated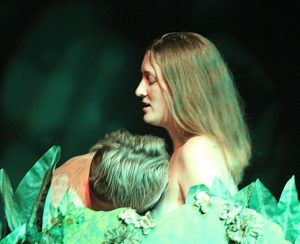 under the assumption that good theater should not just be entertaining and thought-provoking. It should serve as a conversation starter as well. By that standard, Lab Theater's iteration of  Five Times in One Night is destined to be an unqualified success.
"Five Times In One Night is a suggestive title that makes the show seem all about sex," observes Madelaine Weymouth. "[I]t is about sex, but [it's] not just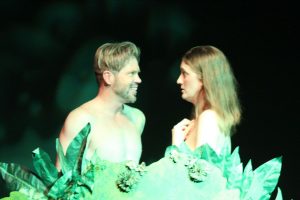 about sex. It's about emotion, vulnerability, communication, and negotiation. The show mirrors the act itself by being nuanced without being vulgar."
For all of these reasons, and more, it's a show you'll be talking about for quite some time.
January 27, 2021.