FSW freshman Scotty Wells up to the challenge of playing a 65-year-old in 'The Seagull'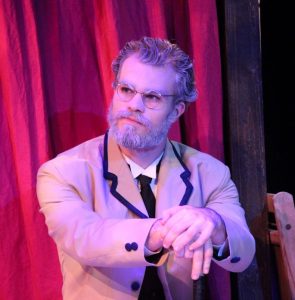 Scotty Wells is an FSW freshman majoring in theater. He plays Sorin in FSW's production of Anton Chekhov's The Seagull.
Sorin is the landowner of the estate where the play takes place. He spent his life working for a government office and retired to his country farm. His sister is Arkadina, a renowned Russian actress. Her son is Nikolai Treplev, an aspiring playwright with unpopular avant garde modernist views. During the course of the play, Sorin functions as a confidant and a compassionate admirer of both his nephew and sister's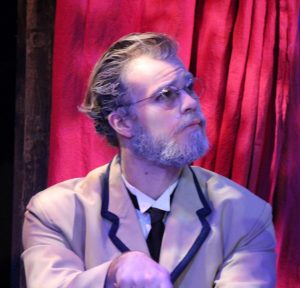 talents. He once wished to be a successful writer, but never acquired either wish. Wistful, nostalgic and wise, Sorin sees himself in the young Treplev and asks his sister Arkadina to be easier on Treplev's vulnerable confidence.
Here's the catch. Sorin is 65, more than 40 years Wells' senior.
"Playing age is one of the hardest things an actor can be asked to do," Scotty readily concedes. "And since this play is written in classical realism, it's a challenge making him real,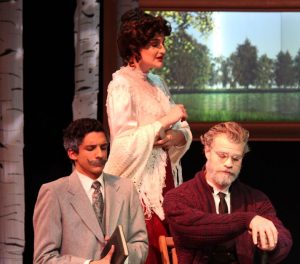 older and infirm."
Television and film provides numerous examples of actors portraying much older characters. Estelle Getty, for example, played the gray-haired mother on The Golden Girls, but she was actually the second-youngest member of the cast. Dustin Hoffman played a 121-year-old in Little Big Man, and Brad Pitt portrayed an old man who ages in reverse in The Curious Case of Benjamin Button.
But the burden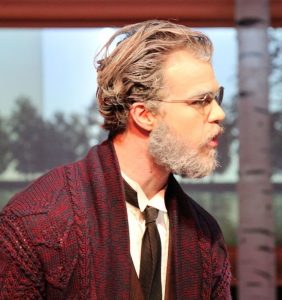 on stage actors to play much older characters is especially demanding since they cannot rely on many of the tricks of the trade employed in television and film by make-up artists, special effects technicians and lighting techs. Still it can and is done regularly. Perhaps the best example of an actor playing a much older character is Frank Ferrante who, as a 22-year-old, played Groucho Marx from age 15 to 86, a 70 year spread. And to play Sorin in The Seagull, Scotty Wells unknowingly followed Ferrante's advice.
"I looked at how young actors have performed much older people,"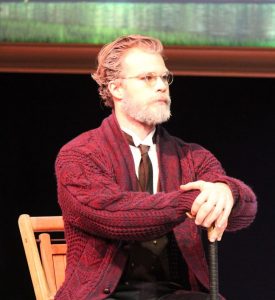 Scotty shares. "And I did do research on how other people played Sorin. But what I did most is to go places and watch how older people move – how they sit, stand up and walk. I spent a lot of time people watching in Barnes & Noble."
Ferrante had an advantage that Wells did not. He was able to study extensive footage of Groucho Marx, as well as audiotapes, interviews and letters.
But Ferrante found that the physical requirements of playing a much older Marx were surprisingly minimal – less is more.
Wells first looked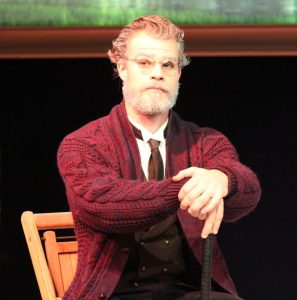 at the challenge from an engineering perspective, envisioning how the spine starts to slip and compress with age. That slippage manifests in a sunken chest and slightly rounded shoulders, not a hunched spine. The knees are also slightly bent, but aside from these structural changes, Wells concluded that the chief characteristic of older people is that they move more carefully than young or middle-aged people. They look where they're going and concentrate on where they are stepping. As a result, they move a little slower,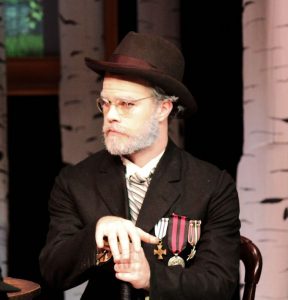 but their slower pace is a function of caution rather than diminished energy or vitality.
This latter observation plays out even more when the person is using a cane.
"So when I was people watching, I was particularly on the look-out for anyone with a cane because I didn't want to look gimmicky in the scenes where Sorin walks with a cane," Wells adds.
In the final analysis, character, not age, informs mindset, and Wells never loses sight of this in his portrayal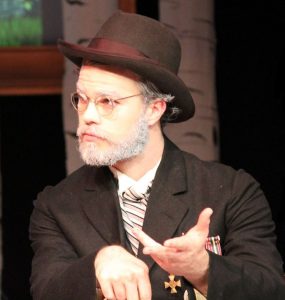 of Sorin.
"It's about finding the person and all the details that create who he or she is," observes Cheryl Stern, who plays two different 80-year-olds plus a number of other characters who range from 20 to 80 in Laughing Room Only starring Jackie Mason. Given that a character's life experience informs his actions, mannerisms and body language, Wells spent far more time researching his character's career as a state attorney than he did people watching and studying the movements of the geriatric set at Barnes & Noble.
Wells has been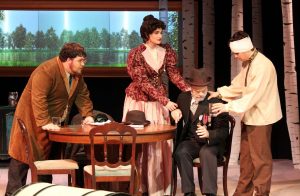 acting since he was a youngster. But he's turned up the heat in the last few years. He did a number of shows, particularly one-act plays, at Fort Myers High School. And in the last year, he's been in eight different shows at Florida Rep and Cultural Park Theatre, including Oliver (Bill Sikes), The Wizard of Oz (the cowardly lion), You're a Good Man Charlie Brown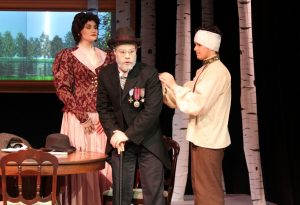 (Linus), Heathers (Ram), Newsies (four characters, including Spot Conlon and Bunsen), Metamorphoses and The Pajama Games (Prez) for Cultural Park.
Based on his cumulative bod of work, Wells believes that everyone should have to do theater at some time in their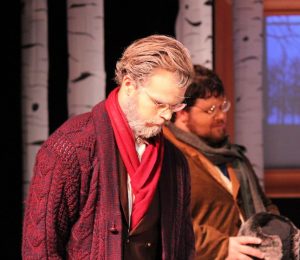 life.
"I was quiet as a kid, but I came alive on stage. Trying to understand other characters helps you understand yourself, and define your core beliefs and values. It opens you to a whole new world – emotions, ideas, thoughts and moral dilemmas you'd never before experienced and wouldn't otherwise have a chance to explore. It makes you a better person. Gives you more empathy and allows you to see the world with different sets of eyes."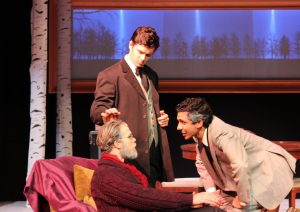 Informed by that experience and belief, Wells 20-year plan includes getting his AA from FSW, earning a BFA from a non-graduate program theater college, working in and out of theater for several years before going on to get a masters so that he can, in turn, teach theater to kids just like himself.
It's an ambitious agenda, but so is playing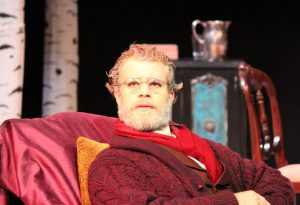 Sorin in The Seagull.
Wells seems up to both challenges.
November 15, 2019.