Rachel Burttram, a steady beacon during a year-long eclipse of live performances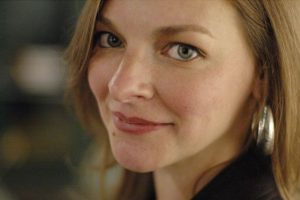 Yesterday was the first day of Spring. For millennia, the Spring Equinox has been regarded as a time of rebirth and cause of hope anew. Last year, marked the earliest Equinox in 124 years, but it will be remembered decades from now for ushering in the shut-downs fostered by the COVID-19 pandemic.
For the last year,
theaters around the globe have remained shuttered, with only hallowed ghost lights piercing the darkness. But in a 4 x 8 foot closet in a duplex here in Fort Myers twinkle lights have shined over Facebook Live, keeping playwrights, actors and theater-goers connected. Buoying their flagging spirits. Those tiny bulbs illuminate the brainchild of Rachel Burttram Powers – Tiny Theater,  whose very first performance took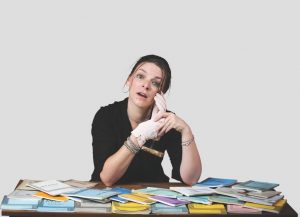 place exactly one year ago.
"When the pandemic struck, it [shook] the theater community to the core," observes Pat Erhardt, a Tiny Theatre playwright and "top fan." "Professional, regional and community theaters shuttered their doors, uncertain of when they would open again. But in mid-March,  Rachel Burttram Powers had an inspiration. Why not contact our playwright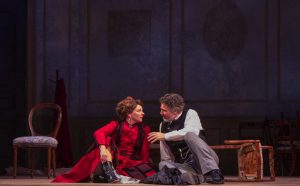 friends and ask them if we could have permission to read their plays on a Facebook Live platform."
No one would have blamed Rachel and her husband, Brendan Powers, had they instead given in to depression and despondency. Florida Repertory Theatre suspended its season the day before the first preview of Lucas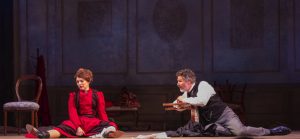 Hnath's A Doll's House Part 2. Cast in the starring roles of Nora and Torvald, Rachel and Brendan had just completed four weeks on intensive, daily rehearsals for the blockbuster show.
But the show's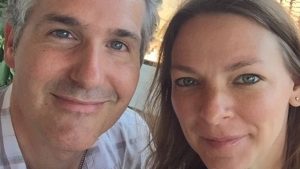 cancellation did not just deprive them of the joy of bringing A Doll's House 2 to the stage. When Florida Rep closed its doors, Rachel and Brendan suddenly found themselves unemployed. And to add insult to injury, they lost all of the bookings for their Air B&B.
"Strangely,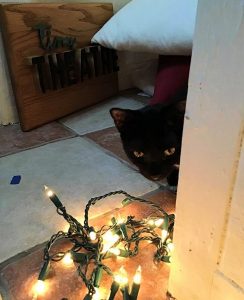 that ended up working to our benefit because we got to turn that side of the duplex into a studio," Powers recounts. "Rachel took a closet in one of the bedrooms, emptied it, hung a curtain, strung some Christmas lights and turned it into Tiny Theatre. So in a weird way, it all kind of worked out."
With their makeshift hippodrome now ready, Rachel began reaching out via the telephone and email to the playwrights she'd gotten to know and with whom she and Brendan had forged relationships over their more than 20 years in regional theater.
Her stage work has been seen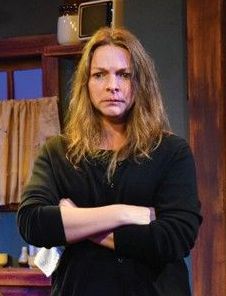 across the country – in venues ranging from the Actors' Theatre of Louisville in Kentucky, Penobscot Theatre Company in Bangor, Maine (where she received rave reviews for her fierce, feisty, angry and determined portrayal of a shattered Afghan war vet in Ugly Lies the Bone), Kitchen Theatre in Ithaca, New York (where she appeared in Mark St. Germaine's romantic comedy Dancing Lessons), The Hippodrome Theatre in Gainesville, Florida, Riverside Theatre in Vero Beach, Florida, Gloucester Stage in Massachusetts, Barnstormers' Theatre in New Hampshire, City Equity in Alabama, Geva Theatre, and various stages in New York City, including the prestigious Actors'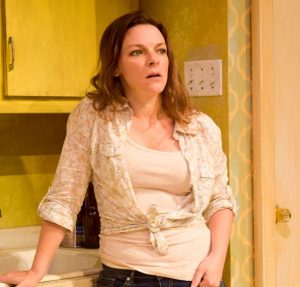 Studio.
Locally, she's been a Florida Repertory Theatre Ensemble mainstay for seventeen of those years. Over that span, the 2018 and 2019 Southwest Florida Broadway World Best Actress has performed in nearly 20 plays, including Steel Magnolias (Truvy), Audrey Cefaly's Pulitzer-nominated Alabaster, Disgraced, Outside Mullinger, The House of Leaves, Mark St. Germain's Best of Enemies, A Christmas Story, the world premiere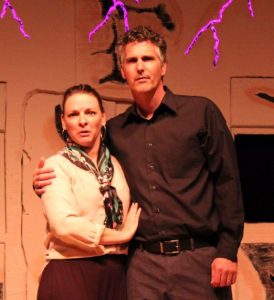 of Split in Three (Nell), Dividing the Estate (Mary Jo), Clybourne Park (Betsy/Lindsey), Other Desert Cities, Miracle on South Division Street, Talley's Folly and productions of August: Osage County, Trying, Doubt, and Amy's View. She's also been seen at the Alliance for the Arts in productions of Greg Lam's Dispossessed, Amy and David Sedaris' The Book of Liz and the Lillian Hellman classic Toys in the Attic.
And husband Brendan's resume is equally long and impressive.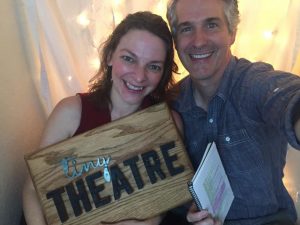 The playwrights' reception was overwhelming.
"Within weeks, hundreds of scripts poured in and Rachel's idea became a reality," Patrick Erhardt supplies.
Every one of them authorized Rachel and Brendan to perform their work on Facebook Live. In each instance, the rights were granted completely free of charge.
"To this point
we've done close to 80 episodes of Tiny Theatre and have worked with more than 50 different playwrights from around the world," Powers notes.
At first, Burttram and Powers performed episodes on Monday, Wednesday and Friday evenings. As the pandemic dragged on,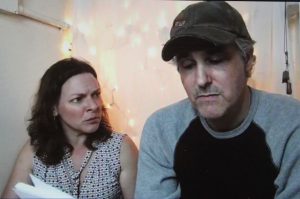 they downscaled to Wednesday evenings.
"But this month we're doing March Madness – one-page plays that we're doing each day," says Powers. "We don't disclose when, but at some point during the day, we go on Facebook Live and do a quick one-page reading."
The March Madness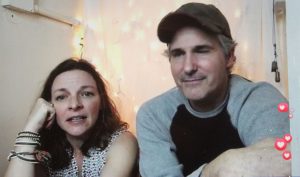 playwrights include Patrick Erhardt (T for Two), Florida Weekly theater-critic-turned-playwright Nancy Stetson (Footprints in the Sand, Just One Page), David Beardsley (Daydream #3) and Greg Lam (The Last Position). The remaining readings include:
March 22 UNPLANNED by Ben Scranton
March 23 JESUS FORGIVE ME by John Repa
March 24 UNTITLED by Jon Jory
March 25 THIS COULD HAVE BEEN AVOIDED by Ben Scranton
March 26 SCORE by Ben Scranton
March 27 WRAPPED UP by Ann-Marie B Zammit
March 28 MAKING MOM'S MOUSSE by David Beardsley
March 29 IS THAT WHAT YOU WANT? by Logan Toftness
March 30 MY BROTHER a song by Victoria Casella
Tiny Theatre's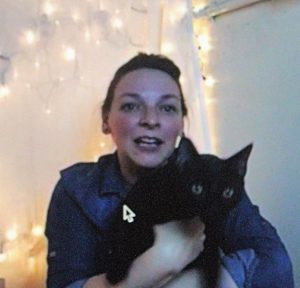 impact has been nothing short of a lifeline.
First and foremost, Tiny Theatre provided hope where despair previously prevailed. At first, it attracted Southwest Floridians and others who were yearning for something to replace the theater performances that had become integral parts of their lives. But over the past 365 days, Tiny Theatre's audience has morphed into a global community where people congregate virtually to quench their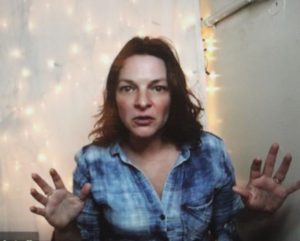 thirst for that unique connection between audience and performers.
"Rachel found one way to keep art alive and soon the Tiny Theater audience stretched around the globe," Patrick Erhardt remarks. "The plays were funny, sad, thought provoking and just plain fun."
To a person, Tiny Theatre audiences find Rachel and Brendan's on-camera banter and readings as flavorful and satisfying as their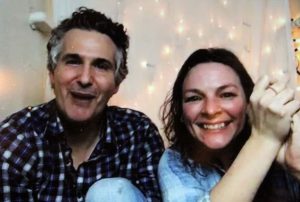 favorite comfort food. Some dress for the occasion. Many fix hors d'oeuvres and jiggers of martinis, or light candles and fill long-stem glasses with their favorite wines. Each performance is an eagerly-anticipated happening, and Tiny Theatre has taken on a life of its own.
"This outpouring of support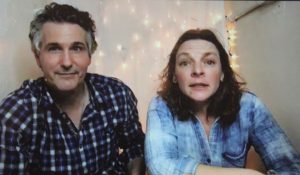 speaks to the value of the work created by Tiny_Theatre's founders," wrote Sarah Tietje-Mietz for American Theatre Magazine in a May 20, 2020 article titled "Closet Dramas From an Actual Closet."
And part of that value inheres in giving a voice to playwrights at a time when
they've been all but silenced.
"What I have admired so much about Rachel and the Tiny Theatre project is the celebration of playwrights and stage managers and designers," states Alabaster playwright Audrey Cefaly, whose Maytag Virgin marked Tiny Theatre's inaugural performance.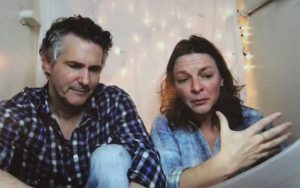 "Her choice to put non-actors in the spotlight gave hope and play space to so many of us during a really dark time."
"I think Rachel Burttram Powers has been amazing during this Covid Era," adds director/choreographer/actor Amy Marie McCleary. "What she has done is just awe-inspiring and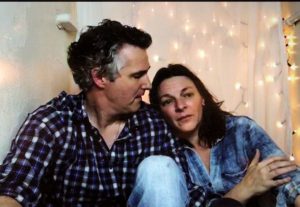 creative and SAFE. I think it is so important to highlight artists who have done the work without putting others' health in jeopardy."
Erhardt credits Rachel with "blast[ing] the trail for all the other virtual productions that followed in the year of Covid."
There exists evidence that the practice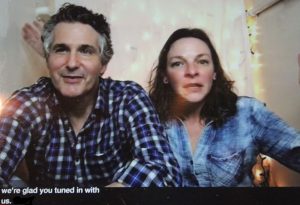 to doing virtual readings and short, livestreamed performances may continue even after theaters re-open their doors. It's a tried-and-true method for keeping both theater professionals, supporters and fans involved and engaged even when they don't have the time or money for dinner, drinks and theater.
But there's also the very real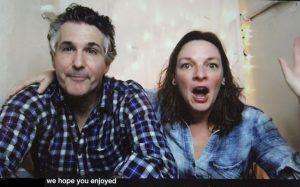 possibility that many of Tiny Theater's viewers will find their way to prosceniums in the very near future.
"People are tuning in to Tiny Theatre who did not previously consider themselves to be 'theater people,'" Powers reports. "They were referred to what we're doing by a friend or co-worker or just happened to come across us on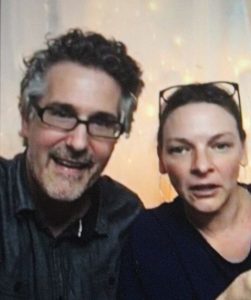 Facebook. But our Tiny Theatre community now includes quite a few people who've never been to a theater show in their lives. So the hope is that when things get back to the new normal, maybe they'll start going to the theater. It's very encouraging."
Encouraging. That's what Rachel has been doing throughout her theatrical career.
Just ask anyone who's ever been a cast member in one of her shows. She shares her knowledge, insights and experience freely in an effort to encourage their passion for performance and developing talent.
Through
Tiny Theatre (and her associated murder/mystery virtual show), she has also been encouraging actors, directors, crew and patrons to stay the course, remain invested and keep the faith.
She's been one of Southwest Florida's pre-eminent performing arts pioneers for almost two decades. In addition to her work on stage and through Tiny Theatre, she's starred in a number of films and, most recently, in the National Geographic series on the Mercury Seven Astronauts titled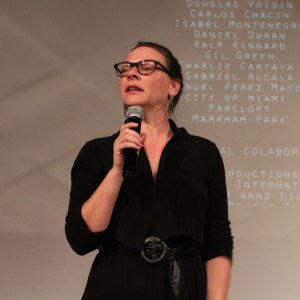 The Right Stuff as Gus Grissom's wife, Betty. Her work on stage and in film has set a high standard both locally and nationally. She's a role model to every female actor, regardless of race, ethnicity or age.
But being a steady beacon during a year-long total eclipse of live performance takes her role in advancing theater into the stratosphere. We all owe her a huge debt of gratitude. And for that, Art Southwest Florida is honored to recognize Rachel Burttram Powers in commemoration of Women's History Month.
March 21, 2021.