Gerrie Benzing leaving her mark by facilitating the 'Stars of Tomorrow'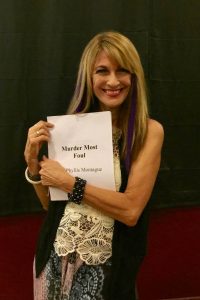 There are lots of ways to leave your imprint on theater. Annette Trossbach and Carrie Lund have founded theater companies and worked long and hard to bring quality shows to our local theater community. Patricia Idlette, Sonya McCarter and Cantrella Canady are paving the way for actors of color to take their rightful places on Southwest Florida stages. Amy Marie McCleary and Lauren Perry inspire current and future generations of thespians through brilliant choreography and leadership, while Sami Doherty is raising the barre through dance and musical theater. Jessica Walck advocates for the performing arts not only on behalf of The Naples Players, but all of Southwest Florida's theater companies, as does theater critic Nancy Stetson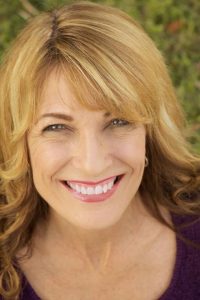 through her thoughtful reviews and recent segue into playwriting. Madelaine Weymouth is pushing the envelope and breaking through barriers through her direction and the earthshattering roles she courageously takes on. And Sonya McCarter and Kea McElfresh are finding innovative ways to inspire aspiring young actors.
And then there's Gerrie Benzing.
She's helping young actors here and around the world become the stars of tomorrow.
Most in Southwest Florida know Benzing through her on-stage performances.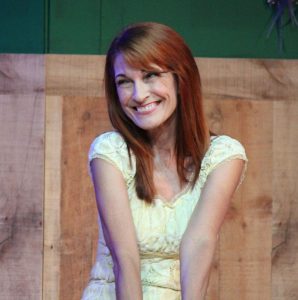 She has appeared in more than 14 productions at Cultural Park Theater, three shows at Lab Theater and made her debut at Theatre Conspiracy at the Alliance for the Arts in 2019 as Lucy and Tommy of No Consequence in Adam Szymkowics's Marian, or the True Story of Robin Hood, at New Phoenix Theater in 2020 in The Full Monty and later that same year at The Studio Players as Theresa in Circle Mirror Transformation.
Among her CPT acting credits are the iconic role of Ethel Thayer in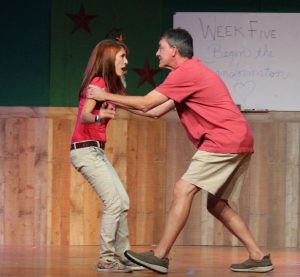 On Golden Pond, Harvey (for which she won a Cultural Park Theatre Best Actress Marquee Award for her portrayal of Veta), The Glass Menagerie (in which she was cast as Amanda), Dixie Swim Club (Sharee), Bella Manningham in Angel Street (Gaslight) (where Charles Runnells applauded the hysterical froth she worked up in the role of a "borderline bonkers housewife … driven to the brink by a husband with sinister ulterior motives"), Bad Seed (Christine) and Jack Neary's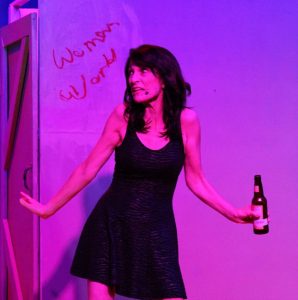 The Porch. For The Lab, she appeared as the lead in the world premiere of playwright Zalman Velvel's farce D.M.V., in Rick Abbot's Play On! (where she depicted a maddeningly meddlesome playwright), The Best Man (in which she played Mabel Cantwell) and Miss Witherspoon (where she played the part of Maryamma). And earlier this year, she commanded the stage as Theresa in Circle Mirror Transformation for The Studio Players.
Others know Benzing through her work as a talented director.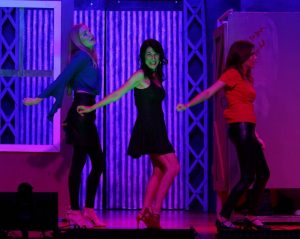 She's directed six mainstage productions at Cultural Park Theater, including Chicago (2019), Sister Act in 2018 (for which she won a Cultural Park Theatre Best Director Marquee Award), Boeing, Boeing in 2016 (for which she won as Cultural Park Theatre Best Director Marquee Award) and Peter Pan (for which she garnered a Cultural Park Best Director of a Musical Marquee Award in 2014).
But few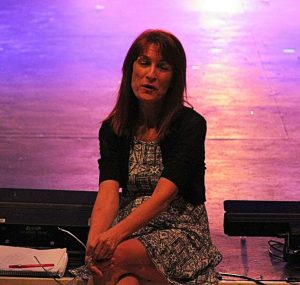 people in or outside of theater circles know about the work Benzing does to help aspiring young actors win auditions, land coveted roles and gain representation by talent agencies throughout the country.
Several years ago, she founded Monologues4Kids. As its Creative Director, Benzing quietly works behind-the-scenes to create custom monologues and scenes that children and teens can use when auditioning for roles or simply to refine or expand their acting skills.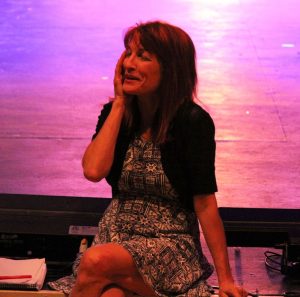 As any ambitious young actor or their stage mom or dad knows, finding good monologues can be a time-consuming and arduous process. To impress a casting director, judge at a thespian competition or talent agent, a monologue needs a hook. But it has to be more than just novel and compelling. It has to be short, crisp and easy to memorize. It has to have an unmistakable rhythm and cadence that makes it stand out from all the others that a casting director, judge or talent agent will be bombarded with during an audition or competition.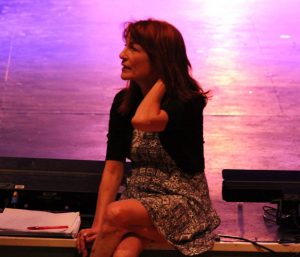 Benzing's monologues and scenes check all these boxes and more.
Of course, not every parent can afford or needs a customized monologue. Benzing is adamant about not leaving anyone behind. To help youngsters who fall into this category, Benzing has published six compilations of monologues for different ages and circumstances. For example, her book Duet Acting Scenes for Kids contains 27 original scenes for pre-teen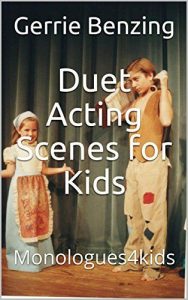 actors, while Duet Acting Scenes for Teens provides 16 scenes appropriate for kids 12 and older. There are also collections that celebrate sassy, strong divas (with such intriguing titles as "A Star is Born," "Fabulous Me," "A Diva's Life," "Dancing Diva," "Divatude," "Riding Fashionista" and "Senorita Populares") and nursery rhyme characters ("Just Call Me Bo," "The Story of Jack," "Little Red," "Closing Mother Gooseland," "Curlylocks" and "Sheep Hunter Jones in Raiders of the Lost Ark (well sort of)").
Each of the monologues in these and her other two books work synergistically to showcase the performer and enable them to own the moment. Clearly, the monologues are informed by Benzing's work on both sides of the boards.
But they also reflect her work as a theater instructor.
Prior to the suspension of classes due to the COVID-19 pandemic, Benzing had taught ages 4-7 and 8 and up at Cultural Park Theater, which has provided some of the best theater classes in the area for more than 30 years. Benzing has been an integral part of that equation since June of 1993. And it was there that Gerrie no doubt learned the importance of tailoring her courses at Cultural Park and her M4K monologues to each student/performer's level of interest, ability and experience while simultaneously making the class/monologue fun, engaging and impactful. Both are designed to ensure success and this, in turn, builds the kind of confidence that inspires a young actor to set and achieve aspirational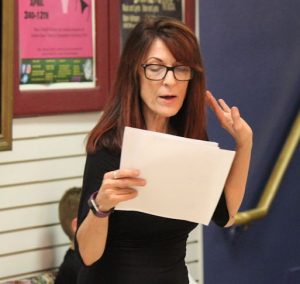 goals.
But there's another aspect of Benzing's monologues and courses that warrants mentioning, and that's their tendency to foster empathy. As any successful actor will attest, empathy is that essential quality that enables them to step into their character's shoes and give voice to their fears and desires, breathe life into their intent and motivations. For example, before the shutdown last March, Benzing wrote a play for her Cultural Park musical theater students about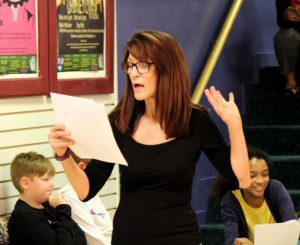 a boy trying to save the animals being displaced by the brushfires that consumed nearly 16 million acres of Australian habitat. The play made it possible for her students to process the horrific images they were seeing in the news by identifying with the people and animals affected by the calamity.
Just as Benzing knows both sides of the boards as both an actor and a director, she also realizes that in addition to enabling young actors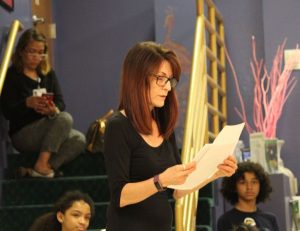 to have success in landing roles and representation, it is also imperative to help schools and theater companies create opportunities for them to display their skills, and toward that end she also writes one-act plays that they can produce to showcase young actors.  Not surprisingly, she's also published a book, 5 Plays, that is perfect for theater camp or school production with a Broadway theme.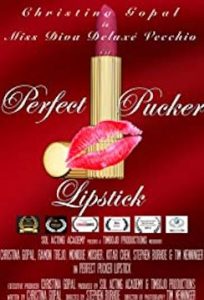 Benzing's work in creating, writing and publishing audition monologues, workshop scenes and one-act plays has attracted national attention. For example, authors Michael Rost and J.J. Wilson included a number of her original monologues in their book Active Listening. Her writing acumen also extends to film. She co-wrote the screenplay for the 2015 television pilot Perfect Pucker Lipstick directed by Stephen Burhoe, which helped launch the television series Diva's Perfect Posse.
Clients including Broadway actor Michael Fatica (Frozen, The Cher Show, She Loves Me, Newsies, Matilda, Groundhog Day and A Bronx Tale) and Sarah Salerno credit Gerrie with much of their success. While her actual reach through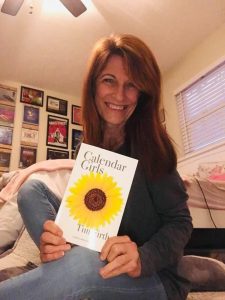 Monologues4Kids, the classes she's taught and those she impacted both as an actor and a director may be impossible to quantify, she indubitably influenced scores of young and adult actors not only here in Southwest Florida, but around the globe. And so in commemoration of Women's History Month, Art Southwest Florida applauds Gerrie Benzing for the role she plays in making theater bigger, badder and better than ever by helping facilitate the Stars of Tomorrow.
March 20, 2021.