Whether acting or directing, Madelaine Weymouth is pushing the envelope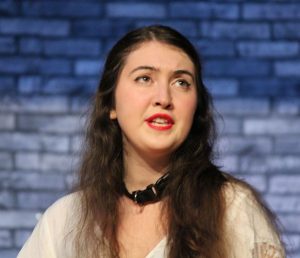 In commemoration of Women's History Month, Art Southwest Florida is recognizing women who are making theater bigger, badder and better than ever and today we honor Madelaine Weymouth.
Just as Artistic Director Bill Taylor and the Alliance for the Arts discovered that they needed to facilitate and encourage a pool of talented African-American actors in order to tackle plays by August Wilson, Lorraine Hansberry, Lydia Diamond and Ntozake Shange, theater companies ranging from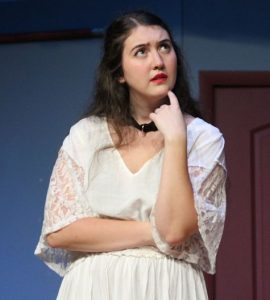 Lab Theater to The Studio Players and New Phoenix Theatre know that they must have courageous actors and directors in order to produce parodies such as Whatever Happened to Baby Jane and Hush Up Sweet Charlotte, cult classics like Rocky Horror and The Full Monty and risqué offerings that include Hedwig and the Angry Inch, Venus in Fur and Botticelli in the Fire. Madelaine Weymouth is one such actor and director.
Weymouth is emerging as a force not only the boards, but in the director's chair. You need look no farther for evidence of her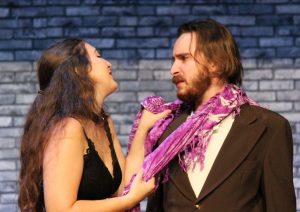 developing acumen than the job she did last month with Chris Heartwell and Tamicka Armstrong in Five Times in One Night. Both young thespians have shown great promise in their previous performances, but nothing in their prior roles prepared them for the constellation of complex emotions required by this play. So it was clearly incumbent upon Weymouth to convey her malleable young actors to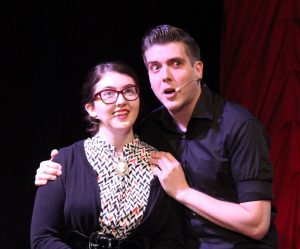 the next level in their evolving careers. While Heartwell and Armstrong deserve kudos for the break-out performances they give in Five Times, Weymouth's relentless and uncompromising direction obviously played a role.
Although Five Times in One Night marks her best and most ambitious directing gig to date, Weymouth has shown flashes of genius in her capacity as head of Lab's winter camp, where she co-directed the Lab's summer camp shows,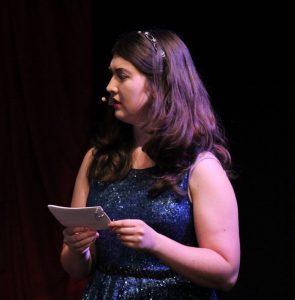 The Wolves (2019) and Evil Dead (2018). (She also had the distinction of directing the Audience Choice winner in Lab Theater's 2018 24-Hour Playwriting Challenge, Sunny with a Chance of Social Anxiety by Dave Matthew Chesebro.)
There's a reason she's so good.
Maddy is in touch – in touch with the issues that concern young people, in touch with trends in theater and film, and in touch with her own emotions and objectives.
"She really has her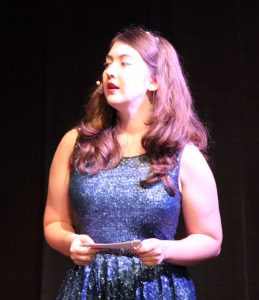 pulse on the cadence and vernacular of young people today," observes Lab Theater Artistic Director Annette Trossbach. "She effectively communicates and synthesizes information to her actors, and is exacting in seeing her vision through."
And this uniquely qualifies her to tackle the edgy, avant-garde stories that experimental community theater companies yearn to bring to the stage.
But Weymouth doesn't just talk the talk.
Madelaine Weymouth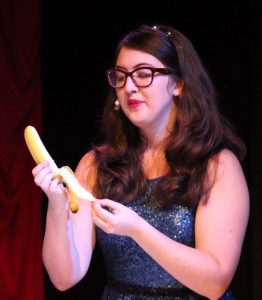 has the courage, conviction and commitment to tackle roles that push the envelope and redefine the boundaries of theater here in Southwest Florida.
The role of Vandy Jordan in Studio Players' production of Venus in Fur, for example, did not just require her to spend most of her on-stage time dressed in provocative lingerie. It compelled her to portray a manipulative, sexually aggressive woman who turns the tables on and outwits a director in a classic Harvey Weinstein setting. In Botticelli in the Fire, she not only plays Renaissance master Sandro Botticelli's incomparable muse, she channels the wife of a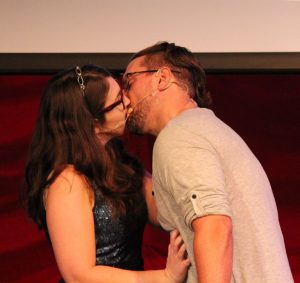 powerful authoritarian ruler who seduces his best friend and trusted confidant as pay-back to her husband for his dismissive, condescending attitude.
Her performances in both roles belie an astonishing understanding of the seductive process that vault her into a league with silver screen sirens Marilyn Monroe, Sharon Stone, Diane Lane and Marion Cotillard. It's not that the characters of Vandy Jordan and Clarice Orsini are sexy, but rather that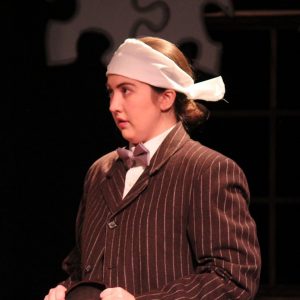 Weymouth reveals them as methodical, deliberate shapeshifters who've dispensed with the foolish prejudice of seeing love and romance as some kind of sacred, magical realm where things just fall into place if they're meant to.
As difficult as it is to play such bold, in-your-face women, Weymouth also possesses subtlety, as she demonstrated in her portrayal of diabolically plain and unassuming Robyn in Sex Tips for Straight Women from a Gay Man, and she's equally comfortable playing a man, as she proved to audiences' dismay and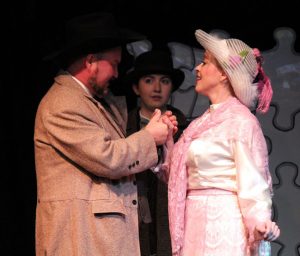 delight as Watson in Baskerville: A Sherlock Holmes Mystery.
Weymouth's versatility transcends gender, gender identification and purely dramatic roles. She's equally adept at both comedy and farce. In this regard, her other stage credits include Lab's production of Kayleigh O'Connell's Projekt Grotesquerie, I Put You in a Play, Boberg's Timer and Dash in the Middle in Lab Theater's inaugural Festival of Tens,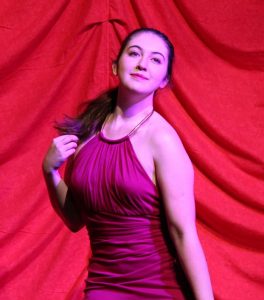 Serenity in And the Winner Is, Jessica in Hand to God and The Musical Comedy Murders of the 1940s. (Madelaine also played the part of Prosecco in Lab Theater's filmed performance of Tim Sniffen and Kate James' Realish Housewives of Fort Myers, along with the earlier virtual reading of the play. She also participated in two staged readings at the Laboratory Theater of Florida, the titular role in Julia, and Callie in Stop Kiss.)
Versatility aside, Weymouth possesses the spirit and bravery of a true pioneer. Her embrace of projects like Five Times in One Night, Venus in Fur, Botticelli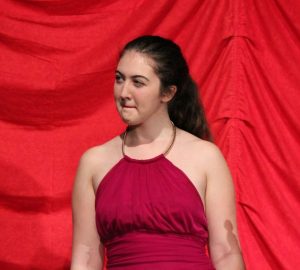 and Sex Tips places her at the forefront of defining intimacy issues in local theater and film. Through her work on both sides of the boards in these shows, Weymouth has gained an understanding of a subject in which few others are conversant on even a passing basis.
Notwithstanding the progress that's been made as a result of the #metoo and #timesup movements of recent years, theater and film still lags behind when it comes to making sure actors, directors and crew are comfortable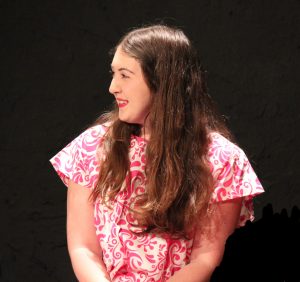 and protected when it comes to scenes that involve simulated sex, stage kissing or mere touching. The issues involved can be as simple as bad breath or a rash or cold sore that makes rehearsing or performing a particular scene awkward for everyone involved. But at the other end of the spectrum, a scene can resurrect a bad experience or sexual assault the actor experienced in real life. And while many actors achieve amazing chemistry over the course of a production, others do not and everyone needs to be reminded periodically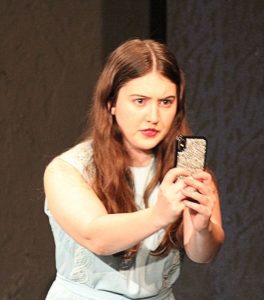 over the course of a show that the intimacy their characters are evincing on stage don't continue into the parking lot after rehearsal or the show comes to an end.
And so it is that Weymouth's work isn't just groundbreaking on stage. It's trailblazing behind the scenes and extends to every theater in Southwest Florida, whether they're producing comedies, drama or musicals.
Of course, Weymouth is just one person. There's a limit to the number of shows she can direct and roles she can perform in any given season.
But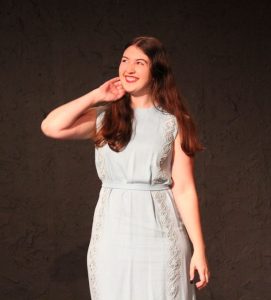 her example in accepting and discharging edgy, exacting projects will undoubtedly embolden other actors and actresses to explore the limits of their own sexuality and the range of characters they are willing to perform. This is a necessary step in the evolution of theatrical storytelling, and Weymouth is leading the way.
On top of directing and acting, there's an educational component to Weymouth's work in making local theater bigger, badder and better tomorrow than it is today. She shares her knowledge, training and experience with our next generation of actors, directors and crew. As head of Lab's winter and summer camps,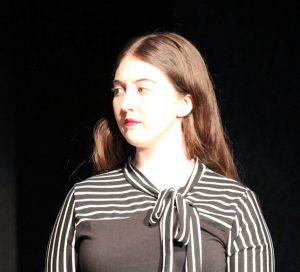 she's placing her imprint on untold numbers of the impressionable, aspiring young actors who will grace our stages in the years that lie ahead.
And so, Art Southwest Florida honors Madelaine Weymouth as part of its observance of Women's History Month.
March 19, 2021.