Michael Francisco Cherbini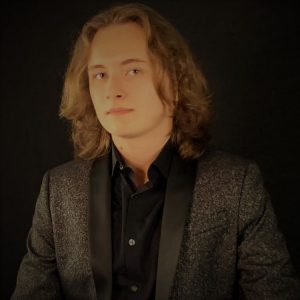 Michael Francisco Cherbini is a Cypress Lake High School Senior who is also enrolled in the Accelerated Collegiate Experience (ACE) Program at FGCU. He has been acting and singing in Southwest Florida for the past eight years. He belongs to the renowned TAG (The Acapella Group).
His prior theater credits include Frederic in Pirates of Penzance, Baby John in West Side Story, Koko in The Mikado and Ralphie Parker in The Christmas Story.  He appears next in the role of David Beckoff in Torch Song for The Studio Players and will appear in the upcoming film Last of the Grads.
"I am lucky to have found acting so young," says Michael. "It began when my music teacher, Beverly Maxwell, told me I could sing. She also gave me my first lead in fifth grade, Willy Wonka!"
Cherbini continued with vocal lessons under renowned Naples vocal coaches Carolann Sanita and Robin Frank.
"Opera Naples reached out, offering professional productions like West Side Story, where I played Baby John," Michael continues. "Most recently, I had the chance to be in an upcoming horror movie, Last of the Grads, playing Mutt, a psycho child. It was fun!"
Michael's goal is to continue acting and apply for Juilliard. His instrument of choice is the Baroque violin.
August 23, 2021.