'Torch Song' play dates, times and ticket information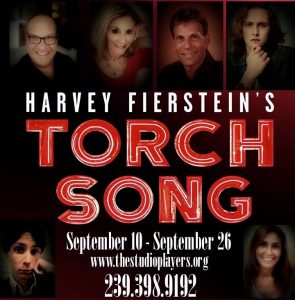 Play:  Torch Song
Playwright:  Harvey Fierstein
Synopsis:  The play follows a torch song-singing, Jewish drag queen by the name of Arnold Beckoff. Set in  New York City, the play dramatizes Beckoff's life from the late 1970s to the late 1980s. Told with a likable, human voice, Torch Song follows Arnold's odyssey to find happiness in New York. All he wants is a husband, a child, and a pair of bunny slippers that fit, but a visit from his overbearing mother reminds him that he needs one thing more: respect.
History:  Under the direction of Eric Concklin, Torch Song Trilogy premiered at La Mama ETC over the course of two years from February 1978 – October 1979. The play transferred to Broadway in June 1982 under the direction of Peter Pope. The two-act Torch Song revival premiered at the Tony Kieser Theatre in a Second Stage Theater Production on October 19, 2017 under the direction of Moisés Kaufman (The Laramie Project, Gross Indecency: The Three Trials of Oscar Wilde). Under the same direction, the play transferred to Broadway in November 1, 2018 at The Hayes Theater as a Second Stage Theater production.
Director:  Scott Lilly
Cast:
Perry Ventro – Arnold
Scott Davis – Ed
Patti Caroli – 'Ma" Mrs. Beckoff
Michael Cherbini – David
Stacey Boisvert – Laurel
Daniel Sabiston – Alan
Play Dates and Times: Torch Song runs for 11 performances from September 10 through September 26 on select dates.
Tickets:  Visit www.thestudioplayers.org or telephone 239-398-9191.
Location:  The Joan Jenks Auditorium in the Golden Gate Community Center.