Miguel Cintron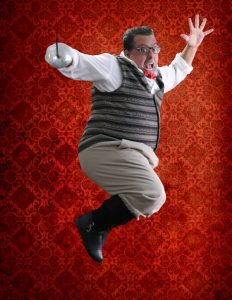 Miguel Cintron plays the dual roles of Robert and Thomas Colleymoore in Lewis, Sayer and Shields' farce The Play That Goes Wrong at Lab Theater.
Miguel's theater career is denoted by many highlights, but perhaps none as lofty as playing a sarcastically irascible Almighty in Lab Theater's An Act of God. Other stage credits include Usman in The Chechens for the Alliance for the Arts, Palomo in Anna in the Tropics, Yvan in Yasmina Reza's Art, as well as roles in Women in Jeopardy, The Gun Show (a single-actor tour de force in which he shared the playwright's unique perspective and true stories about America's love-hate relationship with firearms),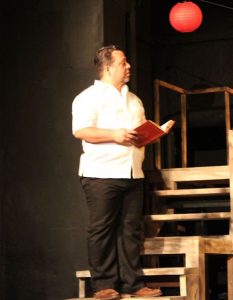 My First Time, Domestic Tranquility, Shipwrecked, Tower of Magic, Shakespeare Abridged, The Bible Abridged and Art of Murder, all for Theatre Conspiracy at the Alliance.
Cintron has also performed at The Herb Strauss Theatre, The Broadway Palm Dinner Theatre and the Florida Repertory Theatre. Some of his favorite shows are Into the Woods, Spamalot, Dirty Rotten Scoundrels, Lucky Stiff, Run for your Wife, Joseph and the Amazing Technicolor Dreamcoat, Aladdin, Buddy, and The Fantastiks.
Miguel has also worked as a standup comedian in Florida and New York.
He is a proud member of the faculty of Lehigh Senior High School, where he teaches English, speech, debate and theater. At Lehigh Senior, he also directs the Lehigh Senior High School Lightning Theatre. Among his directorial credits for the theatre are Midsummer/Jersey (Ken Ludwig's adaptation of Shakespeare's A Midsummer Night's Dream), 26 Pebbles and Madgascar.
December 15, 2019; revised August 22, 2022.