As Alliance Youth Theatre director, Carmen Crussard focusing on holding interest of young actors in a COVID world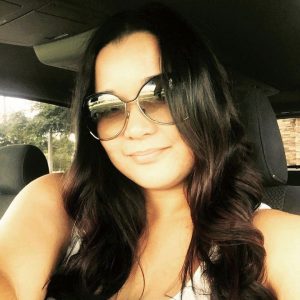 "The future of the arts is frightening," declares Carmen Crussard. "Especially for the theater community." She uttered this assessment several days ago. Before Cameron Mackintosh and his partners announced their decision to postpone their West End productions of Les Misérables, Mary Poppins, Hamilton and The Phantom of the Opera until 2021. Before Will Prather and his cohorts at Broadway Palm Dinner Theatre paused their reopening and postponed The Sound of Music until July 8, at earliest. But Crussard's concerns are focused –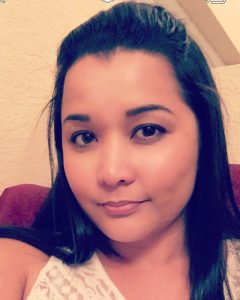 not on actors, director and producers like herself. Not on theater-goers either. But on the up-and-coming generation of thespians. You know, the ones who are in elementary, middle and high school right now – well, at least virtually.
And that's the problem.
While virtual theater may be the best we can do – all we can do – at present, it just doesn't speak to neophyte performers.
"It scares me and makes me sad. If we don't find a way to keep theater on their minds and keep them excited about creating art, they will lose interest.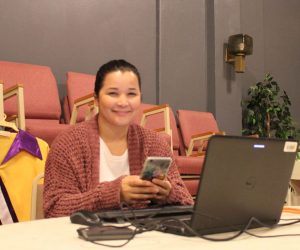 They will forget. That's what I am hearing back from parents."
And not just from parents whose child has just a mild or passing interest in theater, but from parents whose kids are fully committed. Dance lessons. Voice lessons. Auditions and appearances at multiple theaters throughout Southwest Florida.
"With no stage to perform on, it's hard to keep that interest going," Crussard remarks.
Crussard's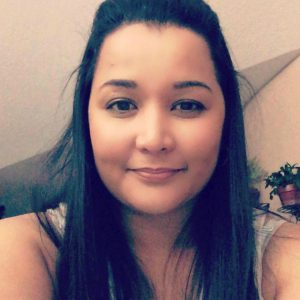 smart. She can be both analytic and intuitive at the same time. Her acting informs her directing and producing, and vice versa. And she's an aspiring playwright on top of all that.
But she's proudest and most protective of her accomplishments as director of the Alliance Youth Theatre, where she has directed such wondrously ambitious, wonderfully-staged and densely-packed musical productions as Pippin, The Hunchback of Notre Dame, Calvin Berger, Monty Python's Spamalot the Musical, Heathers the Musical, Almost, Maine, Peter Pan, Jr. and Xanadu, Jr.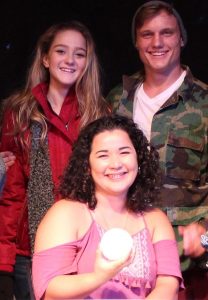 As a recruiter, she's the Nick Saban or Urban Meyer of the local theater scene. But the magic she's worked in these and other productions depends on attracting, exciting and cultivating a steady stream of young talent. And she fears that very stream could dry up if the moratorium on live stage productions continues too long.
In Crussard's opinion, two factors explain the lure of theater to kids 4 through 18.
The first is camaraderie. Pure and simple.
"And with a Zoom production, that's what you're eliminating."
Even more than adults, youngsters and especially teens live to be with their friends.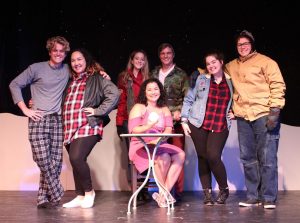 The glue that makes and binds fast friends is common interest … or in the case of theater, it's the uncommon and exceptional talent of acting, singing and dancing. Of creating a show that their family, friends and complete strangers can come and enjoy. It's a team dynamic that's every bit, if not more powerful than what athletes experience in football, basketball and gymnastics.
But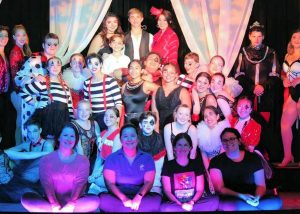 for that dynamic to exist and flourish, cast and crew need to meet, interact and work together from table read through the long, assiduous rehearsal process, which is where the true bonding actually takes place.
Carmen sums up the second factor with a single word.
Energy.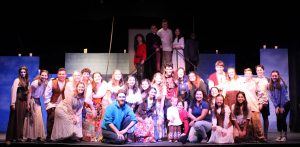 And as Einstein observed many decades ago, it operates on several interconnected levels.
"As actors we're taught to react to each other, to stay connected," Carmen points out. "We're taught the subtlety of movement and body language and how that is interpreted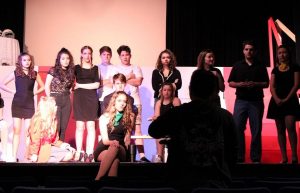 and the truth in the interactions between the actors. In a virtual setting, that's just missing."
It's not only missing between the actors sharing a screen in a Zoom production, it's missing for the audience as well. Audiences are voyeurs. We respond to the interaction taking place on stage. That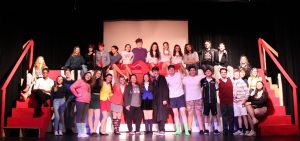 element is missing in a virtual production, which makes it harder to watch.
"It's an exchange of energy," Carmen continues, driving home her point. "One of the questions that I ask my students is what's the difference between an artist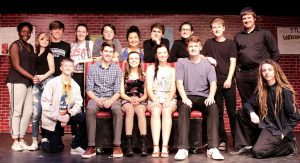 and a performer? What makes acting an art? There are directors who like to tell their actors what to do. And then there are directors who share their vision and describe the energy that they want their performers to produce and then let the performers decide how to create that energy. It is difficult in a virtual performance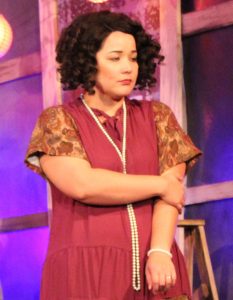 to exchange your energy through a television or computer screen, and as a stage actor, the audience is very much a part of that energy exchange. When you're standing on stage, you can feel the energy in the audience. It should cause you to adjust your performance according to how the audience is responding. That's missing as well."
Some virologists, including Anthony Fauci, predict we could have a vaccine for COVID-19 by year's end. But it could also take years to develop a vaccine that's effective enough to allow us to go back to the way things used to be. And it's that latter possibility that keeps Carmen up at night.
"If [the shut-down]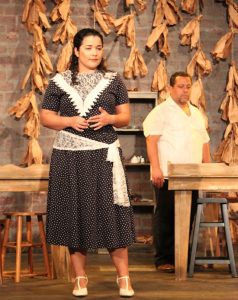 goes on too long [and youngsters lose interest in theater], it may be necessary to start over from scratch."
But Crussard isn't about to let that happen without putting up a fight.
"Teaching children theater, teaching the arts is my purpose in life," she asserts. "It's not just my job. It's truly my purpose. I believe the arts create better human beings. It's my job and my purpose to create better humans through the arts, and trying to stay true to this purpose through the pandemic is challenging."
It's not impossible,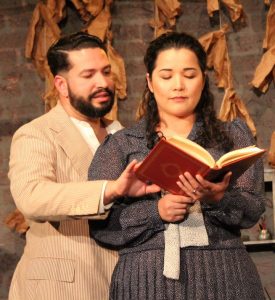 but it is much harder without that face-to-face human interaction.
And so she's busy trying to solve the conundrum of how to provide camaraderie and energy to young thespians in a post-COVID world. That tool – the vehicle for enthusing young performers and audiences of all ages – has yet to be discovered. Clearly, that vehicle may have to rely on film and streaming solutions. But there are undoubtedly tools available for supplying wannabe actors, dancers and singer/songwriters with the missing elements of camaraderie and connection. And if anyone can figure out the calculus, it's certainly Carmen Crussard.
But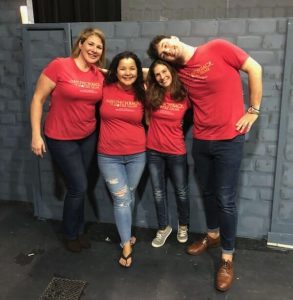 she can't rule out the possibility that theater's new direction may not involve live stage performances or at least not to the same extent and degree.
"If [the elimination of live stage performances] goes on for three or four years and we now have this whole generation [of aspiring thespians] whose training has occurred in a virtual setting, how do we help them transition to being on stage again?"
That's another truly frightening prospect.
In spite of all the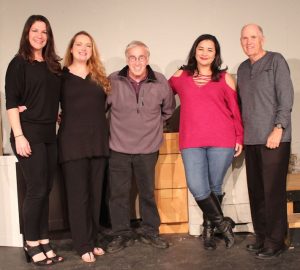 uncertainty, Crussard knows one thing for sure.
"We will survive this. And even if the worst thing happens and we have to rebuild, we will rebuild. We will do it."
So while the future of the performing arts in the short term may be frightening, it is also fraught with opportunity for those committed enough, resourceful enough and intuitive enough.
Like Carmen Crussard.
June 26, 2020.