Sarah DeLeonibus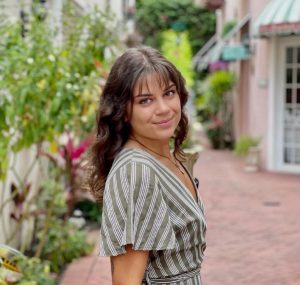 Sarah DeLeonibus plays the part of blond bombshell Lufthansa flight attendant Gretchen for The Naples Players in Boeing Boeing. Sarah studied with the Maryland Ensemble Theatre as well as with Charles Johnson at Bullis School, and has been recognized at state and national levels for her International Thespian Society performances. Boeing Boeing represents Sarah's return to the stage after a three year hiatus, during which she completed her Bachelor's degree in Marketing at FGCU.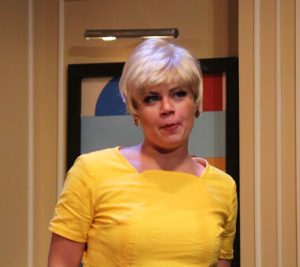 "To be honest, I was not expecting to be cast as Gretchen, thinking the role was outside my range" Sarah shares. But she was even more surprised when Directors James Duggan and Jessica Walck asked her to play the character more as a cat or dominatrix than as the cute, bubbly stewardess that she'd envisioned when she read the script for Boeing Boeing. "I didn't really get the hang of it until tech week, although now I am very satisfied with the character and the choices I've made. This role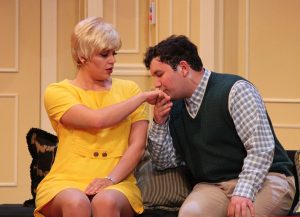 has definitely helped me become a better actor."
Sarah's other credits include Mercedes in Friendshi(t) for MET Teen Ensemble, Wendy in Peter Pan, Clara in Heidi and Jean in Piper for Maryland Ensemble Theatre and Agnes in She Kills Monsters, Gwen 2 in Gwen and Gwen, Brunnhilde in Das Barbecu,  Pamela in 39 Steps,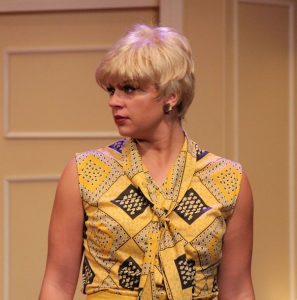 Rose in Bye Bye Birdie, Laura in Long Ago and Far Away, Frannie in The Art of Self Defense, Lisa in The Best Daddy, Enid Hoops in Legally Blonde and a member of the ensemble in Curtains, all for Bullis School. At Bullis, Sarah also performed in the ITS National Festival in Lincoln, Nebraska in 'Dentity Crisis (Jane), Assassins (Moore) and Dog Sees God (Van's Sister) and served as director for Driver's Test and Assistant Director for Henry Sweet Henry.
"This experience, and the wonderful people I've come to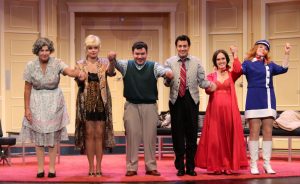 love during it, has reminded me why I love my craft so much and why I can never go that long without doing theatre again," Sarah adds.