Rachael Endrizzi doing what she can with what she has as 'Medora Musical' stage manager
[This is the first of a three-part series featuring actor, director and teaching artist Rachael Endrizzi.]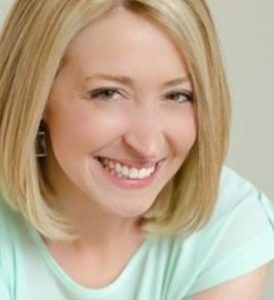 Earlier this year, Rachael Endrizzi was lighting up the Off Broadway Palm in A Christmas Carol: A Live Radio Show and Weekend Comedy. To fill in her spare time, she was also directing Rob Green, Madelaine Wright, Shelley Sanders, Thomas Marsh and Jordan Wilson in Baskerville: A Sherlock Holmes Mystery for Bill Taylor and Theatre Conspiracy at the Alliance for the Arts.  When the COVID-19 pandemic struck, she had just opened Harriett Tubman & the Underground Railroad, a travelling show performed at assemblies in middle schools throughout the state of Ohio and had two other touring shows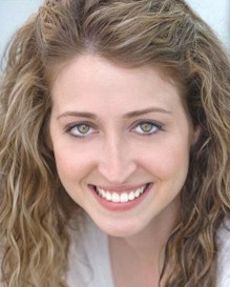 (one in Atlanta and the other in Ohio) in pre-production. But fret not for this mega-talented theater professional. Rachael not only landed on her feet. She's stage managing the rootin'-tootinest, boot-scootinest show in all the Midwest, the Medora Musical.
The roughly two-hour show is performed every night in an outdoor amphitheater in the little town of Medora on the southwestern edge of North Dakota. Roughly four hours south of the Canadian border and four and a half hours due west of Fargo, the town sits on the edge of the Badlands and the Theodore Roosevelt National Park.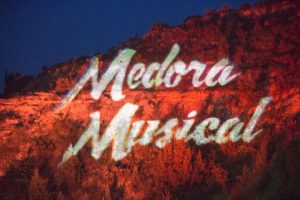 With less than 200 permanent residents, it's so tiny that it doesn't even show up on most maps of North Dakota. But that doesn't deter more than 120,000 visitors from making the pilgrimmage to Medora each summer to see the extravaganza which features live music, fireworks, horses on stage and a charge up San Juan hill.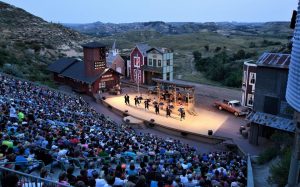 "It's a country western variety show," says Rachael. "I came out here last summer and I'm back here for a second season."
Last year, Rachael was in the show. She was a Burning Hills singer. This year, she gets to put her formidable organizational abilities and considerable people skills to work making the director's vision a reality and
supporting cast, crew, designers and technicians throughout the production process.
"My biggest concern is to keep the actors safe," Rachael says earnestly. "That's a little extra scary at a time like this, but everybody's been flexible and on board and willing to adjust and come together."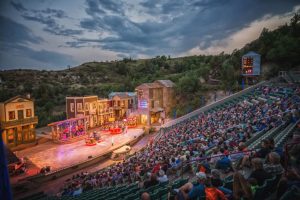 She's aided in that imperative by the happy circumstance that so far, neither Medora nor Billings County has registered a single positive COVID-19 case. But the musical's production team has engaged in numerous Zoom conference calls to discuss best practices for keeping cast, crew and attendees safe. After all, it only takes an asymptomic carrier or two to trigger community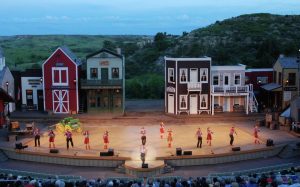 spread.
"Even though there have been no diagnosed cases of Coronavirus here, we've still made changes in how we rehearse," Rachael relates. "So far we've only been in music rehearsals – maintaining social distance and singing in masks. And the cast and crew will be tested before we begin choreography in three days.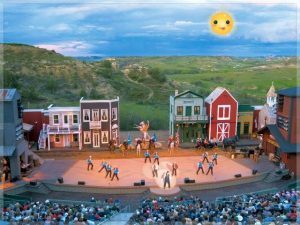 And while there'd  normally be hoe downs and square dances where the actors would switch partners, the choreographer is going to keep couples together so that way they're only touching one other person in the course of the performance versus six or seven other people."
Happily, the production team has not only included cast and crew in the conversation, they've solicited their concerns and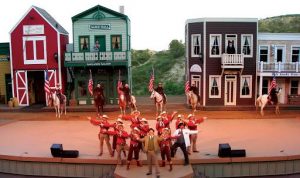 fears. No precaution seems too trivial. "It's been a full group effort to come up with these plans. We just got a touchless thermometer so that when they come to the theater we scan their temperature and that's their sign in so that we don't have person after person touching the same pen."
The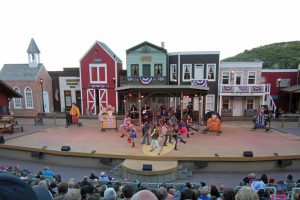 show was originally slated for a May 29 opening, but the production team pushed that back three weeks to conform to the Governor Doub Burgum's "Smart Restart" re-opening plan even though Medora remains COVID-free. And they're all cognizant that one of the chief reasons the musical's going on at all is because it takes place in a large outdoor space that is conducive to social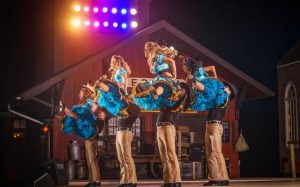 distancing.
"It's a 2,800 seat theater, so they have the space to limit capacity."
At minimum, that means every-other row seating and increased spacing between groups.
While most nights last summer attendance averaged 1,200, 4th of July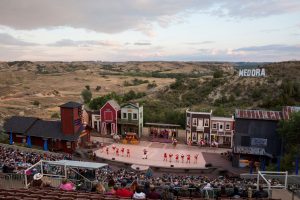 and some other mid-summer dates completely sold out. Because of the risk of contagion, they won't be able to play to anywhere near a full house. But clearly, reduced capacity is better than no show at all.
"We're just trying to limit exposure and risk. I'm learning a lot and hope that everything goes perfectly because of the steps we're taking."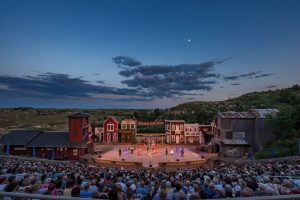 And in spite of her consequential duties to cast, crew, techs and the production team, Rachael is still finding time to enjoy Medora's ambiance and history.
The town was founded in 1883 along the transcontinental rail line of the Northern Pacific Railway by French nobleman Marquis de Mores,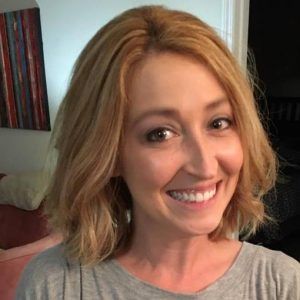 who named the city after his wife Medora von Hoffman. President Theodore Roosevelt found his way to Medora on the evening of April 7, 1903 while on a presidential tour of the Western United States. Most of the Badlands' residents turned out to greet him on his whistle stop, and Roosevelt later recalled that "the entire population of the Badlands down to the smallest baby had gathered to meet me… They all felt I was their man, their old friend; and even if they had been hostile to me in the old days when we were divided by the sinister bickering and jealousies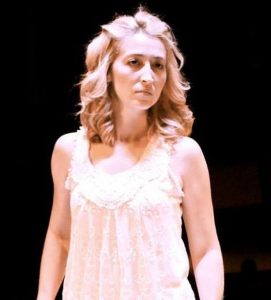 and hatreds of all frontier communities, they now firmly believed they had always been my staunch friends and admirers."
It's the spirit of Teddy Roosevelt that guides Rachael Endrizzi as she vies to discharge her duties and responsibilities as the Medora Musical's stage manager.
"Do what you can, with what you have, where you are," the Rough Rider was fond of saying.
Rachael Endrizzi knows no other way.
May 31, 2020.