With 'Midsummer Night's Dream,' Yuliana Garcia's admiration of Shakespeare has morphed into full-fledged love affair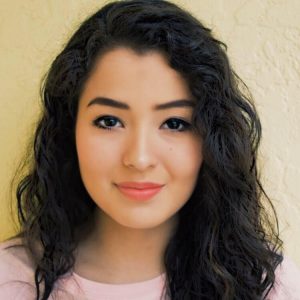 When we last checked in on Yuliana Garcia, she was blowing the lid off the Foulds Theatre with a scintillating performance as The Leading Player in Pippin. Unforgettable, Yuli had a part "to perform, hearts to warm, kings and things to take by storm."
From there, Yuliana's future seemed certain and secure. She had a prominent role in 42nd Street for North Fort Myers High School, prom, graduation and a spot in the musical theater program of the college of her choice. Then, just as it has for just about all of us, COVID-19 wrecked her carefully laid plans.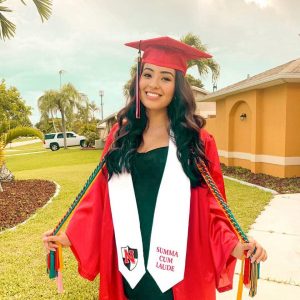 The musical was cancelled, as was prom, and her graduation and address to her senior class was done virtually rather than live.
And COVID didn't let up. She was slated to play Liesl in Sound of Music for Broadway Palm, but the theater made the difficult decision in July to cancel its Season 27 finale when Southwest Florida failed to see a decline in COVID-19 cases.
But now places are opening a bit more.
And the Alliance for the Arts has built an outdoor stage.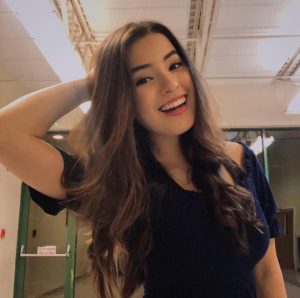 So Yuliana will be returning to the boards this week in A Midsummer Night's Dream: Abridged for the Alliance Youth Theatre.
"In all the years that I've been with Carmen, this is the first time I've done a straight play with her," Yuli laughs softly over her phone. A Midsummer Night's Dream also marks the first time that Yuliana is performing outdoors. "It's making the best of the situation and being safe while doing it," she adds with her indefatigable brand of enthusiastic optimism. "And hopefully, it will bring a little joy to everyone who comes out to see it."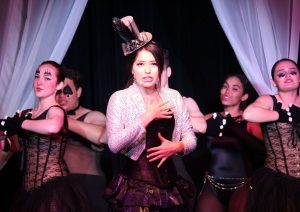 Don't misunderstand. While Yuliana's milieu is clearly musical theater (she's also played Anna in Spring Awakening, Esmeralda in The Hunchback of Notre Dame and Gabriella in Boeing Boeing), she's studied and admired the Bard since middle school. But now, that admiration has morphed into a full-fledged love affair as she's settled into her roles and gotten accustomed to the language and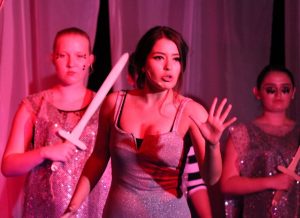 figuring out what everything means.
"I love it already and it's become one of my favorite kinds of pieces to perform," Yuliana confides.
There's a certain synchronicity to Yuliana's trajectory as a performing artist. Before portraying The Leading Player in Pippin, she'd done "Magic to Do" in a thespian competition. But she nonetheless struggled to fully understand The Leading Player. Now she's
involved in a similar challenge, complicated by the nuance and complexity that Shakespeare builds in every one of his characters and the necessity of distilling motive, intent and emotion from a manner of expression that is so unfamiliar to the modern ear.
The setting for A Midsummer Night's Dream: Abridged is a forest outside Athens, Greece. It's a busy place. Four village tradesmen are rehearsing a play there that they intend to perform for the royal court. And four frustrated lovers –Hermia, Lysander, Demetrius and Helena – have fled there after the Duke, Theseus, announced his intent to enforce the marriages that their father,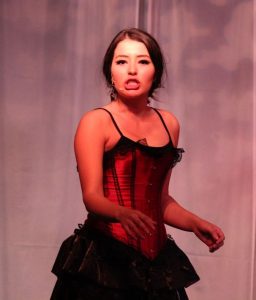 Egeus, has arranged for their betrothal. Neither group of hapless humans realize that the forest is the domain of a feuding band of fairies, but the lovers find favor with their king. Oberon orders his henchman, Puck, to drop a love potion into the lovers' eyes so that they will couple according to their desires. But Puck messes up, causing the wrong pairs to fall in love. And while Oberon takes a benevolent interest in the lovers, he's not so kind when it comes to his queen, Titania, who he tricks into falling in love with one of the tradesmen, a man named Bottom, who has been turned into an ass by Puck on the king's orders.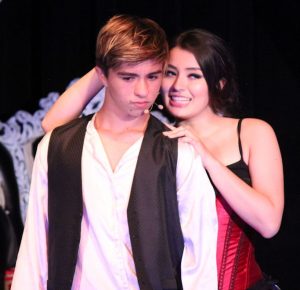 Predictably, chaos and confusion ensue.
Yuliana and her cast mates (Megan Salerno, Harvey Evans and Alex Leeds) each play four separate characters. In Yuli's case, she's the lover Helena, the tradesman Snout, Puck and Tatiana.
Synchronicity.
As the fairy queen, she once more has a "part to perform … a king and things to take by storm."
To the uninitiated,
tackling any role in a Shakespearean play is daunting enough, but learning four separate roles seems totally overwhelming. But that is not the case for Yuliana and her mates.
"It just makes it that much more engaging," Yuliana demurs. ""Once you realize you're playing four different people,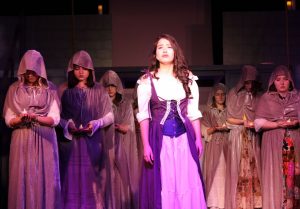 [you notice that] each of them has their own way of saying things, their own personalities, and you have to play them so differently, it just kind of motivates us to dive even deeper into the material and, for me personally, to understand what I'm saying and why Shakespeare wrote [the dialogue] the way that he did."
And, of course, each character has their own unique costume.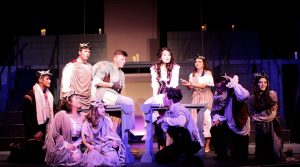 That also helps Yuliana and her cast mates shift into the mindset of each character they perform over the course of the play.
Changing costumes in Midsummer Night's Dream has been elevated into an Olympic event in this jampacked,  fast-paced 30-minute play.
That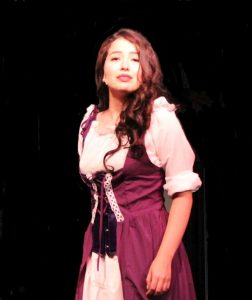 challenge is amped up even farther by the outdoor venue.
Tents will be set up behind the GreenMarket stage for each actor, who is bringing in a special friend to help them with their split-second costume changes. The action taking place in the changing tents promises to be as intense as that occurring on the stage.
But while changing tents, costume valets and running back and forth to the stage certainly represent new wrinkles for both actors, audience and the Midsummer Night's stage manager and director, Yuliana is enamored of the outdoor setting.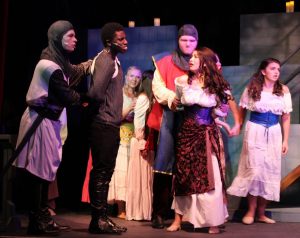 "I had my doubts when I learned [the play] was being performed outdoors. But the stage looks lovely with all the lights and we're adding even more."
And for those who elect to come early, there's the opportunity to enjoy the sun setting behind the Alliance's new Caloosahatchee Water Wall and the retention pond that run alongside McGregor Boulevard.
"It's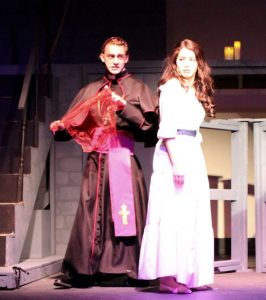 a nice change of atmosphere and really fits our show," Yuliana adds.
While Shakespeare outdoors may be something novel for the Alliance Youth Theatre, there exists a long and storied tradition of producing Shakespeare outside – by the sea (e.g. Vancouver's Bard on the Beach), on the river (including New York Classical Theatre's Shakespearean productions in Battery Park and Brooklyn Bridge Park), on the commons (such as the Commonwealth Shakespeare Company's productions in Boston Common) or in the park. In fact, Shakespeare in the Park is now a thing. It originated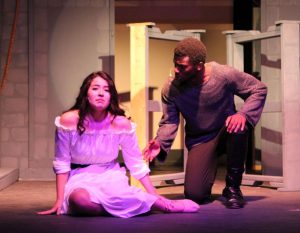 with the New York Shakespeare Festival in Central Park, but has been appropriated and expanded by production companies around the globe, including the Australian Shakespeare Company in Melbourne, which has performed for more than a million people across all the different regions of Australia.
But local theater-goers needn't travel to Australia,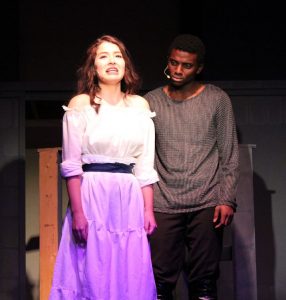 Boston, New York or even Miami to enjoy Shakespeare in the park. All they need to do is reserve a 6×6' square on the Alliance lawn.
"It's unique and hilarious and a really good time," Yuli promises. "It's going to be really, really awesome!"
A consummate storyteller, Yuliana Garcia has four more parts "to perform, hearts to warm, kings and things to take by storm."
Midsummer Night's Dream: Abridged opens Thursday, November 12.
November 9, 2020.