Kathy Grey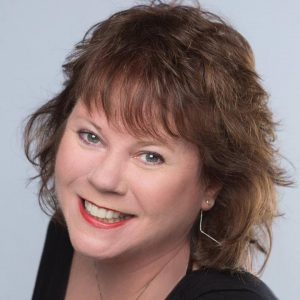 Kathy Grey is an area actor who has performed in numerous shows since majoring in theater arts at Rhode Island College. In addition to Southwest Florida, she has performed in Massachusetts and the San Francisco Bay area.
Her first show locally was Lanford Wilson's The Hot L Baltimore for Theatre Conspiracy at the Alliance for the Arts, where she performed with Lauren Drexler in the lead. Her other stage credits include Side by Side by Sondheim, Marat/Sade (Herald), Dancing at Lughnasa (Rose), The Eight: Reindeer Monologues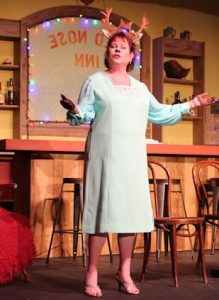 (she has portrayed Blitzen four times, three for Theatre Conspiracy and most recently in 2015 for Lab Theater), And Miss Reardon … (Ceil), Marian: The True Tale of Robin Hood and — back in the day — Neil Simon's Rumors at the Pirate Playhouse, directed by Robert Cacioppo.
Grey is perhaps best known for her work in Parallel Lives: The Kathy & Mo Show by Kathy Najimi and Mo Gaffney.
"Lauren and I first performed [Parallel Lives] at the Pirate Playhouse under the guest direction of Bill Taylor in 1996. At the Alliance, we brought the show back again in 1998, 2004 and in 2007."
And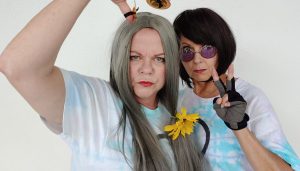 in December of 2020 she is teaming up with Lauren Drexler for a fifth time in the abridged version of the fanciful feminist farce.
Grey loves repeating roles she's passionate about.
"It's like singing and perfecting a favorite aria," she analogizes.
That
explains why she's portrayed Blitzen in The Eight four times so far.
"Jeff Goode's Blitzen" monologue in The Eight is one of the most brilliant and timeless pieces I've had the honor of performing," Kathy remarks.
November 21, 2020