Patricia Idlette opened doors for black men and women to have voice in SWFL theater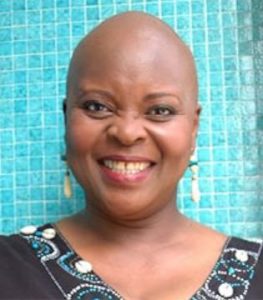 Each day in March Art Southwest Florida is recognizing a woman in honor of Women's History month who is making our local theater scene bigger, better and badder. Today's honoree is Patricia Idlette.
A member of the Ensemble of Theatre Artists, Patricia has starred in several productions at Florida Repertory Theater, including Steel Magnolias, To Kill a Mockingbird and Dividing the Estate. At Theatre Conspiracy at the Alliance for the Arts, she portrayed Mama Lena Younger in Theatre Conspiracy's production of Lorraine Hansberry's A Raisin in the Sun. Several seasons ago, she also played ten characters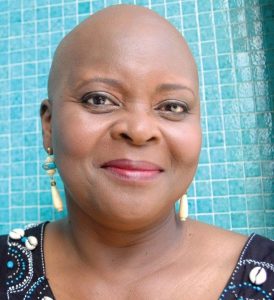 in Theatre Conspiracy's production of Shipwrecked! Long-time Florida Rep patrons may also remember her in the Pulitzer-Prize-winning play Doubt.
In sports, an MVP is not just an athlete who gives incredible performances in game after game after game, but someone who makes everyone around them better than they are on their own. That's Idlette. She brings out the best from everyone around her. Not only do they learn from her example. Patricia readily shares the wealth of experience she's gleaned from appearances in more than 66 television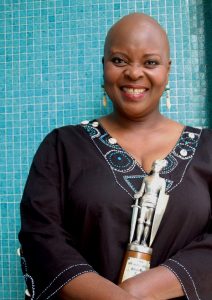 series and feature and made-for-TV films. While she's perhaps best known for her role as Kiffany in Showtime's Dead Like Me, she also appeared in four episodes of Battlestar Galactica as politician Sarah Porter, Katherine (Kat) Jackson in the 2004 biopic Man in the Mirror: The Michael Jackson Story and Brenda's mother (Mrs. Meeks) in Scary Movie 3 in 2003.
But her greatest contribution to local theater was actually on the other side of the boards.
In 2015, Patricia directed For Colored Girls Who Considered Suicide When the Rainbow is Enuf for Bill Taylor's Theatre Conspiracy at the Alliance for the Arts.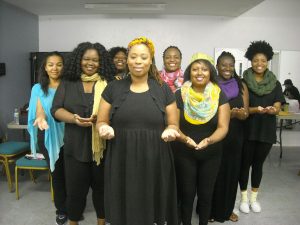 Described as a "choreopoem," For Colored Girls features a spellbinding collection of vivid prose and free verse narratives performed by black female actors which capture the brutal, tender and dramatic lives of contemporary black women.
To their dismay, Taylor and Idlette discovered at the time they sought auditions that there was a veritable dearth of local African-American thespians qualified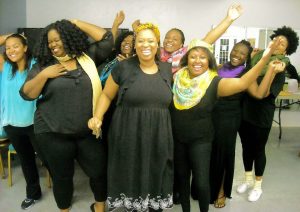 to play the parts created by playwright Ntozake Shange.
"At the time [Shange wrote the play in 1975], there were no Black female voices in American theater," Idlette related at the time. And, similarly, there were few African-American actors to be found in Southwest Florida in 2015. In the end, they succeeded in finding eight eager, energetic and talented actors,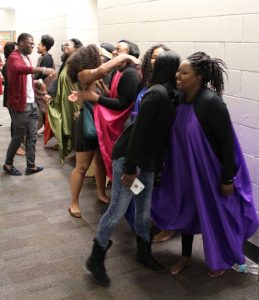 including Sonya McCarter (Lady in Orange), Cantrella Canady (Lady in Green, and an FGCU Communications major at the time), Paige Dawkins (Lady in Brown), Monica De La Torre (Lady in Blue), Anna Delevoe (Lady in Pink), Carolyn Greene (Lady in Purple), Chejai Onumbu (Lady in Red) and Malissa Sanon (Lady in Yellow).
This experience gave impetus to two initiatives that have influenced local theater productions in two very profound ways. First, Bill Taylor made it his priority to feature African-American playwrights who either had or were writing plays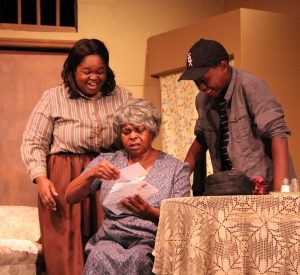 that shared with both black and white audiences the unique story of what it was and is like to be a person of color living in white society and culture. The Alliance produced The Bluest Eye the following season, followed by August Wilson's Ma Rainey's Black Bottom in the 2016-17 season, Wilson's Seven Guitars and Lorraine Hansberry's A Raisin in the Sun in the 2017-2018 season, The Agitators, Joe Turner's Come and Gone and Rancho Mirage featuring a predominantly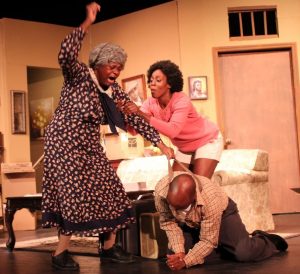 African-American cast in Season 25 and King Hedley and The Mountaintop in the Covid-shortened Season 26. And not surprisingly, Sonya McCarter, Cantrella Canady and Carolyn Greene have starred in many of these shows, with McCarter directing the August Wilson Century Cycle productions.
At the same time and with a grant from the Southwest Florida Community Foundation, the Alliance launched its CHANGE program. The acronym stands for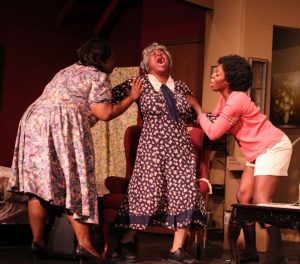 Communities Harnessing the Arts to Nurture Growth and Equity. CHANGE seeks to expand the pool of local talent capable of taking on challenging African-American roles while concurrently engendering in minority communities a greater interest in, and appreciation of, both the visual and performing arts. Here again, it comes as no surprise that Sonya McCarter plays a prominent role in the success that CHANGE is already enjoying in achieving both of these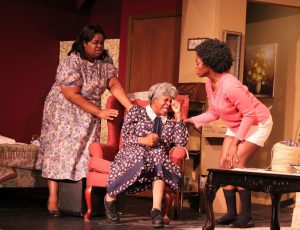 objectives.
To borrow another analogy from sports, Idlette possesses all of the raw talent of a Hank Aaron or Willie Mays, but the role that makes her important to Southwest Florida performers, directors and playwrights of color is more akin to that of Jackie Robinson. By collaborating with Taylor to produce For Colored Women, Idlette has opened doors for black men and women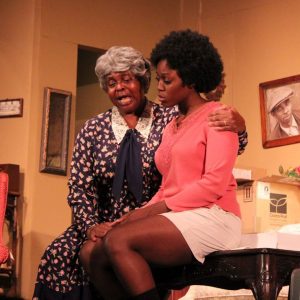 to have a voice in Southwest Florida theater, and for that, they and all of the rest of us who love theater and the arts, will forever be in her debt.
Idlette knows full well that nothing worthwhile is ever easy. There were not a lot of serious African-American actresses when Idlette was growing up. In fact, there were not many black female characters on stage, in film or on television.
"And those there were typically were light skinned," Idlette noted back in 2015.
While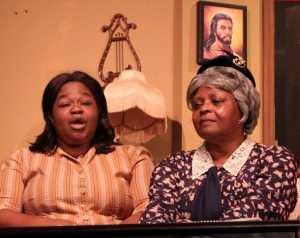 great strides have been made in American theater, film and television and even though this part of the country has witnessed more plays by and roles for people of color since 2015, opportunities for non-equity black and brown actors in Southwest Florida are still limited.
One thing that Idlette lobbied for at the time she cast and directed For Colored Girls was non-traditional, color-blind casting as was done with Rancho Mirage.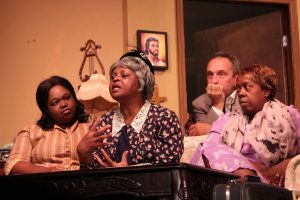 And thanks to producer/directors like Taylor, Annette Trossbach (witness, e.g. The Crucible) and others, that's creating more parts for actors of color. But while progress has been made, there is much work yet to do.
Idlette has issued the challenge and people like Bill Taylor, Sonya McCarter and Cantrella Canady have picked up the torch and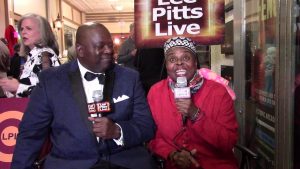 are carrying on the important work she initiated. So it is only fitting and proper that Art Southwest Florida recognizes Patricia Idlette as one of a formidable group of women who is making theater bigger, better and badder right here in Southwest Florida. She is a Women's History Month ARTSWFL honoree.
March 10, 2021.