'Small Planet' play dates, times and ticket information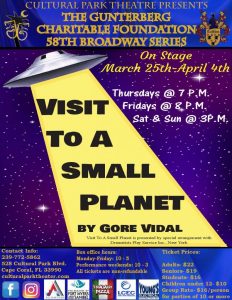 Play:  Visit to a Small Planet
Playwright:  Gore Vidal
Synopsis:  An alien by the name of Kreton comes to Earth from another dimension to observe human warfare, specifically at the Battle of Bull Run. Finding that he has arrived in 1957 rather than 1861, he decides to trick the Earthling into a new war for his amusement and edification.
Directors:  Christi Wengerter & Joy Ursillo
Cast: 
Kreton:                                Louis Monaco
General Tom Powers:      Howard Nutt
Roger Spelding:                 Pat McGurk
Ellen Spelding:                  Jamie Joyce Lang
Conrad Mayberry:            Sean Hartman
Reba Spelding:                  Christi Wengerter
Aide:                                    Ed Smith
Delton 4:                             Tracy Weaver
TV Technicians:                 Dea Boozer and Joy Ursillo
And introducing Rosemary as "Rosemary The Cat"
Play Dates and Times: Performances are Thursdays at 7:00 p.m., Fridays at 8:00 p.m. and Saturday and Sunday at 3:00 on March 24-April 4.
Tickets:  $22 for adults, $19 for seniors and $16 for students, and may be reserved by calling 239-772-5862 or visiting culturalparktheater.com.
Location:  Cultural Park Theater, 528 Cultural Park Blvd., Cape Coral, FL 33990
March 11, 2021