Kenneth Bradley Johnson
Born in Puerto Rico one month before the Cuban missile crisis, Ken Johnson got his start in community theater performing with his dad at the tender age of 8. He attended the John Houseman's Conservatory of Acting program at the University of Southern California and went on to a wild career in acting that was denoted by four national tours, two European tours, and more than 3,000 hours performing in the lead in Me and My Girl, 14 productions of West Side Story and 9 productions of The Will Rogers Follies.
He is currently appearing in Theatre Conspiracy's production of Steven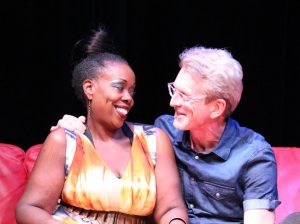 Dietz's Rancho Mirage. His other local acting credits include La Cage aux Folles for New Phoenix Theatre, Hand to God (Pastor Greg), and Sordid Lives (Earl "Brother Boy" Ingram) for Lab Theater and Noli Timeri (Don't Be Afraid) for Theatre Conspiracy at the Alliance. Ken has also appeared at Florida Repertory Theatre, Broadway Palm Dinner Theatre and The Cape Playhouse.
May 1, 2019.