Kaycie Lee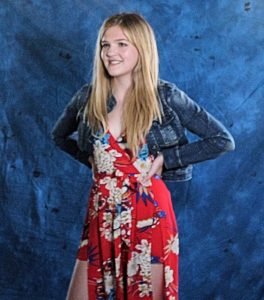 Kaycie Lee is a SAG-eligible film actress who lives and goes to school in Sarasota.
Her latest project is a strong supporting role in the SOURCE PRODUCTIONS indie feature film Surviving Lunch, in which she portrays a high school girl named Lacey who is willing to sacrifice her own identity just in order to fit in.
Indie film aficionados will also recall her in Hanging Millstone, a thriller from Southwest Florida filmmaker Curtis Collins that debuted at the Fort Myers Beach Film Festival in 2016. Kaycie plays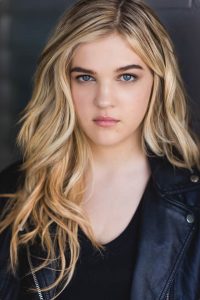 the part of Tesha Andrews in both the feature and the short film from which it originated. (The feature film won Best Local Film honors at the Fort Myers Beach Film Festival; the short (titled The Hanging Millstone) won the People's Choice Award at the 2015 Fort Lauderdale International Film Festival.)
Kaycie's other film credits include leads in Caleb (another short), Shapeshifter (Ringling/Darrien Land), Blue Guitars (JemStar Media), The Scent of Her Soul (I Am Resistance Productions) and What's the Point? (a 2016 short film by Mario K. Maturo that was the Audience Favorite at the 8th Annual Fort Myers Film Festival last year (and which also featured local actors Cassidy Reyes, Mike Dinko and Marta Sand)), along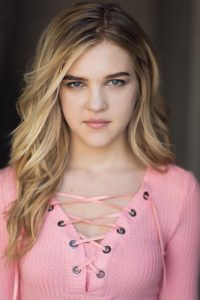 with principal and supporting roles in Fallaway (Aurora Jar Productions), WYDSN (Mountview Creative) and a 2016 short science fiction film titled Seers of Light in Shadows .
Her work in television includes guest starring in the pilot for Fox's Ana Polo and GymBrats 2.0, a recurring role in S.O.L.I.S. for GetLive TV and the pilot for Believe TV.
Although she is only 18, Kaycie is building a reputation for edgy, groundbreaking roles.
For example, the storyline of The Scent of Her Soul revolves around a vigilante father by the name of Mike who tracks down and rescues victims of sex trafficking.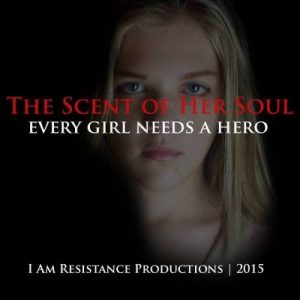 Mike possesses a special gift, the paranormal ability to detect the scent of a girl's soul which he received after being knocked unconscious in an unsuccessful attempt to rescue his own daughter from a kidnapper. Armed with this unusual power, he begins rescuing missing girls across the country, hoping along the way to glean clues about the fate and whereabouts of his own daughter. Kaycie portrays a brutalized sex trafficking victim. It's a challenging role that compelled her to learn about the ways in which many girls her age are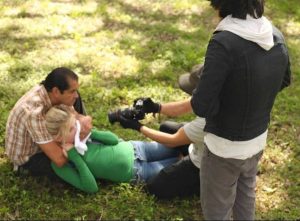 dragged into the sex trafficking industry, and the horrors they endure. . [Adapted by Natasha Sapienza from a novel by Bryan Davis and directed by Jonathan Sapienza, The Scent of Her Soul stars Derek Russo as Mike, Eric Perez and Carole Wood.]
Fallaway follows five separate storylines focusing on a manhunt for a brutal serial killer. The stories all converge in climactic

twist after twist, allowing the audience to get into the mind of a person who is pushed beyond their breaking point. Many aspects of this story are based on true events, as Fallaway tackles current,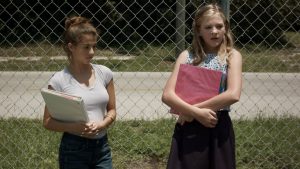 relevant issues like child abuse, sexual abuse and bullying, all wrapped in a compelling crime drama. These issues not only affect the victims, but can have both short and long term effects on society. Kaycie plays the role of Rachel and is a member of the film's social media team.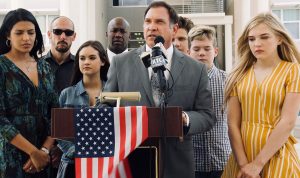 Surviving Lunch similarly involves some of the tough and complex issues facing teenagers during their high school years, including bullying, gun violence, sexual harassment and sexual assault. "[Surviving Lunch] shines a light on the difference one single person can make to perhaps change their life and, in the process, change the course of events,"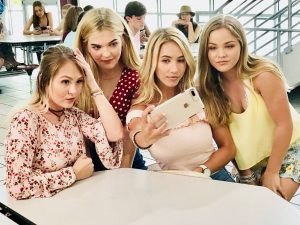 Kaycie shares. "This movie is about how people learn to survive. I was drawn to my character, Lacey, who has her own journey of survival. She learns that being true to herself will lead her to doing what is right even it means standing alone. For Lacey, it is the very thing that her own healing depends on."
Kaycie is also gaining experience in her own right as a screenwriter.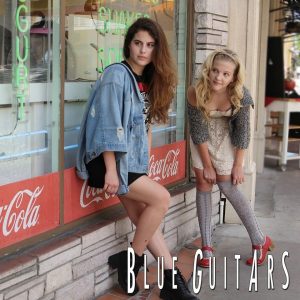 She wrote the screenplay for Blue Guitars, in which she also starred along with Miami singer/songwriter Priscila Marie and award-winning model, actress, and writer Deborah Ford Smith in the role of Gwendolyn. (Priscila Marie wrote a song called Run that premiered in the film. "She's very talented and writes her own music about her life and the people around her," says Kaycie of her co-star in the short film.)
Lee began writing and animating stories at age 6. As you can imagine, listeners found the precocious storyteller's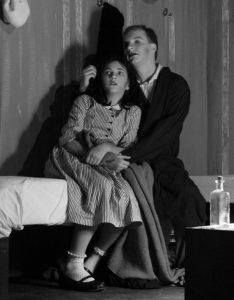 tales completely mesmerizing. But it wasn't until she committed to play the lead in Lab Theater's production of The Diary of Anne Frank in April 0f 2015 that she realized it was her dream to bring her characters to life on the Big Screen in a realistic, heart-touching and meaningful way.
Kaycie credits much of her early success to her acting method (the Eric Morris System of Acting), which involves immersing herself in her roles, no matter how troubling or horrific they may be. For example, in Anne Frank, Kaycie not only read all three versions of the diary, she studied documentaries on the Holocaust, dragged her mother to the Holocaust Museum in Naples and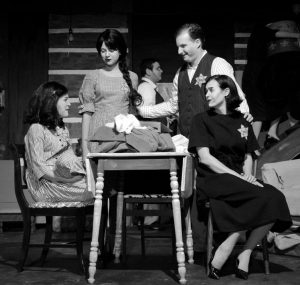 attended a talk at a university that was given by Shoah survivors. She even tried to obtain a video of the 1997 Broadway play starring Natalie Portman, but couldn't obtain a copy from the National Archive. While she admits to being horrified by what she read, heard and saw ("humanity's destructive urge … to rage, murder and kill" to quote Anne Frank herself), these experiences enabled the then-13-year-old to better appreciate Anne Frank's unshakable belief that in spite of it all "people are truly good at heart."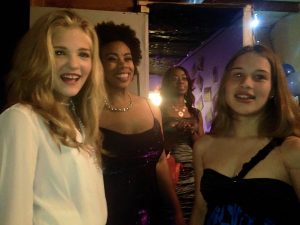 Her roles in Hanging Millstone, The Scent of Her Soul, and Fallaway have similarly forced her to sacrifice the remaining shreds of childhood innocence in order to understand and give poignant performances as an abused child and brutalized sex trafficking victim.
"Empathy is key to acting," Kaycie professes, going on to quote Meryl Streep, who famously said that "acting is not about being someone different;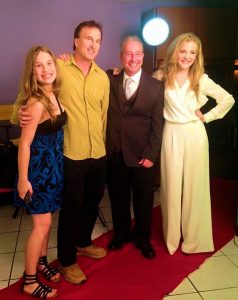 it's finding the similarity in what is apparently different and then finding myself in there."
"It's important to me that the audience sees my character's world through her eyes, so that the character can come to mean something to the audience; so that the audience may be touched in some way," Kaycie adds expansively. "Characters are flawed and so am I. If not for this, things would be very unrealistic and boring. The camera focuses on the eyes, the soul and the rich inner world of the character. It is so very intimate for me. The camera sees the truth inside the person or character,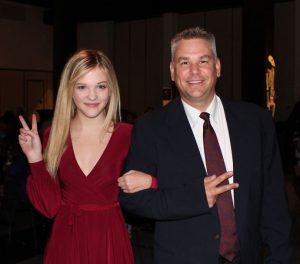 as well as the conflict, the joy, and the tears. It's all there exposed for others to be touched."
"She is a very strong actor who is going places," predicts Anne Frank director and Lab Theater founder Annette Trossbach. Scent of Her Soul director Jonathan Sapienza calls her a "true gift."
Lee began her professional acting career at age 13. She is a Stars of Tomorrow winner in the dramatic category and a Florida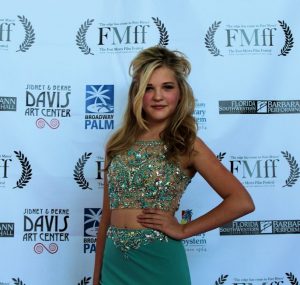 State Thespian Superior. She received a Platinum Award in the national Turn-It-Around Tour for her performance in Joan of Arc. She has studied intensively, taking many on-camera acting classes, intensive scene study workshops and recently began training with an acclaimed acting coach in L.A. to further develop her craft. On-camera, Kaycie is both spontaneous and aware that the unspoken moments of connection are pivotal.
"I don't just want to entertain people,"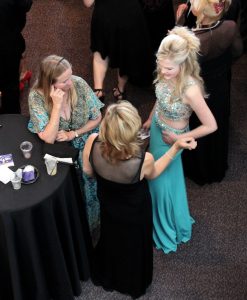 says Kaycie. "I want to improve people's lives and the communities in which they live." Toward this end, she relishes supporting and leading roles in projects that raise awareness of issues ranging from physical, emotional and sexual abuse to homelessness, exploitation, bullying and gun violence.
Lee is currently represented by Landrum Arts L.A.
March 20, 2019.