Terry Libby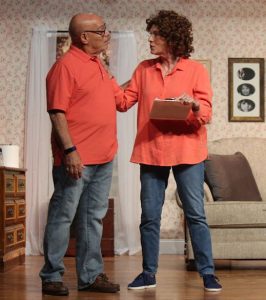 Terry Libby has been seen on stage at The Studio Players, The Marco Players, Center for Performing Arts Bonita Springs and The Naples Players. She is currently portraying Delia in Lewis Black's One Slight Hitch. Previously she appeared as a whacked-out housekeeper in Vanya, Sonia, Marsha and Spike for The Studio Players, the long-suffering mayor, Joveeta Crumpler, in A Doublewide Texas Christmas for The Marco Players, All the King's Women for the CFABS Community Players and in several Readers Theater productions at The Naples Players.
In One Slight Hitch,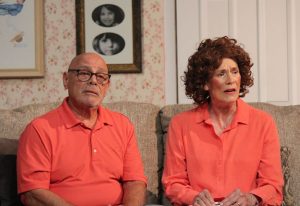 Terry's character plays the mother of the bride. Delia is bound and determined to give her daughter the "perfect wedding." But things quickly go awry when the florist is arrested on the way to the wedding and needs to be bailed out and her daughter's ex shows up at the house in need of a shower and a hot meal. But that's nothing compared to a real life incident that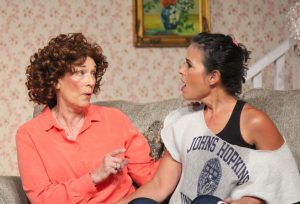 Terry experienced out west.
"A childhood friend of my husband invited us to his son's wedding in  Colorado," Terry recounts.  "The wedding was … an outdoor affair in the heart of the Rockies. It was a beautiful venue, surrounded by mountains and pines. As the bride and groom stood before the officiant, he turned to the attendees and asked, as per usual, whether anyone had an objection to this marriage taking place. Typically, at moments like this, everyone stands mute, but at this wedding people started screaming!!"
Terry was mystified. "Oh, my God", she thought. Why was everyone objecting to the wedding?
"But it was not an objection that caused the commotion," Terry continues, "but the fact that a large brown bear had ambled out of the mountains to check out the nuptials (and maybe the wedding cake). Before he could shout his objections- e.g.  'I can't bear this wedding' or 'Do you think these two can bear to live together,' the screams and shouts and banging convinced Paddington to turn around and go home.  The wedding proceeded. No one else had an objection or, if they did, could not bear saying it aloud. The couple is still married and, as far as I know, very happy."
While Libby continues to hone her acting skills and expand her on-stage resume, she clearly is a gifted storyteller. Perhaps one day she'll expand her repertoire to include playwriting.
May 28, 2021.