Ghostbird Theatre Company earns grant for new play by James Brock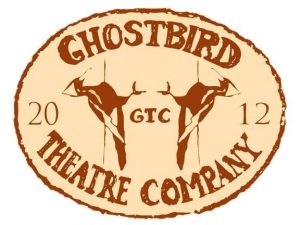 The National Endowment for the Arts has awarded Ghostbird Theatre Company a $10,000 Arts Projects grant to support the development and production of an original play by James Brock. With the working title of One Island, Brock's latest play is among the more than 1,100 projects across America that were selected during this second round of Grants for Arts Projects fiscal year 2021 funding totaling nearly $27 million.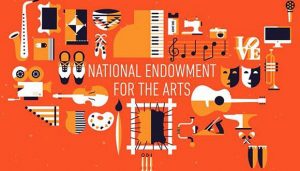 "As the country and the arts sector begin to imagine returning to a post-pandemic world, the National Endowment for the Arts is proud to announce funding that will help arts organizations such as Ghostbird Theatre Company re-engage fully with partners and audiences," said NEA Acting Chairperson Ann Eilers in announcing the award.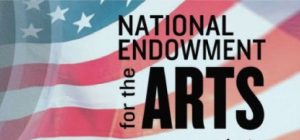 "Although the arts have sustained many during the pandemic, the chance to gather with one another and share arts experiences is its own necessity and pleasure."
Since its founding in 2012, Ghostbird is the only theatre company in the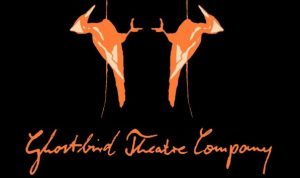 American South that is fully committed to site-specific theatre.
Over nine seasons, Ghostbird has built a national reputation for cutting edge, experimental productions that shatter theater's traditional fourth wall.
"This national recognition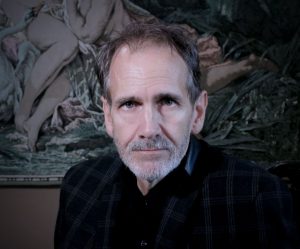 of our collective work affirms our mission to produce intimate, site-influenced theatrical experiences for our community," said Ghostbird's Artistic Director Barry Cavin (pictured right).  "This grant makes it easier for us to announce we are ready to celebrate our brand of live theatre once more."
One Island will be a collaboration among playwright James Brock, U.S.-Irish poet Kimberly Campanello, and Los Angeles-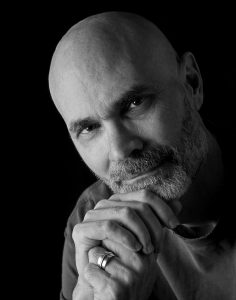 based theatre artist Brittany Brady. The play celebrates the remnant Pangaeaic Central Mountains, starting from the Florida Keys, running along the Appalachians to Arcadia, crossing the Atlantic to Ireland through England into Morocco.
"Conceptually, the play will build on the metaphor of Pangaea," said Brock. "We are simultaneously linked in an ancient geography and separated in a culturally, economically, socially atomized world. Our intention is to create for the audience a space of genuine creative engagement, which brings forth their own imaginative and empathetic gifts, to recognize their own fluid,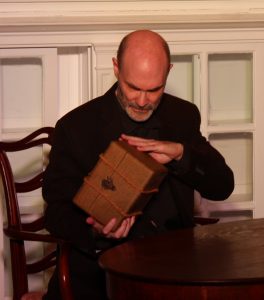 watery identity and our mutual connections."
The grant enables Brock, Brady, and Campanello to spend the summer sharing ideas, exchanging their writing, and developing a working draft.
"Right now, it's a mixture of poetry, stories and meditations," said Brock. "It feels like a kind of excavation process, where we are independently digging, pulling up new material, and then immediately sharing it with one another. I am not sure what we have yet, but it is already one of the most exciting and challenging collaborations I have been engaged in."
Brock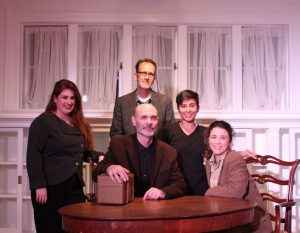 is a founding member and Producing Director of Ghostbird Theatre Company. An actor, playwright and poet, Brock is also Professor of English at Florida Gulf Coast University. His playwriting credits include Everyone on this Train (2018), The Chicken Play (which he co-wrote with Hanny Zuniga (2016)), The Guardsman (a translation of Ferenc Molnar's comedy (2015)), Because Beauty Must Be Broken Daily (2014) and The Pumpkin Grower (2012).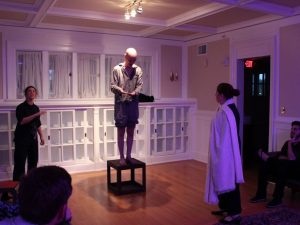 Brock possesses more than 30 years of teaching experience in higher education, and is author of four books of poetry, vis: Gods & Money (2010), Pictures That Got Small (2005), Nearly Florida (2000) and The Sunshine Mine Disaster (1995). In addition to the NEA grant, James has won fellowships from the Alex Haley Foundation, the Tennessee Arts Commission, the Idaho Commission for the Arts for his poetry and the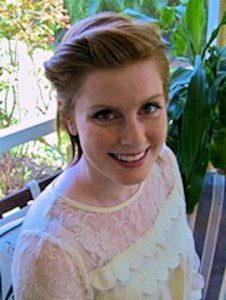 National Endowment of the Arts, as well. He also curates Versed in Florida for WGCU.
Although now based in Los Angeles, Brittany Brady was also a Ghostbird co-founder (along with Brock, Philip Heubeck and Katelyn Gravel). She remains in contact with Ghostbird and her fellow founds, and returned two years ago to direct 3, a play penned by Brock that explored the relationship of three transgressive women, each with her own trouble and yet dependent on the other two. For Ghostbird's inaugural season, Brady directed María Irene Fornés' Mud, James Brock's The Pumpkin Grower, and Samuel Beckett's Endgame. From there,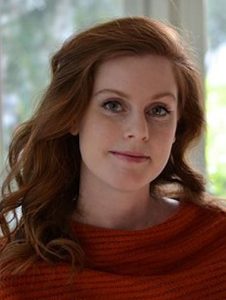 she went on to direct August Strindberg's Miss Julie, James Brock's Because Beauty Must Be Broken Daily, Rajiv Joseph's Gruesome Playground Injuries, Eugene Ionesco's The Bald Soprano, her own original adaptation of Maxence Fermine's Snow, Anne Carson's Antigonick (which was performed at artist Marcus Jansen's UNIT A Contemporary Art Space), and Samuel Beckett's Rockaby. Before she departed to pursue her MFA at CalArts in Los Angeles, Brittney was also awarded two Individual Artists Grants from the City of Fort Myers.
Kimberly Campanello is a dual Irish and American citizen living in York. Her poetry publications include Consent, Imagines and Strange Country (both
on the sheela-na-gig stone carvings), Hymn to Kālī (her version of the Karpūrādi-stotra), and running commentary along the bottom of the tapestry. MOTHERBABYHOME, a collection of 796 conceptual and visual poems on the St. Mary's Mother and Baby Home in Tuam, Co. Galway, was published by zimZalla Avant Objects in April 2019. Kimberly's poems have appeared most recently in 3:AM's Poem Brut series, Poem Atlas's Escapisms, Junction Box, The Abandoned Playground, Fortnightly Review, The London Magazine, and Poetry Ireland Review. More new poems are forthcoming in The White Review and The Cambridge Literary Review. Kimberly won a 2019 Markievicz Award from Ireland's Arts Council and the Department of Culture, Heritage and the Gaeltacht for (S)worn State(s), a poetry collaboration with Dimitra Xidous and Annemarie Ní Churreáin (forthcoming from The Salvage Press) and an Arts Council Ireland 2020 Literature Project Award for a digital writing collaboration with Christodoulos Makris and Fallow Media. She has been awarded residencies at the Fundación Valparaíso, the Heinrich Böll Cottage, The Studios of Key West and the Centre Culturel Irlandais in Paris.
Brock and Ghostbird expect to produce One Island in May of 2022. Ghostbird Theatre Company will be announcing its full 2021-22 season later this summer.
For more information on the projects included in the Arts Endowment grant announcement, visit arts.gov/news.
May 26, 2021.