Sue Schaffel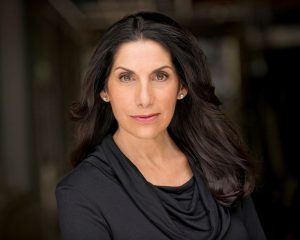 Sue Schaffel is an accomplished EMC actor who is based in Southwest Florida.
Her stage credits include the role of Lydia Brenner in Lab Theater's summer spoof of The Birds, The Complete Story of America (Abridged), White Rabbit, Red Rabbit, Norma Desmond in the Lab Theater parody Sunset Schmoulevard, Blanche DuBois in Death of a Streetcar Named Virginia Woolf: A Parody and Velma in Hush Up Sweet Charlotte for Lab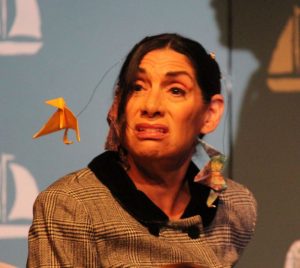 Theater, along with roles in The Wolves at Studio Theatre, Harvey (Mrs. Chumley), I Don't Know What's Weird (Rebecca), Dancing at Midnight (Elizabeth), The Store (Selma), Other Desert Cities (Polly), Interconnected (Ginger), Crazy in the Family (Joanne), How to Score (Bonnie), Rumors (Cookie), Hello Dolly (Ernestina), To Gillian on Her 37th Birthday (Esther), The Actor's Nightmare (Ellen), Three Questions (Brenda) and Beyond Therapy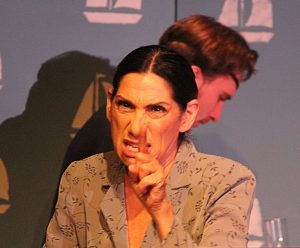 (Charlotte).
Her performance in Harvey in particular drew a number of highly favorable reviews:
My favorite performance of the evening was Sue Schaffel's, who plays Betty Chumley, the kind (if somewhat daft) wife of Dr. Chumley. Breathy and birdlike, her sweet and gullible nature is nicely honed by Schaffel. Julia Exline, DC Metro Theatre Arts
Sue Schaffel (Betty Chumley) is sweet and quirky as Dr. Chumley's wife. Schaffel's remarks about Dr. Chumley's "irritableness" are said in such a manner that induces giggles and appreciative applause. Hannah Wing, Broadwayworld.com
The play features effective cameos and especially Sue Schaffel as Dr. Chumley's dim yet scheming wife. Schaffel gives significant nuance in only a few lines, and I look forward to her future work. Tim Treanor , DCTheatre Scene
Sue Schaffel (Betty Chumley) deserves a shout-out. Totally committed to the comedy of her role, Schaffel's brief appearances onstage are riotous. Jennifer Minich, MD Theatre Guide
She also appeared in the hybrid filmed theater production of The Realish Housewives of Fort Myers during the COVID-19 pandemic and Darlyne Franklin's A Night at the Elks for Lab Theater's 2019 24-Hour Playwriting Project.
Sue has also worked in film and television. Her movie credits include I Like Me (for which she was awarded Best Actress/Feature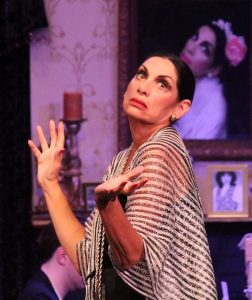 at the 2018 Reading Film Festival and the Sunnyside Up Film Festival), The Waiting Room, The Summer Before, Ricardo and Hopping Through Hoops. I Like Me is available on Amazon Prime.
Television credits include numerous jewelry, appliance and car commercials, as well as Evil Kin, America's Most Wanted and as a contestant on The Price is Right.
December 20, 2019; revised June 9, 2022.
RELATED POSTS