The only part Sue Schaffel plays better than whacky is bitch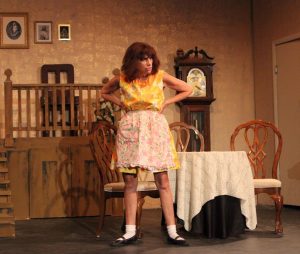 Comedy has broken out big time this month at the Laboratory Theater of Florida, where a cast of zany actors including Sue Schaffel are spoofing Bette Davis and Olivia de Havilland's 1964 cult classic horror-thriller, Hush Hush Sweet Charlotte. Although this is her first production in Southwest Florida, Schaffel already feels right at home. Not only does she have an advance degree in zaniness, she's buds with Randall Kenneth Jones, who has the de Havilland role of wicked bad cousin Miriam.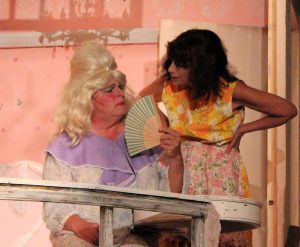 "I'm never cast as a normal character," Sue proclaims, grinning. It's a badge of honor. Then, with her eyes narrowing ever so slightly, she coyly adds, "I play two roles really, really well. I play whacky, and I play the bitch even better."
"I cast her in her second show ever," Jones breaks in. That was back in Maryland in 1986, when Randy was directing a production of When Shakespeare Ladies Meet. "It was easy to see even then how quirky she'd be playing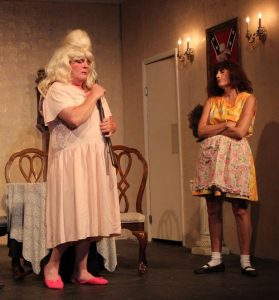 Desdemona in that show."
And that's why he encouraged his friend to audition for the part of Velma.
She agreed without hesitation – without knowing anything more than that the show was going to be Baby Jane-esque.
"I've never seen the movie, but I did see last year's show," Sue acknowledges. "So I knew what it was and said, 'Yeah, I'll audition!" But stuck in Washington working as an understudy in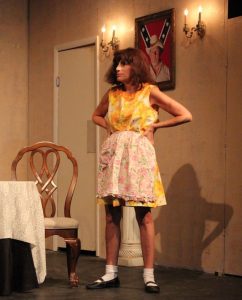 The Wolves, she had to send in an audition tape. Happily, she got the part.
"I'm trying to break into the Florida market …." Not only is the role of Velma precisely the type of character that she adores playing, the part gives her a platform from which to showcase her mad, crazy skills for the local theater community.
Done with D.C. winters, she and her husband now have a house in Naples. They plan to spend seasons in Southwest Florida, basking in our temperate subtropical weather.
"The plan is to do theater while we're here for the season," says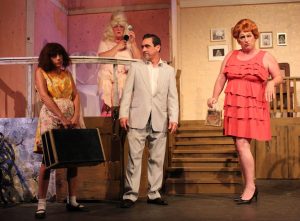 Sue.
Getting good parts shouldn't be a problem.
First, there's her resume.
"Our resumes kind of point directors in the direction toward which we just seem to naturally gravitate," observes Jones, who is usually cast in the part of the villain himself.
Besides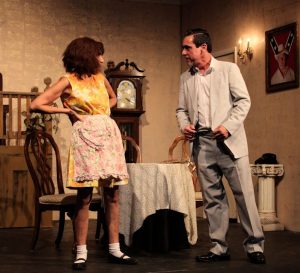 When Shakespeare Ladies Meet and The Wolves (at Studio Theatre), Schaffel's theater credits include Mrs. Chumley in Harvey, Rebecca in I Don't Know What's Weird, Elizabeth in Dancing at Midnight, Selma in The Store, Polly in Other Desert Cities, Ginger in Interconnected, Joanne in Crazy in the Family, Bonnie in How to Score at Silver Spring Stage, Charlotte in Beyond Therapy, Cookie in Rumors, Ernestina in Hello Dolly, Esther in To Gillian on Her 37th Birthday, Ellen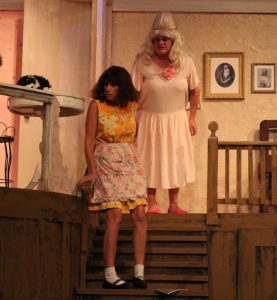 in The Actor's Nightmare and Brenda in Three Questions.
But theater resume aside, Schaffel is also an accomplished EMC actor, which qualifies her for parts at equity houses such as Florida Rep and Gulfshore Playhouse. [TheatreZone is also an Equity theater, but it produces musicals and Schaffel is quick to provide assurances that she neither sings nor dances.]
Obviously, there are numerous Equity theaters on the east coast in Miami, Fort Lauderdale and Palm Beach, and up the west coast in Tampa, St. Pete and Sarasota.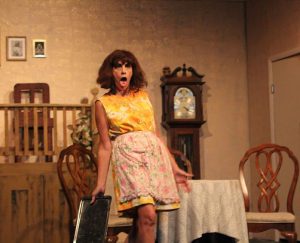 EMC refers to The Equity Membership Candidate Program (EMC), which is one of three ways by which an actor can gain admission to the Actor's Equity Association, the nation's union for stage actors and stage managers. One way to become a member of the union is to get hired as an actor in a union-supported production under an Equity contract. Members of performing arts sister unions such as SAG, AFTRA, AGMA, AGVA and GIAA can apply for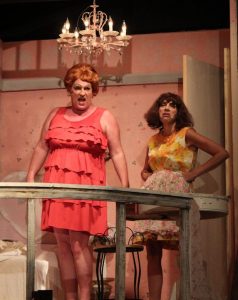 membership. And last, but by no means least, actors and stage managers in training can credit theatrical work in certain Equity theater towards eventual membership in the union.
This latter pathway is formally known as the Equity Membership Candidate program or EMC for short. EMC actors accrue points based on the number of weeks they're hired as an actor by an Equity theater. Under a recent rule change that went into effect in 2018, candidates qualify for their yellow membership card after totaling 25 weeks (which need not be consecutive or accumulated within any specific length of time).
The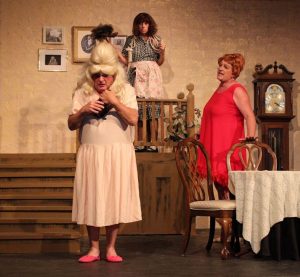 chief benefit of being EMC is with respect to auditions at Equity theaters like Florida Rep and Gulfshore Playhouse. While non-Equity actors can attend Equity Principal Auditions (known in the industry as EPAs), there's no guarantee they'll ever be called in for an audition. That's because they'll only be called if and when no Equity actors are auditioning or waiting for an audition.
"Being an EMC actor, I was able to get a slot for an audition at Florida Rep," said Schaffel, who is hoping for a call-back.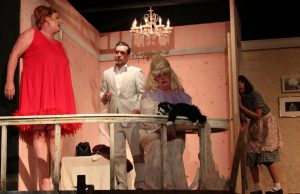 "Backstage [a trade journal] has all the EPAs, so I just follow those. That's how I find most of my stuff. Just look at the listings by all the professional theater houses."
Schaffel is interested in any professional theater opportunities. "If it's equity, that's great because I'm just a few points away, but I'll do any professional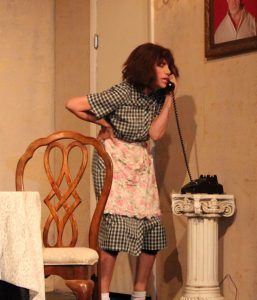 theater."
While Schaffel relishes the instant gratification that comes from theater in the form of audience reaction, she has also done considerable work in film and television. In the latter regard, she's done numerous jewelry, appliance and car commercials, along with episodes of Evil Kin and America's Most Wanted. She also hosted Stars of the Country for MCPA and was even a contestant on The Price is Right.
"She just won Best Actress in the film I Like Me," Randy injects from his seat at the other end of the make-up table in Lab's dressing room.
I Like Me is a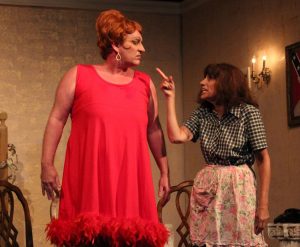 feature based on an eponymous book by multiple award-winning scholar, Dr. Margaret Schultz.
"The film was actually written for me by a friend," Sue points out. That would be Joshua Land, whom she met during an audition for a student film he made while in college. They've been friends ever since.
No surprise, her character in I Like Me is whacky –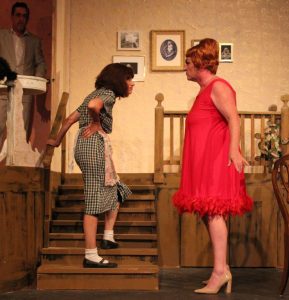 an egocentric free spirit who finds unexpected success as a self-empowerment guru after publishing a self-help book.
"It was fun," Sue laughs. "I really liked doing it."
While she's jazzed by the prospect of reaching a larger audience through film than is normally possible in theater, it can be months, even years for a film to make it into theaters. Although the filming was completed in 2017, I Like Me did not make it out of editing and post-production until earlier this year.
But since then,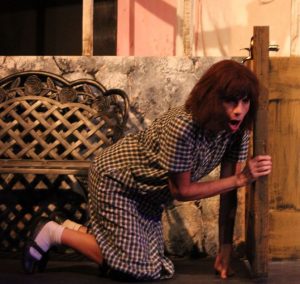 the picture has been accepted by just about every film festival to which it has been submitted.
To date, I Like Me is an official selection of the Sunny Side Up Film Festival, Adrian International Film Festival, Hoboken International Film Festival, North Beach American Film Festival, Lyons Film Festival and Maryland International Film Festival. At Sunny Side Up, I Like Me won:
Festival Director's Choice Best Feature Film;
Festival Director's Choice Best Comedy;
Best Actress in a Feature Film: Sue Schaffel; and
Best Supporting Actor in a Feature Film: Jackson Trent.
Unless the film is purchased beforehand, Sue expects the filmmakers (which includes Abigail Sussman) to submit to area film festivals next season. So you may have the opportunity to see I Like Me locally at one or more venues (such as the Fort Myers Film Festival, Bonita International Film Festival, Fort Myers Beach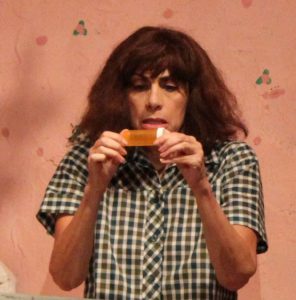 Film Festival or Naples International).
"I'd love to do film down here," effuses Sue, her eyes lighting up at the mere thought of it.
While I Like Me may be her most recent film appearance, it is far from her only one. In addition to The Summer Before, The Waiting Room, Ricardo and Hopping Through Hoops, she has also been in an untold number of short films.
But what thrills her most is basking in the warmth of her first winter in Southwest Florida –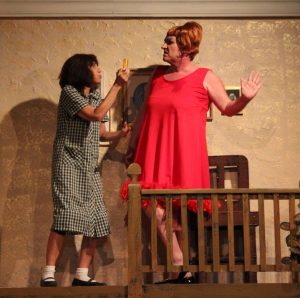 well away from the cold and dreariness of the nation's capital from October/November through March.
"For three decades I've wanted to be a snow bird. I finally got the house and beginning this year, I'm finally going to get my wish."
Washington's loss is Southwest Florida's gain.
See for yourself.
Catch Sue Schaffel as Velma in Hush Up Sweet Charlotte. It plays at The Lab through July 1.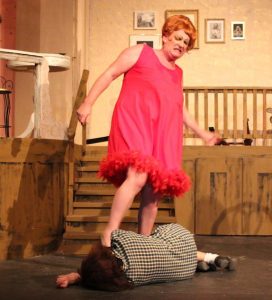 June 14, 2018.
RELATED POSTS.