For Sweet Charlotte's Brian Linthicum, there's no better high than getting big laughs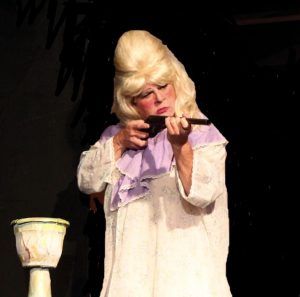 On the boards at Laboratory Theater through July 1 is the sizzling hot summer parody, Hush Up Sweet Charlotte. In the title role of the isolated, crazed denizen of Sam Hollis' antebellum Louisiana mansion is Brian Linthicum. "Charlotte is by far one of the craziest roles I've ever done, and I've done some crazy ones," Linthicum maintains.
It's a role custom-made for an actor with Linthicum's skills. But he was actually afraid he wouldn't even be considered for the part. After all, he was so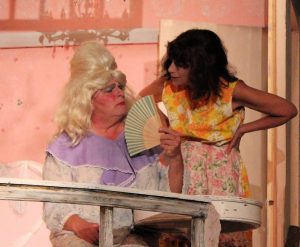 convincing as a backwater hick in Sordid Lives (he played GW Nethercott), what would make anyone think he could make the lightyears leap to a gender-bending role pioneered by the likes of drag diva Matthew Martin? [Martin, after all, turned in one of the best performances of the new century in the 2015 indie film spoof of the iconic 1964 movie Hush Hush Sweet Charlotte starring Bette Davis and Olivia de Havilland.]
Flash back to the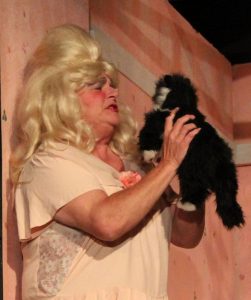 audition scene at the end of Flashdance, where five severe, dour-looking judges sit at individual wood desks at the far end of a cavernous recital hall. Enter Jennifer Beals' character, who must perform a solo routine in order to gain admission to the prestigious dance school where they teach. Ah, the pressure of having to lay it all on the line in order to make a dream come true! Although a misstep threatens to scuttle her chances, Alex Owen dig deep and pulls off a foot-stomping, cigar-chewing performance that wins over the judges and movie audiences alike.
At his own audition, Linthicum channeled his inner Alex Owen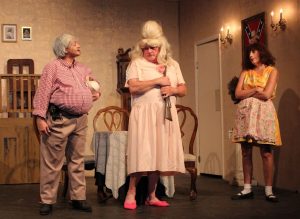 when he strutted upstairs and discovered Annette Trossbach and the other casting directors sitting around a table Flashdance-style. But rather than being intimidated, he issued his own ultimatum. "Man, woman, child, beast. You name it. I'll play it."
We don't know Trossbach or any of the directors was nursing a cold or chomping on an unlit cigar that day.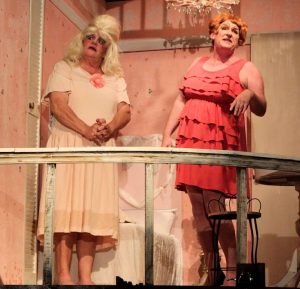 And at that instant in time, Linthicum himself was likely unaware that one of the dancers who doubled for Jennifer Beals during her dance number was actually Richard "Crazy Legs" Colon, who was conscripted to provide the breakdancing elements because they proved too difficult for Beals' two regular body doubles. [Only 16 at the time, Colon shaved his facial and leg hair, donned a curly wig and squeezed into a form-fitting black leotard for the sequence.] But Brian made it into the show, although at that juncture, it wasn't clear whether he'd play Charlotte or conniving cousin Miriam.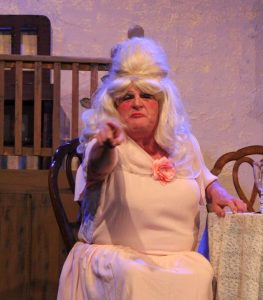 "Initially, Randy and I read both parts," Brian divulges. "It didn't take long for all three of us to decide [the other being Director Annette Trossbach, of course] that I would make the better Charlotte and Randy the better Miriam."
His faced caked in foundation and rouge, grey chest hair peeking from between the C-cups of an off-white bra, Linthicum begins to assume the besieged persona his character portrays throughout the play. Preparing to don the Parton-esque blond wig necessary to complete his Brian-to-Charlotte transformation, he cops to his true motivation in assuming the role.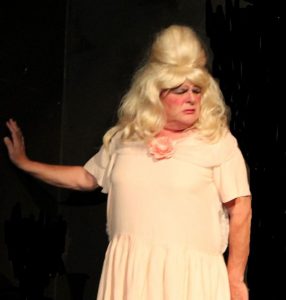 "I like getting the laughs."
Which is something of a paradox in the context of Hush Up Sweet Charlotte. Compared to cousin Miriam and Charlotte's loyal handmaiden Velma (brilliantly played by Sue Schaffel), Charlotte is actually something of a tragic figure. True, she's squirrely by any standard, but Linthicum manages to invest Charlotte with nuance, texture and dimensionality that even Bette Davis would applaud. In so doing, Linthicum induces the audience to feel sorry for Charlotte as the story unfolds. He turns her into an underdog,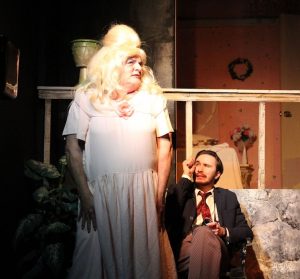 and who among us doesn't pull for the downtrodden to prevail against overwhelming odds.
But Linthicum nevertheless manages to generate a generous quantum of laughs. The scene in which he does the Macarena draws hearty guffaws, for sure. So does the one in which Charlotte purrs as she shares confidences with her black-and-white kitty.
But the infamous car scene toward the end of Art Two is unquestionably one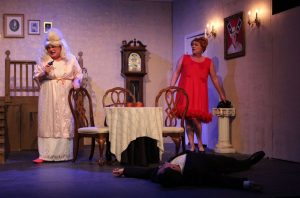 of the funniest sequences in the entire spoof.
One reason for the hilarity of the car scene is that it takes place on an outcropping of stage that thrusts Charlotte and Miriam virtually into the lap of the folks occupying the first four rows the House. The two sit on chairs, simulating a drive down a bumpy country road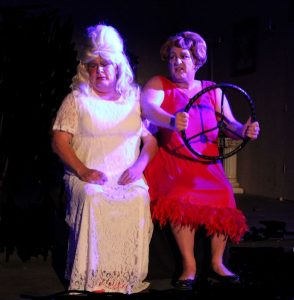 en route to dumping Dr. Drew's body into a nearby stretch of swamp so that the gators can render him a corpus delecti. Charlotte is in the passenger seat, whimpering and distraught. Miriam sits in the driver's seat, snarling, fists clenched around an oversized steering wheel at three and nine o'clock.
"We do our utmost to get our boobs bouncing up and down," Brian chuckles as he envisions the scene on his mental movie screen. "The audience loves that. But it's painful. It hurts our backs and everything else."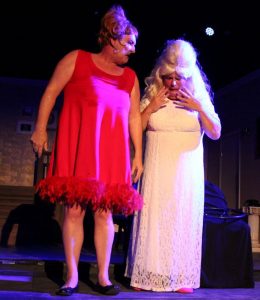 It's no easy task to enunciate lines while pretending to bounce up and down.
"And there's so much emotion. Charlotte is very upset and Miriam is really, really pissed off."
By the end of the scene, Linthicum and Jones are nearly out of breath. But the show's far from over, with the very next scene amping up the hilarity even more.
"When [Charlotte and Miriam] return to the mansion after dumping Drew's body, Charlotte trudges upstairs to her room," Brian explains, his face illuminated by the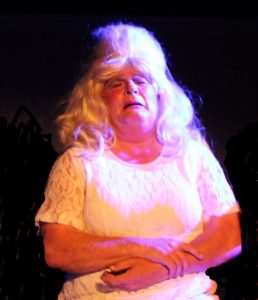 lights above the make-up mirror as stage manager Eren Sisk announces the thirty-minute call.
"Dr. Drew is standing on the landing at the top of the steps [covered in water lilies and pond scum]. The script calls for me to glance at him, go into my room, suddenly realize what I just saw, and then completely freak out. The other night I ad libbed, 'Good night, Dr. Drew.'"
That one line elicited even bigger laughs than the previous night. "Now it's part of the show."
That may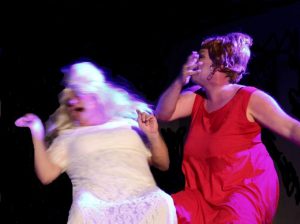 not seem like much of an adjustment, but it's an indicia of the level of sophisticated improv that Linthicum and the rest of the cast bring to this very campy show –  which depends on shtick and predictability for much of its humor and laughs.
Linthicum's entry into the world of community theater was neither predictable nor planned.
"When I was in high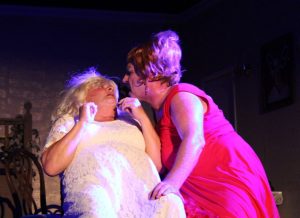 school, I did not have many friends and I did not have much interest in anything either," he candidly recalls. "One day my art teacher told me she was doing this summer theater thing, a show called Play It Again Sam. She talked me into auditioning, and I got the lead. I'll tell you, the first time you get a laugh because of something you did, that's it. It sticks. There is no better high in my opinion."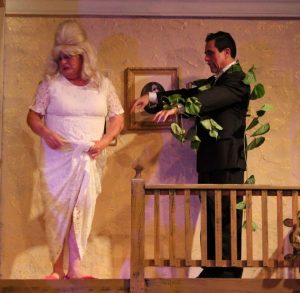 That experience launched Linthicum into community theater, but then his passion for the medium waned after a bad experience in a show at the historic Croswell Opera House in Adrian, Michigan some eleven years ago. "I don't know why, but I hated the part and it turned me off [to theater]," says Brian enigmatically. Since The Lab dressing room is an alcohol free zone on show nights, it was a path we didn't explore further during the interview.
"Then we decided to move here and I let life get in the way."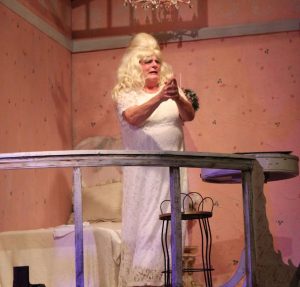 But that came to an end one year ago.
"I was feeling really, really down and couldn't figure out what was the matter," Brian recounts. "It occurred to me that I was missing theater and I began looking online to find out who was doing theater in this area and what shows they were producing. I saw the audition notice for Sordid Lives and said, 'That's what I need. That's what I need.' So I came and auditioned."
He was hoping for another drag-tastic part, that of Earl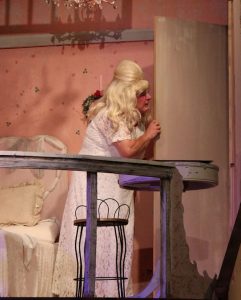 "Brother Boy" Ingram. But Director Scott Carpenter gave Ken Johnson the role of the Tammy Wynette wannabe. Although GW Nethercott might not have been Linthicum's first choice, he made the most of the role.
"Sordid Lives was a great experience," Brian states without reservation. It not only enabled him to segue back into community theater, it gained him acceptance into Lab Theater's zany family of actors, techs and committed board members.
While Brian hopes that both The Lab and its audiences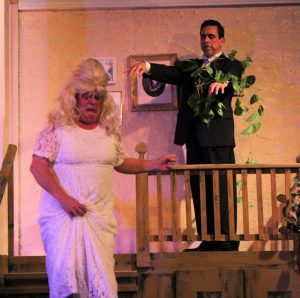 leave Hush Up Sweet Charlotte impressed with his versatility and range, he's content to simply revel in the laughs and positive feedback he's receiving for his portrayal of mad Charlotte Hollis.
"The great thing with this show is how the audience jumps to life when Miriam makes her entrance and starts playing with them. From that point on, they're alive and fully involved" – immersing Linthicum, Jones and the rest of the cast with crescendo after crescendo of rumbling, raucous laughs.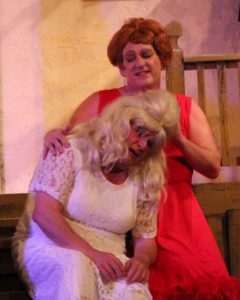 And that's music to Brian's ears.
"I really do like to get the laughs," he reiterates. "It's the ultimate high."
Get your seats quickly as shows are selling out. For more, follow these links:
June 12, 2018.