Kimberly Suskind makes SWFL theater debut as Disenchanted's Cinderella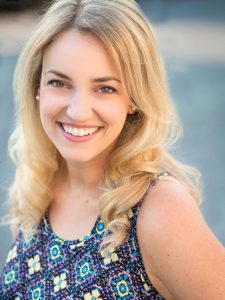 On September 18, Lab Theater dta (doing theater as) LabTV will air the first of three screenings of Disenchanted: Stay-At-Home Version, a comedy in which Snow White, Cinderella, Sleeping Beauty, Belle, Hua Mulan, The Little Mermaid, Pocahontas and The Princess Who Kissed the Frog come together to vent about how things actually turned out following their presumptive "happily ever after." Kimberly Suskind plays Cinderella.
The Cinderella we've come to know and love from fairy tale lore is demur and irrepressible, and the princess presented by Dennis Giacino in Dis! is endearingly perky, quirky and impish. She's all in when it comes to being a real- life princess but she's about to discover there's more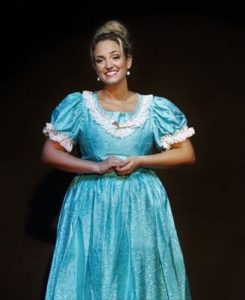 to being a princess than pretty gowns and shiny glass slippers.
"Cinderella starts out as the classic princess that we know from the [fairy tale]," concedes Suskind, who notes that Cinderella is one of the few princesses who is in a happy marriage. "But she learns from the other, more enlightened princesses that she can also be her own woman, that it's okay to be independent. You get to see her sense of empowerment develop over the course of the show."
She may have wanted a prince, but she didn't need a prince.
The Cinderella that Suskind describes is not quite the evolved feminist played by Drew Barrymore in Ever After, a free thinker who saves herself long before her prince arrives for the mandatory rescue. But that's okay. Character arcs, growth and development are much more satisfying – both in real life and centuries-old fairy tales.
Suskind cops to feeling sheer joy at being able to indulge her self-proclaimed Disney nerdome. "Having grown up with the story, with Cinderella being the epitome of what every little girl wants to be, it was fun to live my own Disney princess dreams," effuses Kimberly, channeling some of her character's unbridled enthusiasm.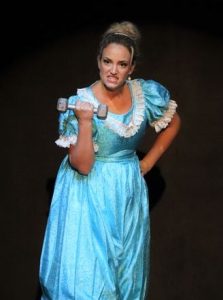 "But I will say what I loved most and connect with best about this version of Cinderella is that she doesn't take herself too seriously. She has a light sense of humor and really cares about all the other princesses."
Suskind's Cinderella is something of a mediator. She wants everybody to get along, especially Snow and Sleeping Beauty, who have a little back and forth between them.
"Snow can be a little much," chuckles Kimberly.
Every good actor comes to identify with their character so closely that they refer to them as if they were a real life person. That's certainly in evidence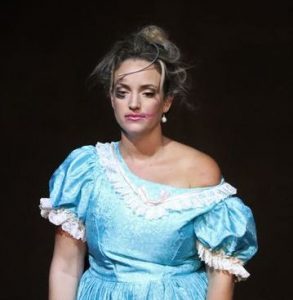 when you listen to Suskind opine about Cinderella.
"These princesses are real people," professes Kimberly. "We've taken them from the two-dimensional characters that you see in animated films and turn them into powerful and empowered three-dimensional contemporary women. [Disenchanted! affords] you the opportunity to see this side of the princesses, and the writing is so funny and easy to connect to. There are some serious moments and dramatic wit, but there's just a lot of humor.  There's
something for everyone to latch on to."
Except maybe children, because of the themes and language involved.
Suskind is a newcomer to the local theater scene. A corporate brat, she's traveled the country, living in North Carolina as a child, attending high school in Seattle and earning her BFA in Musical Theatre from the Boston Conservatory of Music in Beantown.
After graduation, she expected to establish herself on Manhattan, but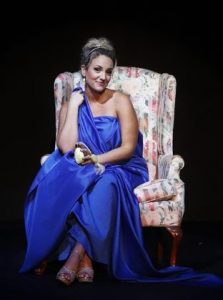 found much more work in Greater Philadelphia (South Jersey, southeastern PA and Delaware). Performances followed at a host of regional theaters, including Walnut Street Theatre (PA), Cape May Stage (NJ), Delaware Theatre Company (DE), The Theatre Barn (NY), Eagle Theatre (NJ), Bucks County Playhouse (PA) and Nightcap Cabaret (PA).
But the tug of family was exerting itself on Kimberly's heartstrings.
"My grandparents were snowbirds, originally from the New York-New Jersey area," Kimberly tells. "When they retired ten years ago, they retired here and then my mom, little brother and sister followed seven years ago."
So Suskind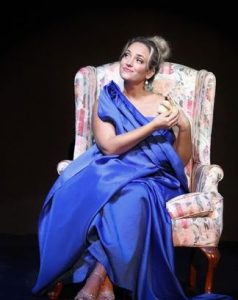 and her husband made the move, becoming Fort Myers residents on March 3rd.
"It's awesome! I haven't lived near my family since I was eighteen."
Of course, their timing could have been better. The Suskinds arrived two weeks before Southwest Florida theaters shut down due to the coronavirus pandemic. But Kimberly and her husband are theater denizens. They're resilient, resourceful and eternal optimists. Undeterred, Kimberly immediately set about familiarizing herself with Southwest Florida's once-vibrant theater scene.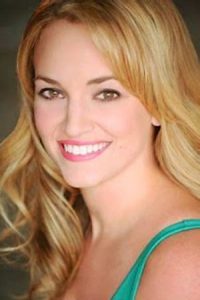 "I was familiar with Florida Rep because my little sister is involved in their Conservatory program, and we'd been to a couple of shows there and a few at Broadway Palm," Kimberly notes. But she was impressed by the breadth and quality of the Equity and community theaters that dot the Lee-Collier landscape.
"It's a really rich arts community here. It's amazing just how much there is here," Suskind observes. "I'm excited to become a part of it."
As her passion is musical theater (her first professional show was Sound of Music, which she did when she was eight), she took particular note of venues like the Rep, Broadway Palm, The Naples Players, Gulfshore Playhouse,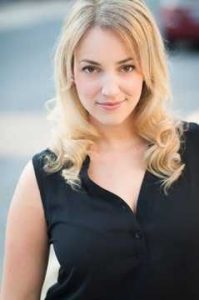 TheatreZone and New Phoenix, which regularly stage Broadway and Off Broadway musicals. But then the audition notice for Disenchanted! unexpectedly popped up on Facebook.
"Lab was new to me, but I had heard of Dis! before. So with nothing to do, I figured why not submit a video. It seemed like a safe opportunity, a cool opportunity to dip my toe into the theater scene here. And I'm super excited to do something artistic at a time when nobody is doing anything."
So yes, Dis! represents Suskind's Southwest Florida debut.
Lab Theater's new, innovative filmed theater production offered Suskind a number of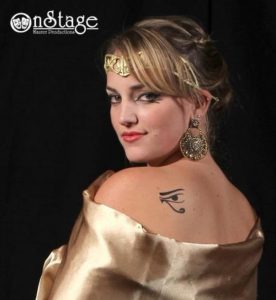 opportunities and challenges. On the one hand, she got to draw upon her considerable stage experience to portray the character arc that Cinderella traverses during the course of the storyline.
"Because there isn't a ton of dialogue or interactions with the other princesses, I had to find other ways to show that at the beginning of the storyline, Cinderella is coming from a place of blissful ignorance, which is necessary in order the audience to appreciate how she comes to be this independent contemporary woman by the end of the show. Finding opportunities to show when and how she comes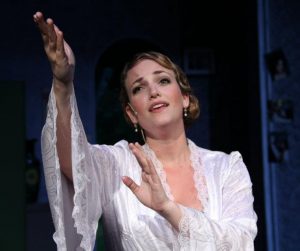 out of her shell and who she is on the inside was pivotal."
Suskind's work in film and television (mostly commercials) also aided her performance in Dis! [She's worked with the likes of Katherine Hepburn, Henry Winkler, Swoosie Kurtz (Mike & Molly, Pushing Daisies, Sisters) and, most recently, American Idol winner Constantine Maroulis in Lucca Films' Dark State.]
"At minimum,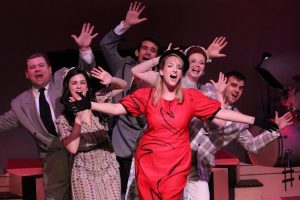 it made me more comfortable working in front of the cameras," Kimberly shares.
For the most part, there were just two cameras – a stationary wide-angle camera in the middle of the Lab Theater proscenium and another that was used for close-ups, typically during the show's more comedic moments.
Had this been a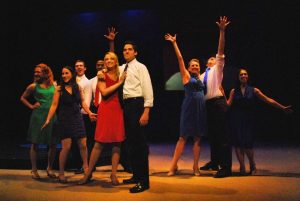 typical film, Suskind would have made her mannerisms and delivery more subtle and nuanced. Where stage actors go big, film actors go small because the camera captures a much more intimate setting where the mere lift of a brow (think Anjelica Houston as Danielle's stepmother in Ever After) can speak volumes. But Disenchanted! Stay-At-Home Version is not that kind of show –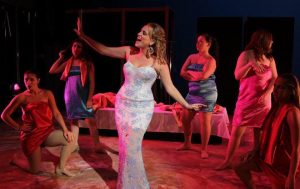 whether performed on stage to a live audience or filmed on stage for stay-at-home viewers.
"Because the production is larger than life, you will see a little more theatricality than you typically see in a film if for no other reason than the nature of the music and the material. The personalities and songs are larger than life.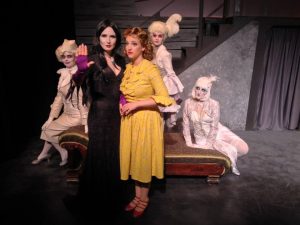 But I did scale back some parts of the performance because I was mindful that the camera was my audience."
Suskind is quick to add that most of the magic on the filming side of Disenchanted! inheres in the work that Paula Sisk is doing in the editing room.
"It's so odd and exciting and weird to film the show like Lab did," Kimberly expounds. "But that's theater today, the way we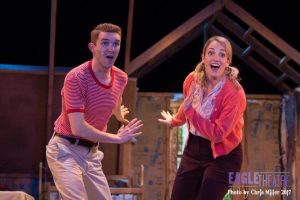 can make it happen. As odd as it was, it was such a warm room. The whole team at the Lab is so warm and inviting. This is so new for everyone. It was very strange not to get to meet the cast or see and hear the other performances. So of course I'm so excited to see the final product."
Disenchanted!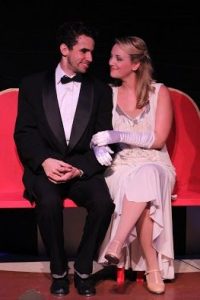 Stay-At-Home Version screens three times – at 8:00 p.m. on Friday, September 18, at 8:00 p.m. on Saturday, September 26 and 2:00 p.m. on Sunday, October 4. A digital pass costing $25 is required and is available by calling Lab at 239-218-0481 or visiting their website.
Meanwhile, Suskind is on the look-out for other opportunities to make a home in the local theater and film communities. With her credentials, vivacity and enthusiasm, she'll have little problem landing future roles. But she also wants to leave her imprint on the next generation of stage and film actors. Toward that end, she's been invited to set up a new theater department by Robin Dawn Dance Academy in Cape Coral. But that's a story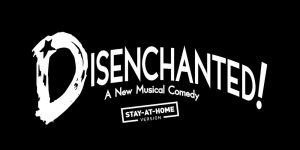 for another time.
For more on Kimberly Suskind, please visit http://www.kimberlysuskind.com/gallery.html.
September 12, 2020.