Greg Wojciechowski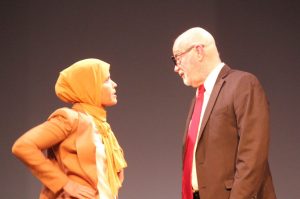 Greg Wojciechowski is a retired lawyer from Chicago who moved to Fort  Myers in 2011. That's when he also exchanged the courtroom for the stage. But he's returned to trial work in 2023, playing a defense attorney whose client is an 18-year-old arrested at O'Hare International Airport attempting to board a plane to Syria so she could meet and marry an ISIS fighter she met online.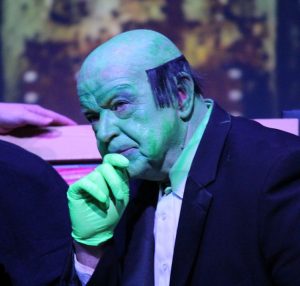 The play's called Faceless, and its Florida premier is being staged by Theatre Conspiracy at the Alliance for the Arts through January 29.
Wojciechowski has been in numerous productions in various venues in Southwest Florida. Some of Greg's favorite past roles include Mr. Potter for Cultural Park Theater in It's a Wonderful Life: A Live Radio Play, the Monster in Young Frankenstein at New Phoenix Theater, Max von Mayerling in Lab Theater's summer parody Sunset Schmoulevard, Norman Thayer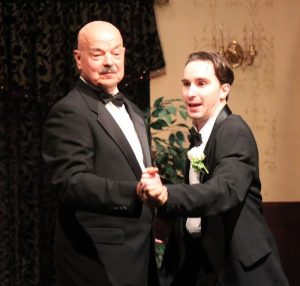 in On Golden Pond for Cultural Park Theater, Teddy Brewster in Arsenic and Old Lace, Ken Gorman in Rumors at New Phoenix Theatre, Lady Bracknell in The Importance of Being Earnest for Cultural Park Theater and Senex in A Funny Thing Happened on the Way to the Forum.
Greg also appeared in the role of Charles in the short play Dance Class by Teri Foltz, which is one of six short plays included in the Center for the Arts Bonita Springs' presentation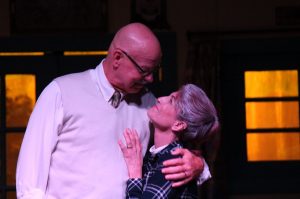 of Funny Shorts LOVE! In this one, directed by Marilee Warner, Greg portrayed a dance instructor who becomes quite taken by a retiree by the name of Janet, who decides to finally take a class after years of driving by her local dance studio.
November 30, 2020; revised January 19, 2023.