Art League of Fort Myers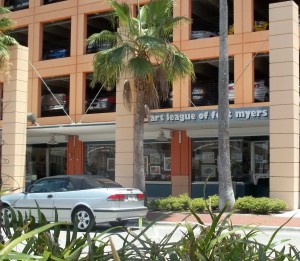 For 57 years, the Art League of Fort Myers has been supporting the arts in Lee County. After many years on McGregor Boulevard, the Art League, with its well-connected network of members, relocated in order to join the vibrant downtown Fort Myers art scene. Its studio/gallery is now mere steps from First Street, the main thoroughfare for Art Walk on the first Friday and Music Walk on the third Friday of each month.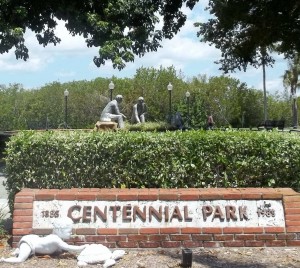 Location. The Art League of Fort Myers is located at 1451 Monroe Street in the City of Palms Parking Garage building. Situated between Bay and First Streets, the Art League is just one block south of the Harborside Event Center and a short jaunt from the entrance to Centennial Park where D.J. Wilkins' fountain sculpture, Uncommon Friends, greets park visitors. [More] The Art League has the distinction of being equidistant between Wilkins' landmark representational tribute to Thomas Edison, Henry Ford and Harvey Firestone and the City of Fort Myers' newest public art installation, Fire Dance, a 25-foot tall all-red modern art sculpture created by Ohio proto-architectural sculptor David Black. [More]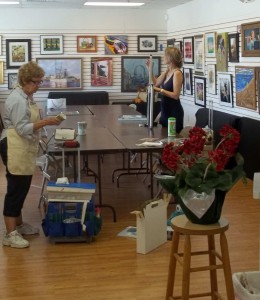 Facilities. The 15-by-60-foot Monroe Street studio/gallery provides ample room for classes, workshops and shows. Storefront windows extending the full length of Monroe flood the space with warm, organic light, and 4×8′ sheets of slat wall, ideal for hanging members' work salon style, line the other three sides of the room. A white drop ceiling and polished tan laminate floors give the studio/gallery a bright, clean look and feel. The facility may not have the trappings of a high-end art gallery, but the appointments meet the League's varied needs, and amply serve the Art Walk crowds who pop in for opening night receptions associated with its monthly exhibitions.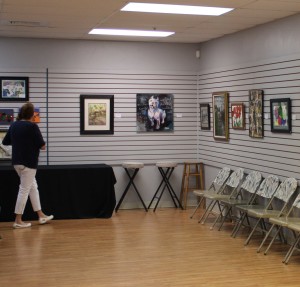 Genres and Media. The Art League of Fort Myers displays member art, which spans a broad cross-section of genres and mediums, including abstracts and representational works (portraits, landscapes and still lifes) in oil, acrylic, watercolor, charcoal, graphite, mixed media, collage and photography. The League augments the art on its walls through monthly exhibitions that open in coordination with Art Walk.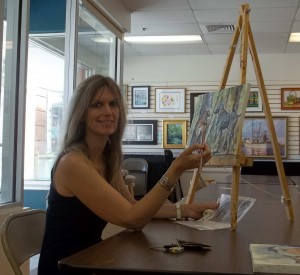 Classes and Workshops. In furtherance of its stated objective of providing encouragement and learning opportunities in the arts for both adults and children, the Art League of Fort Myers offers beginner, intermediate and advanced classes in drawing, watercolors, mixed media, and acrylics and oil. The days, times and instructors are furnished online and via brochures available at the League's studio-gallery. In addition, the Art League sponsors an open painting session from 9:30 a.m. until noon on Wednesdays that is free and open to non-members. Hosted by Joan Woolam and Priscilla Jeffcoat, the open sessions offer an excellent opportunity for newbies to get to know and interact with Art League members in a friendly, informal environment and for members and non-members alike to build relationships, camaraderie, and share technical advice and encouragement.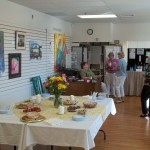 Hours. Tuesday through Saturday, 11 a.m. to 3 p.m.; closed Sunday and Monday; extended hours from 6-10 p.m. for Art Walk on the first Friday of each month; closed for Music Walk.
Telephone Number and Website. You may reach the Art League of Fort Myers by telephone at 239-275-3970 and online at http://www.artleagueoffortmyers.org. You may also follow the Art League of Fort Myers on Facebook at http://www.facebook.com/pages/Art-League-of-Fort-Myers/204669749565937.
Ownership. The Art League of Fort Myers is a non-profit organization with approximately 70 members. Membership is open to artists and friends of the arts, with annual dues starting at $50 per year. Art League membership automatically grants membership in the Art Council of Southwest Florida, which is composed of 14 area art leagues and associations with more than 4,000 members.
Directors and Curators. The studio and gallery are operated and curated under the direction of the Art League's directors and officers. The latter presently include:
Kiki Brewsaugh – president
Marjorie Newton – 1st vice president
Ann Lippold – secretary
Anne Liebermann – treasurer
Mission. In addition to providing support, encouragement and educational opportunities in the arts to both children and adults, it is the Art League of Fort Myers' mission to contribute to the cultural life of the local community and surrounding areas by promoting the appreciation, enjoyment and distribution of fine art.
Now on Exhibit. The Art League maintains a calendar of events with details for the exhibitions and shows it will hold throughout 2013.
Fast Facts.
The Art League of Fort Myers was organized in 1956 and has been in continuous operation for 57 years.
From 1974 through 1992, the Art League of Fort Myers was located on Crawford Street. In September of the latter year, the League moved into the old Schultz farm house  at the corner of Colonial and McGregor. When the farm house was demolished to make way for the Midpoint Bridge, the League moved into the Edwards Building, which was moved to replace the Shultz farm. The League remained there until it decided to become a more integral part of the sizzling River District art scene.
The Art League publishes a monthly newsletter called Brush Notes.
Related Articles and Links.
For 2013
For 2012