Reverie & Rock Art Gallery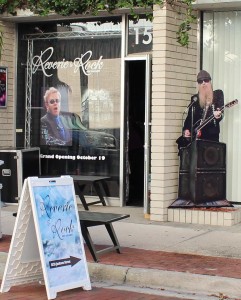 When Art Walk was conceived and planned some five years ago, Happenings A&E Magazine's Jamie Kuser was on hand. Today, he and wife Kathy continue to contribute to the success of the first-Fridays event in myriad ways, not the least of which is through their Jackson Street gallery, Reverie & Rock.
Location. The gallery is located at 1528 Jackson Street, just around the corner from The French Connection.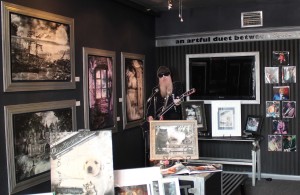 Facilities. The gallery occupies a small rectangular storefront, but with its black walls, charcoal carpeting and vinyl black-out curtains, the space has an edgy, backstage feel that replicates the concert experience and encourages guests to loose themselves in the fanciful digital surrealism of co-owner Kathy Kuser.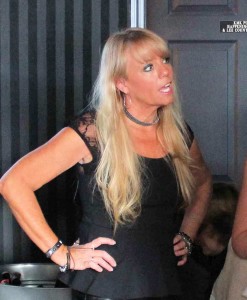 Digital Surrealism of Kathy Kuser. "With my art, I want to bring a fresh and contemporary twist to a long established medium – surrealism," says Kathy Kuser. "Using my skills as a graphic designer, I create 2D/3D digital surrealism. Through a mystical and fantasy driven vision, a story emerges from my canvas. I use stark details with transitional blending; thus my art takes flight."
The resulting compositions are deep and complex neosurrealist pieces that combine the imagery of dreams,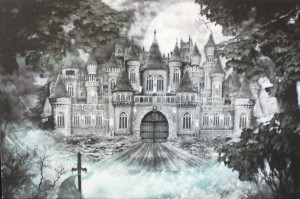 fantasies and the subconscious mind in a way that only became possible with the introduction in the mid-1980s of Photoshop, desktop publishing and modern computer technologies that gave contemporary artists mega-depicting power not possible by hand. In Kathy's capable hands, these software applications are the equivalent of paint brushes, palette knives and epoxy glue. The computer doesn't create the art. The digital artist does.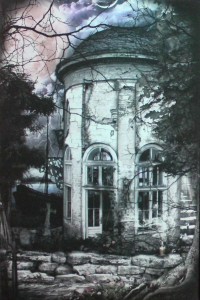 The process begins with Kathy taking hundreds, if not thousands of purposeful images which she then layers in whole or in part to create her final 2D image. It's a painstaking process that consumes huge chunks of time and the patience of a kindergarten teacher-or someone who's logged a decade as a graphic artist for Happenings Magazine. But as a result of this branch chain creative process that incorporates anywhere from 150 to as many as 400 distinct layers, works like New Jerusalem or Stolen Moments (right) never get old or stale. Rather, the collector is rewarded by an artwork that surrenders its secrets like a beautiful and mysterious woman, one image, one dream, one tantalizing fantasy at time.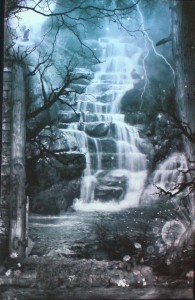 It is difficult to pigeon-hole Kathy's digital works. True, they possess a dark, mysterious aspect, but she deftly avoids the Gothic content that often infiltrates neosurrealist digital imagery. And there is an endearing, definitively romantic aspect to the works she has produced so far. But with technology that continues to evolve and literally thousands of digital artists creating intricate and sophisticated surreal fantasy and fantasy realist artworks worldwide, it will be fun to see how Kuser's art evolves as she gains more experience in this intriguing contemporary genre.
Rock Photography of Jamie Kuser. Jamie Kuser is the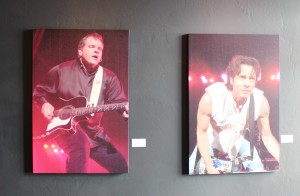 rock portion of the Reverie & Rock equation. For more than 15 years, Jamie has been photographing national recording artists while they perform on stage. From AC/DC to ZZ Top, and from Alan Jackson to Sugarland, Jamie has photographed more than 150 national artists live in concert. His photos have appeared on national tour T-shirts, in VH1's Behind the Music and the Associated Press Photo Archives, been published in daily newspapers and featured in Southwest Florida's own Happenings Magazine.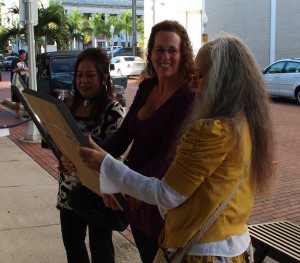 Hours. The gallery is only open during Art Walk, Music Walk, special downtown events and by appointment.
Telephone Number and Website. You may reach the gallery by telephoning 239-278-5236 or visiting www.reverieandrock.com.
Ownership. The gallery is a joint venture between Jamie and Kathy Kuser, who also own KMK Publishing Inc. which publishes Happenings A&E Magazine and Lee County Family News magazine.
Fast Facts.
The gallery had its grand opening on October 19, 2012.
In 2012, Kathy's first images were shown in juried exhibits at the Sidney & Berne Davis Art Center (right), the 2012 Arts for ACT Fine Art Auction and the von Liebig Art Center in Naples.
Published since 1995, Happenings Arts & Entertainment Magazine is available at 500 locations and claims 50,000 monthly readers.
Articles and Links.
A Note about Digital Surrealism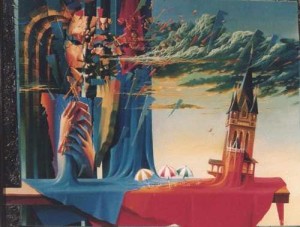 Unlike the surrealism of Andre Breton, Rene Magritte and Salvador Dali, which employed random images and juxtaposition to express the subconscious, neosurrealism  combines the imagery of dreams and fantasies to create complex, hyper-realist compositions. Contemporary artists have been aided in this endeavor by both digital photography and computer technologies, particularly those afforded by Photoshop, Adobe Illustrator, Paint Shop and related 3D modelling software applications.
Neosurrealism does not have a particular founder or group, and the movement is still not clearly defined. There are thousands of artists around the world today who are using traditional media and digital photography to create neo-surrealistic, surreal fantasy, and fantasy realist artworks. But George Grie is perhaps the best known of the digital neosurrealists.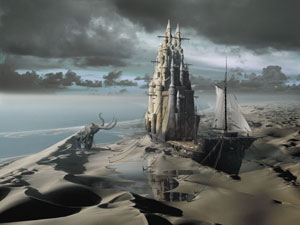 Grie's works portray a magical, playful, dream-like world that invites viewers to take a pilgrimage into their subconscious. Supernatural illusions, mystic romanticism, spiritual magic, and delusional trance are all intertwined in his virtual worlds. There is a stillness in his themes which conveys a sense of inner-reflection. Grie's use of distinction technique provides a stark contrast between the light source and the often dark tonality found in his digital paintings. "The visual capabilities of contemporary 3D applications are far beyond common human comprehension," Grie notes. "Today the sky is the limit to exercise your imagination, intelligence, and ambitions. 'Everything is possible' could be a motto of present and future digital artists. Never-ending combinations of renderings, lightings, and/or shape deformations bring you the sensation of full liberty. There are no more hours of a laborious painting routine. There is no more painful drafting. Everything is instant under the tips of your flying fingers. There is only one chilling obstacle between you and your perfect design – lack of imagination."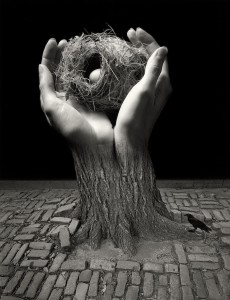 Florida-based photographer Jerry Uelsmann began manipulating photos long before Photoshop transformed the world of photography. Without the aid of photo editing software, Uelsmann uses multiple negatives and up to a dozen enlargers to create composite images that are replete with mystery and symbolism. Man and nature become one, and the impossible becomes possible in Uelsmann's inventive world. His images don't rely on art theory. They reside instead in the surrealism that they create. Because of their ambiguity, they require each viewer to supply and explore her own interpretations. This flies in the face of postmodernism, which has dominated much of the photographic milieu for many years. Since Uelsmann's images vary in meaning and emotion from viewer to viewer, they can't be confined to a simplified genre nor can they be fully intellectualized through commentary. Although he tried Photoshop once, Uelsmann remains steadfastly committed to silver-halide imagery. "I see the incredible options that Photoshop provides, but the bottom line is the technique has to fit with ideas and images," he observes.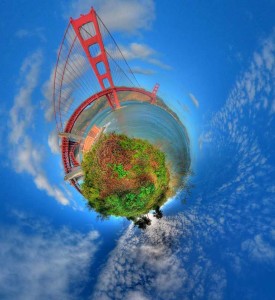 Another accomplished artist working in this genre today is California photo-illustrator and graphic designer Josh Sommers. His visually-compelling digital photography alters our perceptions of reality in order to depict human emotion and challenge our understanding of the world in which we live. In his equirectangular projection series of work, Sommers flattens rounded lines in a process similar to the mapping techniques used for wrapping a world map onto a globe. The process requires considerable effort in the photography stage, where Sommers uses a panoramic tripod head to capture and stitch together a set of a dozen or more images to create a 360° panorama.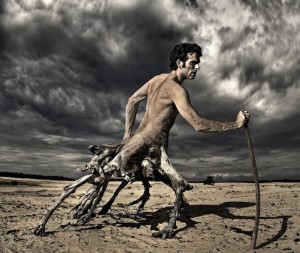 For another body of work, Sommers spent months developing his own mathematical formulas in mathmap to create droste effect photographs, wherein an image is repeated in increasingly smaller variants. "Through photography I am able to express moods, emotions and visions that cannot be expressed in any other way," Sommers explains. "My goal is to never stop learning and photography provides an excellent means to be sure that I attain this goal."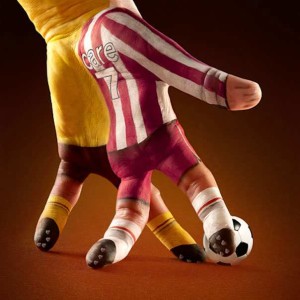 Ray Massey is another pioneer in the world of photo-manipulation. Massey is best known for his clever stills of liquid and drinks, and capturing graceful and soulful imagery in dance. For an Ecclesiastical Insurance ad campaign based on the company's byline "Your're in good hands," the London-based photographer teamed up with talented body painter Annie Ralli to transform hands into architecture, sport scenes and other deceiving objects.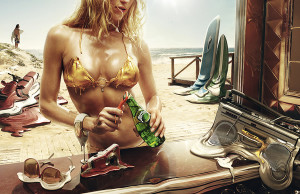 Jean-Yves Lemoigne's melting world Perrier images draw comparisons to Dali. The Paris-based photographer navigates between photography and film to create his memorable graphic images. Lemoigne draws on experiences as an art director and ad photographer to transform scenes of  mundane daily life into another, other-worldly dimension. His work is characterized by strong narrative content