Sidney & Berne Davis Art Center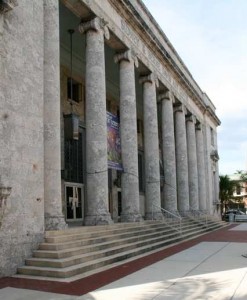 The Sidney & Berne Davis Art Center is part art gallery, part performing arts center and part art, music and theater school. During its inaugural 2009-2010 season, over 65,000 guests visited the Art Center. In addition, its outreach programs were presented to thousands of children through area schools, at-risk organizations and hospitals. Today,  SBDAC regularly recruits award-winning artists who have performed worldwide at such prestigious venues as Carnegie Hall and Lincoln Center in its ongoing mission to provide elite programming to all of Southwest Florida which includes concerts, theatrical performances, dance, independent film, art exhibits and cotillion.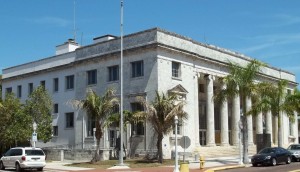 Facilities. The Sidney & Berne Davis Art Center is located at 2301 First Street and is the most recognizable edifice in the historic downtown Fort Myers River District. Some describe the building that houses the art center as the Fort Myers Parthenon. With slender limestone and coral columns, scrolled capitals and stacked bases, the Temple of Athena Nike on the Acropolis in Athens is a more apt simile. Either way, the building is one of the nation's finest examples of neoclassical revival architecture.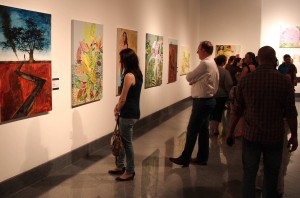 The first floor of the art center holds more than 8,000 square feet of massive exhibition galleries characterized by tall ceilings and granite floors that are ideally suited to the display of artworks on a grand scale. The center gallery or Grand Atrium doubles as a concert hall during musical performances, and as a theater, with theater-style riser seating, for plays and dance performances. [Click here for virtual tour.]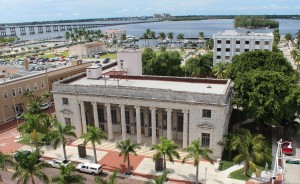 The elevator and second floor are in the process of being rehabilitated. When the renovations are completed, the second story will contain classrooms, studios and SBDAC's administrative offices. The studios will serve as venues in which artists can make, display and sell original works of art giving patrons and visitors the opportunity to experience the creative process of various artistic disciplines first hand.
Historical Background. The 80-year-old building that is home to the Sidney & Berne Davis Art Center has quite an interesting history, and SBDAC does have plans to register the building in due course as an historical landmark.
The building sits on the site of a former settlement of Calusa Indians. In 1841,  the federal government built a fort on the banks of the Caloosahatchee River, and the officers' quarters were located where the SBDAC now stands. When the fort was rebuilt and renamed Fort Myers in 1850, the the commanding officer's quarters were built on the site. If legend is correct, those quarters were where Fort Myers' first daughter was born to Captain and Mrs. Winfield Scott Hancock.
After the fort was abandoned in June of 1965, the town's first settler Manuel A. Gonzalez made the commanding officer's quarters home for he and wife Evalina and eight children. The home was subsequently remodeled and occupied by the families of Louis Lanier, James E. Hendry Sr. and R.I.O Travers before being purchased by Harvie Heitman.
In 1926, the Heitman Estate planned to build a 10-story 250-room hotel on the site and moved the residence to Bay Street. But with the bust of the Big Boom that summer and fall, the hotel plans were abandoned and the residence was converted into Fort Myers' first library. The log cabin was demolished in 1937 after it became unsafe and was condemned.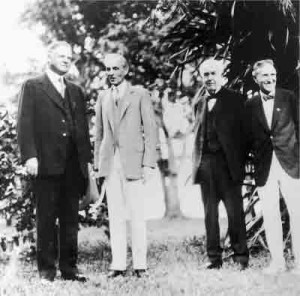 There are conflicting reports about how Fort Myers got such an incredibly beautiful post office. Karl H. Grismer states in The Story of Fort Myers that the building was secured largely through the efforts of B.C. Foxworthy, who had been active for years in Republican politics. During the Hoover administration, he kept bombarding Washington with requests until Congress finally gave in and approved the necessary appropriation. But Berne Davis, among others, believes that Thomas Edison played a role. He invited President Hoover to Fort Myers in 1929 to help him celebrate his 82nd birthday, and after Hoover returned from Edison's birthday party at the Pleasure Palace, Congress suddenly found the money needed to build the new post office.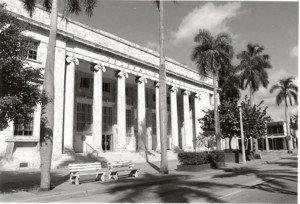 Although some sources state that the post office was a WPA project, the building's design and erection actually pre-date the WPA. In any case, the federal government commissioned prominent Florida architect Nat Gaillard Walker to design the facility.
Walker was a fan of neoclassical architecture. He especially admired 19th Century British architect Sir John Sloan and  Thomas Jefferson, who took time away from his duties as our third president to design not only his neoclassical residence at Monticello but the trademark columns and south portico of the White House. But by the 1920s, the elegant, if not flamboyant, architecture of Sloan and Jefferson had been replaced by the spare, functional style of Frank Lloyd Wright and the German Bauhaus. Both roundly rejected the use of embellishments like columns, false mouldings, scrolls and pilasters. But when their new post office was completed in 1933, Fort Myers residents were delighted to find that were recipients of the first neoclassical revival structure in the country. Civic pride was buoyed again four years later when the most famous example of neoclassical revival architecture, the Jefferson Memorial, was completed under the stewardship of John Russell Pope.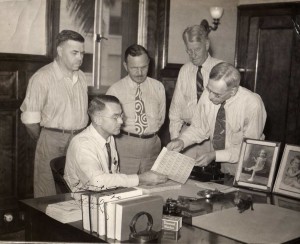 The post office actually opened on October 30, 1933. Sidney Ellison purchased the first stamp. Ella Biglow mailed the first letter. Interestingly, the architect who designed the neoclassic revival edifice became the building's postmaster ten days later.
The federal government built a new post office on Monroe Street in 1965 and the building was converted into a federal courthouse upon its completion in 1967. In the process, many of the unique architectural features that Nat Gaillard Walker had included in the interior were covered over or removed in an effort to provide the building with central cooling and heating. And when the federal judiciary also moved to another location in 1998, the people in charge of the building turned off the power and locked the doors. Water found its way inside and dripped down the walls. Woodwork split. Plaster fell. Drop ceilings sagged. Mold grew unchecked in the non-ventilated interior. And Nat Gaillard Walker's stately building fell into seemingly hopeless disrepair.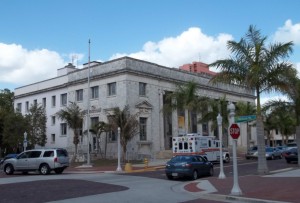 But two years later, the City of Fort Myers purchased the building from the federal government for $185,000 ($15,000 less than what the building cost in 1933) and leased it in late 2003 for 99 years to Florida Arts, Inc. with a mandate that Florida Arts restore the building and convert it into a cultural arts center. "When the federal courthouse building became available," recalls SBDAC Chairman and CEO Jim Griffith, "it just said 'art center' all over it. I paid the rent for the entire 99-year term in advance."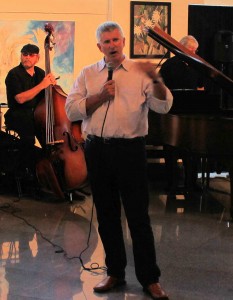 Notwithstanding the economic downturn that began in 2007, and continued through 2011, Griffith and Florida Arts, Inc. raised approximately $3.2 million of the estimated $6 million needed for the massive rehabilitation project, completing most of the restoration required on the first floor of the 23,000 square-foot building. On April 20, 2012, Florida Arts announced that the Art Center had received a $650,000 Cultural Facilities Grant from the Florida Division of Cultural Affairs which is expected to translate into $1.2 million in capital improvements with matching funds and additional support from the community. The funds will enable the Art Center to complete its second and third story renovations and create a permanent home for art and theater classes, workshops and working studios.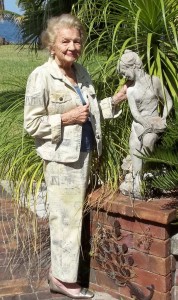 "It's wonderful that the restoration of the beautiful Sidney & Berne Davis Art Center can move forward onto the upper levels and continue its growth and being a part of history," said Berne Davis, whose $1 million donation kicked off the Art Center's capital improvement drive in 2007. It will take about $2 million to completely finish the restorations, which will include an elevator, media room and rooftop sculpture garden. When done, the Art Center will be one of the largest multi-disciplinary cultural arts facilities in southwest Florida.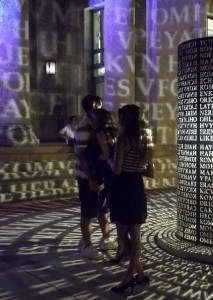 Visual Art Genres and Media. The Sidney & Berne Davis Art Center does not represent or exhibit the work of any visual artists on a permanent basis. Rather, SBDAC displays an eclectic mix of contemporary art on a rotating monthly basis, featuring modern to avant-garde painters and sculptors whose large format work is uniquely suited to the cavernous dimensions of SBDAC's Grand Atrium and satellite exhibition space. Opening night receptions for the artist are free and open to the public and coincide with Art Walk on the first Friday of each month. The Art Center provides either a live musical ensemble or DJ  in order to create a special vibe for the art, artist and Art Walk crowd.
Please review the article links provided below to see what's now on view and coming to the Davis Art Center's grand atrium.
Recurring Weekly Events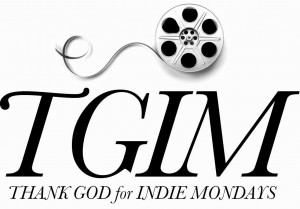 SBDAC offers an alternative to Monday Night Football. It's called Intellectualization Mondays, and features screenings of independent films hosted by SBDAC film curator Eric Raddatz. For just $5 ($2 if you are a founding fan or fan on Facebook), you can mix, mingle and intellectualize after watching short films in consideration for the Fort Myers Film Festival. The dates next month are November 7, 14, 21 and 28, with each night's festivities starting at 6:30 and ending around 9:30 p.m.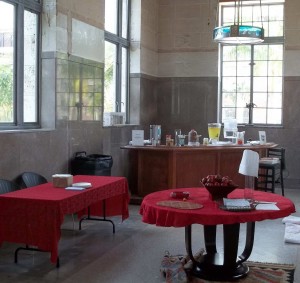 Conservatory Art School is open in the Art Center's east wing every Tuesday and Wednesday throughout the month. Open classes are available from 11:00 a.m.- 2:30 p.m.; After School Youth Arts takes place from 3:00- 4:30 p.m.; and 5:00- 7:00 p.m. is reserved for families and individuals to Art Together. The cost of Conservatory classes is $90 for 5 Tuesday/Wednesday Sessions or $150 for 10 Tuesday/Wednesday Sessions, with hourly rates available. There is also a $15 material cost. For more information, please contact Janie Hemenway at 239-464-1408 or at jljourney@juno.com.
Performing Arts. The Sidney & Berne Davis Art Center hosts plays, independent films, musical concerts, and "Dinners with Berne Davis." The latter combines fine art and exciting international cuisine with world-class musical performances from around the world. In addition, the art center serves as the venue for numerous fundraisers, galas, charity balls and private events.
SBDAC performances are primarily scheduled during the winter tourist season, which begins in November and ends the ensuing April. The following represents the highlights of SBDAC's performance art itinerary:
Through its Fort Myers Film Festival and under the direction of SBDAC film curator Eric Raddatz, SBDAC creates, unites and showcases the finest cinematic art works in Lee, Collier and Charlotte counties.  On September 2, Eric Raddatz will host TGIM Starts, providing a transparent view of how FMff selects the judges and films under consideration for the 2012 Fort Myers Film Festival. The latter event, which features musical guests and performances from local talent, is a tremendous opportunity to grab a drink and intellectualize with the indie community.
Through its American Virtuosi Chamber Concerts, SBDAC features internationally-renowned concert artists who perform music of the great composers.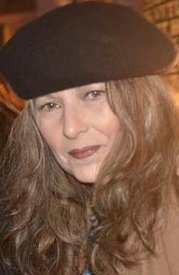 Conservatory Art Classes and Show. Under the direction of arts educator, artist and freelance writer Janie L. Hemenway, the Conservatory Art Education program offers on Tuesdays and Wednesday mixed media open sessions from 11:00 a.m. to 12:30 p.m. and from 1:00 – 2:30 p.m., after-school youth art projects from 3-4:30, and individual and family-oriented evening art programs from 5-7 p.m.  The artworks produced during these classes and workshops are featured in an art show on the last Wednesday evening (from 6-9 p.m.) of each month. The Conservatory Art Education program also holds silent auctions and offer raffle tickets so that everyone in the community can help complete the second floor renovations, "one brick at a time," through donations, contributions and their enrollment in classes and workshops.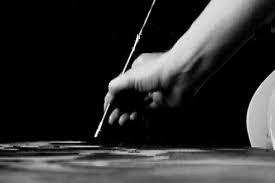 Classes, workshops and the Last Wednesday Conservatory Art Shows will be centered around the monthly themes.  Director Janie Hemenway has taught art at the Lee County Alliance for the Arts and was a nominee in 2011 for an Angels of the Arts Award for Best Art Teacher. Originally from New York, Hemenway is known for passionate and insightful mentoring designed to help individuals find and develop their own style, meaning and interpretative sensibility. A former actress, she is the perfect choice to provide private and semi-private instruction in mixed media arts, music, acting, fashion and deportment at the Sidney & Berne Davis Art Center.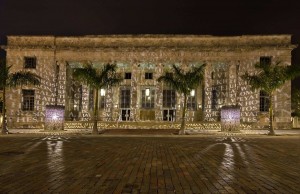 Hours. SBDAC is open Monday through Friday from 9 a.m. to 5 p.m. The East Wing is open on Tuesday and Wednesday evenings until 7 p.m. for the Art Center's Conservatory Art Classes and until 9 p.m. on the last Wednesday of each month for the Conservatory Art Show. SBDAC is also open for special events including Art Walk on the first Friday of each month (when it is open from 6-10 p.m.) and Music Walk on the third Saturday of each month (when its hours are 6-11 p.m.). Additionally, SBDAC can be rented as a private event venue.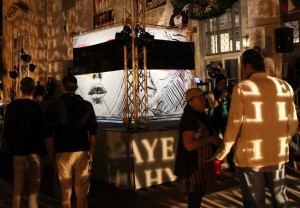 Telephone Number and Website. The gallery's telephone number is 239-333-1933 and can be found online at http://www.sbdac.com.
Ownership. Florida Arts, Inc. leases the building and operates the Sidney & Berne Davis Art Center. Florida Arts was formed on March 7, 1997 by Jim Griffith to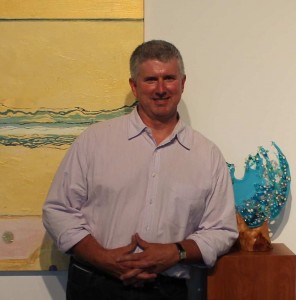 strengthen and serve the arts community in his native Fort Myers. Griffith serves currently as SBDAC's Chairman and Chief Executive Officer. The soft-spoken Juilliard-trained violist for the Naples Philharmonic Orchestra has set a goal of building the Sidney & Berne Davis Art Center into a world-renowned visual and performing arts center serving all of southwest Florida. As Griffith told Gulfshore Life: "Living in New York for five years (while attending Juilliard), I was exposed to extremely diverse and overwhelming arts and culture. Realizing what that does for the quality of life, and the educational opportunities that provides to the youth, I saw that need in Fort Myers." Griffith is a former member of the Hudson String Quartet, principal violinist of the New York Pro Arte Chamber Orchestra and New York Virtuosi, and co-founder of American Virtuosi. He was honored in 2008 by the Lee County Alliance for the Arts who recognized him as their Angels of the Arts Art-Organization Leader of the Year.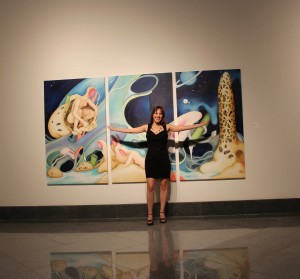 Mission. SBDAC's stated mission is to nurture innovation and excellence in the visual and performing arts through education, entertainment and outreach programs. The Center seeks to attract world-renowned and emerging local visual and performing artists and provide them with a venue that will help them learn their crafts, display their talents and foster their careers.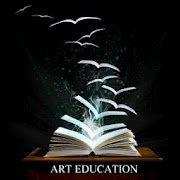 Once the second story renovations have been completed, SBDAC expects to add a curriculum of classes catering to artists, performers and the general public, and through its community outreach programs, the center seeks to ensure accessibility to the arts by the disadvantaged and underserved through charitable programs, ticket breaks and transportation subsidies. "We believe that educational programming should be nothing less than a catalytic force in promoting the arts as a common language, as a means for transcending barriers, and as a tool for individual and collective expression," says SBDAC. "The education programs at the center and in neighborhood settings will include workshops, performances, symposia, lectures, and residencies; present curriculum-based visual and performing arts programs for school field trips; and ensure accessibility to underserved or disadvantaged youth."
Namesakes. The art center is named after two iconic civic leaders, Sidney and Berne Davis. Sidney Davis was a banker turned haberdasher who operated the Sidney Davis Men's Store for decades in space now occupied by Arts for ACT Gallery in the century-old Arcade Building located just half a block away. A close friend of Thomas and Mina Edison, Sidney Davis thought that Fort Myers was a "slice of heaven," and the civic leader instilled in his bride, Berne, civic pride and a spirit of philanthropy that prompted her to donate $1 million in 2007 to Florida Arts for the preservation and renovation of the abandoned federal courthouse that's now home to the art center.
Bernese Barfield Davis possesses a special relationship to the building that today bears her and her husband's names on its entablature. She watched its construction as she attended Fort Myers High School, and the building opened the same year she graduated, 1933. Under Mina Edison's tutelage, the humble, self-deprecating and gracious Southerner became involved in various garden clubs and causes which inspired Berne some sixty years after Mina Edison' death to endow a chair at Florida Gulf Coast University for landscape design, education and research. The year after, she made her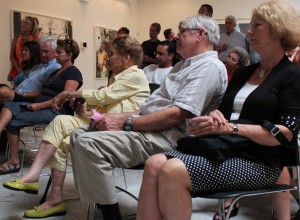 $1 million gift to the art center for which the Lee County Alliance of the Arts honored her by naming her as their 2007 Angels of the Arts Benefactor of the Year. In 2008, Berne established a healing garden at the Regional Cancer Center for patients and their families. Emulating Mina Edison and BFF Barbara B. Mann, Berne also became affiliated over the years with Edison State College, the Edison College Foundation, and the Clinic for the Rehabilitation of Wildlife on Sanibel Island. In 2009, Bernese Barfield Davis became the first recipient of the Southwest Florida Museum of History Foundation's History Maker of the Year Award, prompting then mayor Jim Humphrey to declare, "I consider Berne to the be First Lady of Fort Myers."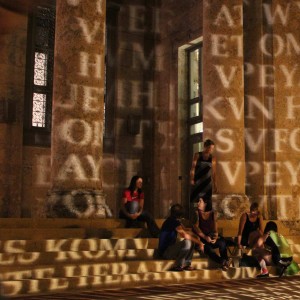 Fast Facts. The building that SBDAC today calls home was featured in the 1995 motion picture Just Cause, starring Sean Connery, Laurence Fishburne, Kate Capshaw and Scarlett Johansson. In 2001, Florida Power and Light Co. commissioned a light sculpture from artist Jim Sanborn and donated the completed work, titled Caloosahatchee Manuscripts, to the City of Fort Myers. The city had it installed on the sidewalk in front of the art center. At night, the two bronze cylinders with incised letters bathe the art center's facade, limestone steps and the surrounding sidewalks in a "phosphorescent alphabet soup."