Leo Johnson
Artist:  Leo Johnson
Genre:  Figurative Abstract
His Art:
Leo Johnson is a third generation Cuban-Sicilian who is immersed in the realms of art, culture and language. His paintings are in many prestigious collections and universities, including the Student Union Building at Florida Gulf Coast University.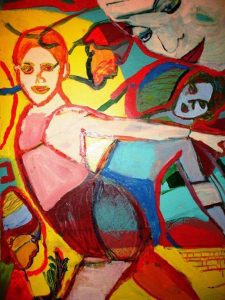 "In my paintings I try to reflect the human spirit – its agonies, joys, exuberance – and peaks and valleys of everyday life," says Leo. "Also included are the fleeting moments which appear to us once in a lifetime and are gone…  Throughout the history of art, mankind has been the motivator, the inspirer, and the force that protects and propels civilization into the future.
An internationally-recognized artist, he has exhibited his works throughout Europe, with his most recent exhibit taking place in the Sunflower Gallery on the island of Crete off the coast of Greece. He has enjoyed solo shows at Arts for ACT Gallery, Broadway Palm Dinner Theater, Syzygy, the Alliance for the Arts and Liquid Café in Fort Myers,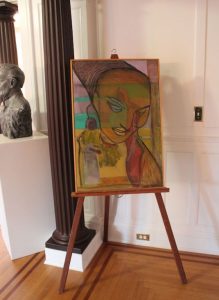 Barrier Island Group for the Arts on Sanibel and Der Flur Gallery in Kassel, Germany. Leo's work has also been included in numerous group exhibitions including, most recently, Forever Friends at Sanibel's Watson MacRae Gallery, the Alliance for the Arts' Art Lives Here billboard campaign (reproduction of Apple of My Eye), Edison's Jungle Thomas Edison Invitational in 2019, Dia de los Muertos at the Alliance for the Arts in 2018, the 2017 Fort Myers Individual Artist Grant Recipient Show at the Sidney & Berne Davis Art Center and the Southwest Florida Annual Juried Painting Exhibit at Rookery Bay in Naples in 2016 and 2017.
Bio
Leo studied painting in San Miguel, Mexico, at the Instituto Allende. His European representation is through De Fleur gallery in Germany.
November 11, 2021.