Paper Grotto Live! to perform during Music Walk on November 19
The Fort Myers Individual Artist Grant Recipient Show is on view now through November 27 in the historic Langford Kinston Home in the downtown Fort Myers River District. The exhibition showcases the work of artists who received grants from the City of Fort Myers in 2018 and 2019, including (alphabetically) Patricia Collins, Lily Hatchett, Krista Johnson, Leo Johnson, Mike Kiniry, Tim Smith,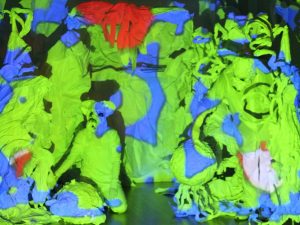 Terry Lynn Spry, Berry van Boekel, Gregory and Warren Van Kirk and Rosaline Young. [Please click on the links to learn more about each artist and their body of work.] As an added bonus, busts cast in 1990 by North Fort Myers sculptor D.J. Wilkins for the Harborside Event Center are on display in the foyer of the Langford Kingston Home along with a bust of Seminole Chief Billy Bowlegs.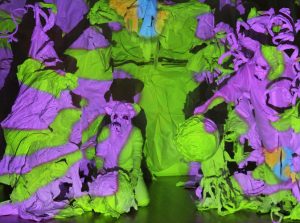 In addition to weekdays from 9:00 a.m. to 1:00 p.m., the exhibition will be open to the public from 7:00 to 10:00 p.m. during Music Walk on Friday, November 19. On that occasion (and weather permitting), projection mapping artist Tim Smith will light the exterior of the Langford Kingston Home with images from his Kinetic Wafers series while Lily Hatchett and the Paper Grotto Live! will perform in the drawing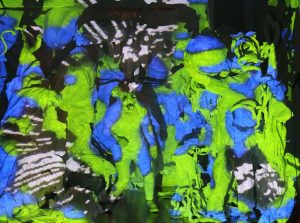 room inside from 8:00 to 10:00 p.m.
Paper Grotto Live performances consist of video imagery that is projected onto tall free-standing white paper sculptures that resemble a hidden cave or grotto as performers dressed in white clothing and dog heads move about this environment to musical accompaniment interacting with each other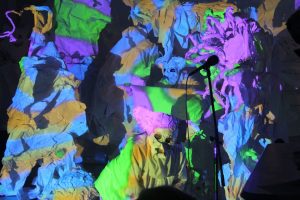 while performing seemingly random movements and improvisational tasks. The video is comprised of unusual elements (ranging from digitally-effected footage of the Hudson River to a mop hanging over the stern of a boat, a marionette doll dancing and tropical plants and shrubbery from the artist's backyard) that are extruded or passed through a series of colored filters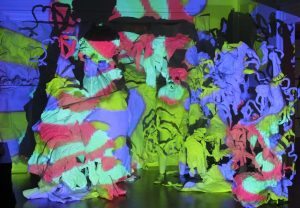 to infuse them with a non-linear, abstract quality.
The performers become part of the sculpture installation, creating ever-changing shapes to effect an "activated" projection "screen." In this effort, they use items in the grotto that include spare architectural elements and range from water to fire, poetry to prose, fashion to puppets, as well as large paper dogs,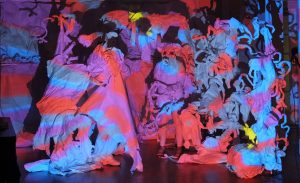 paper haircuts and more.
"The wearing of animal heads has a long history in theatre, as well as religion," Lily adds. "A transformation occurs in the wearer. A safe, freeing, spiritual broadening aspect is manifest."
Hatchett modifies her sculptural installations to fit each performance space.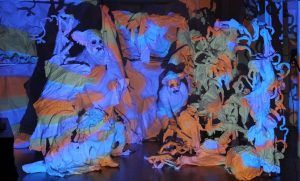 So in a very real sense, each performance is site-specific. She uses white paper because its diaphanous translucence becomes an ambient light catcher when seen in full light. But when light is projected onto the white paper, it takes on a mysterious "3rd dimension."
"It's like singing in the shower or hiding in plain sight … you haven't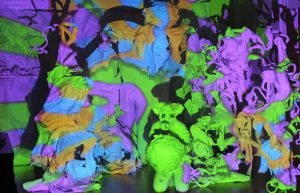 seen anything like it … bedazzles the brain …."
Or as Hatchett is wont to say, "When you find inspiration from obscure sources, you never know where that is going to take you."
For more on Lily Hatchett and Paper Grotto Live!, please read here.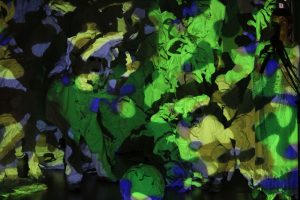 For more information about the exhibition, please contact Fort Myers' Public Art Consultant, Tom Hall, at 239-691-2292 or tom@artswfl.com. For more information on the Uncommon Friends Foundation, the Langford Kingston and Burroughs Home or Holiday House, please contact UCF Business Manager Laura Pegler at office@uncommonfriends.org.
November 9, 2021.