Lily Hatchett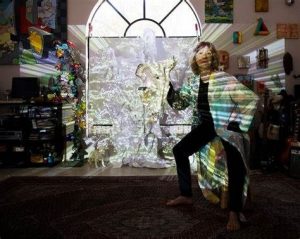 Artist:  Lily Hatchett
Genre:  Performance, Sculpture, Painting, Drawing
Website: www.lilyhatchett.com
YouTube:  https://youtube.be/pJ3cGX2_ars
Online Magazine:  indiefilmreporter.com
Her Art: Hatchett is a multimedia artist who combines sculpture, video,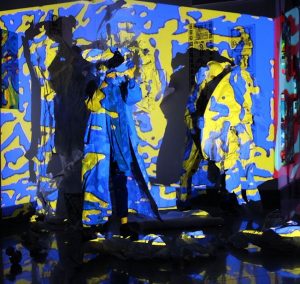 drawing and live performance. The latter incorporates aspects of Butoh, a form of theater that encompasses a diverse range of activities, techniques and motivations for dance, performance and movement. While somewhat difficult to define, some common features of the art form include playful and grotesque imagery and extreme or absurd environments. It is traditionally performed in white body makeup with slow hyper-controlled motion. Butoh groups are increasingly being formed around the world, with various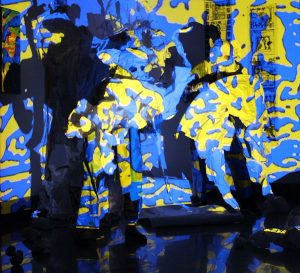 aesthetic ideals and intentions. (Butoh is not seen as specific movement, but as a certain state of mind or feeling that influences the body directly or indirectly.)
Paper Grotto Live: The principles of Butoh play a prominent role in Hatchett's Paper Grotto Live performances, in which Hatchett projects video imagery onto tall free-standing white paper sculptures that resemble a hidden cave or grotto as performers dressed in white clothing and dog heads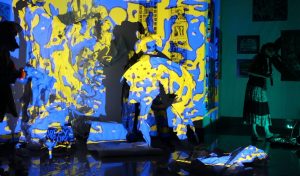 move about this environment to musical accompaniment interacting with each other while performing seemingly random movements and improvisational tasks. The video is comprised of unusual elements (ranging from digitally-effected footage of the Hudson River to a mop hanging over the stern of a boat, a marionette doll dancing and tropical plants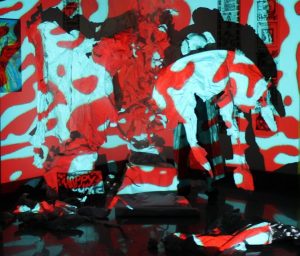 and shrubbery from the artist's backyard) that are extruded or passed through a series of colored filters to infuse them with a non-linear, abstract quality.
The performers become part of the sculpture installation, creating ever-changing shapes to effect an "activated" projection "screen." In this effort, they use items in the grotto that include spare architectural elements and range from water to fire, poetry to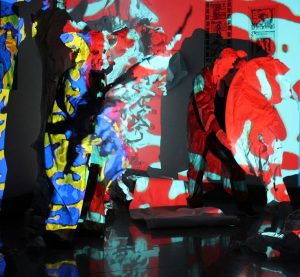 prose, fashion to puppets, as well as large paper dogs, paper haircuts and more.
"The movement looks like nature, a highly filtered nature," Hatchett explains, adding that she uses dogs because they are universal, show a lot of heart and keep us busy.
"The wearing of animal heads has a long history in theatre, as well as religion," Lily adds. "A transformation occurs in the wearer. A safe, freeing, spiritual broadening aspect is manifest."
Hatchett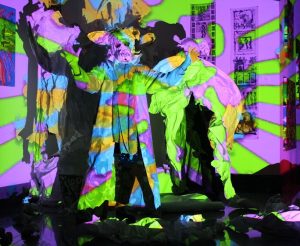 modifies her sculptural installations to fit each performance space. So in a very real sense, each performance is site-specific. She uses white paper because its diaphanous translucence becomes an ambient light catcher when seen in full light. But when light is projected onto the white paper, it takes on a mysterious "3rd dimension."
"It's like singing in the shower or hiding in plain sight … you haven't seen anything like it … bedazzles the brain …."
Or as Hatchett is wont to say, "When you find inspiration from obscure sources, you never know where that is going to take you."
While she has pre-recorded music available for each show, Hatchett prefers to perform with live musicians. Some of the musicians who've partnered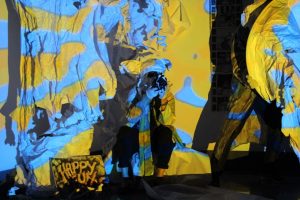 with Hatchett for Paper Grotto Live performances include Emmy Award-winning and Grammy-nominated flautist and composer Kat Epple, Sonic Combine (Epple, Laurence Getford and Lawrence Voytek), Nathan Dyke (who specializes in the didgeridoo), and Peter Kincl and Blownapart. In addition to Lily, performers have included David Hatchett, Trace Meier, Toni Ferrell Sutton, and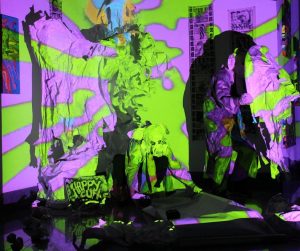 Heather Moxxiie.
In addition to venues ranging from New York City to New Orleans (at the New Orleans Fringe Festival in 2014) and Miami ((Miami Art Week in Wynwood, 2013-2016, 2019), Hatchett has performed Paper Grotto Live locally at Everglades Wonder Gardens (Masque Soiree, March, 2021), the Shangri-La Springs Resort & Spa in Bonita Springs for its free Art & Nature Community Nights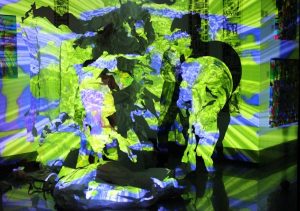 (2017-2019),  Bob Rauschenberg Gallery (2019), the Sidney & Berne Davis Art Center (to open the City of Fort Myers Individual Artist Grant Recipient Show in September of 2017 as well as Paper Grotto Fashion Report, a very unusual fashion show in 2013 during which models hiding behind her paper creations surprised the audience) and the FGCU Black Box Theatre (2012).
Bio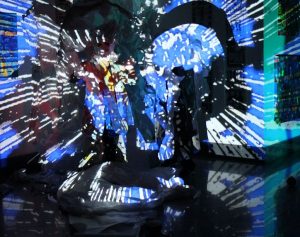 Born in Belgrade, Lily was raised in Paris, Honolulu and Ohio before moving to New York City to become immersed in the latter's arts and cultural scene. Lily received her bachelor's degree at Antioch College in Ohio, where she studied staging, rigging, inflatable architecture, prototype 5 (covering one acre of land), early childhood education and fine arts. She earned her master's in fine arts from the Maryland Institute College of Art,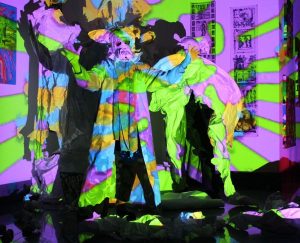 LeRoy E. Hoffberger School of Painting in Baltimore. She moved to Fort Myers in 2007.
Hatchett has received individual artist grants from the City of Fort Myers in 2018, 2015, 2014, 2012, 2010 and 2009, along with a grant from the Meisenberg Family Foundation in 2020 and grants from Buffalo and New York City. Among her awards and accolades are a 2013 sculpture award from the Alliance for the Arts and a Paper Art Award from Big Arts in Sanibel.
More about Performance Art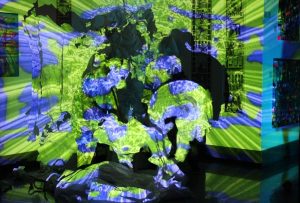 Performance is a genre of art that is typically presented live by the artist, either alone or in conjunction with performers, collaborators and sometimes even random viewers or spectators. It traces its origins back to Futurism and Dadaism and is characteristically employed to express discontent with conventional forms of art, such as painting and traditional modes of sculpture.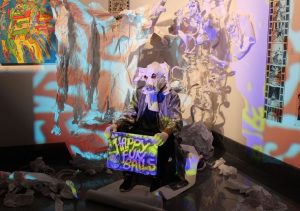 But it can also be used to give voice to deeper psycho-social and political issues. Not surprisingly, a significant number of performance art pieces were conceived and presented in the 1960s, where they explored topics that ranged from the rise of feminism to anti-war activism.
Although the concerns of performance artists have changed since the 1960s, the genre has remained a constant presence and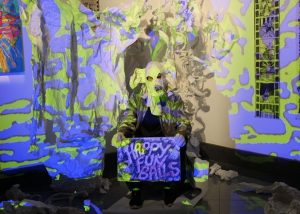 has largely been welcomed into the conventional museums and galleries from which it was once excluded. In many instances, performance artists have deliberately included shocking components in an attempt to engage viewers both intellectually and emotionally in their work. In one recent exhibit at New York's Museum of Modern Art, for example, one interactive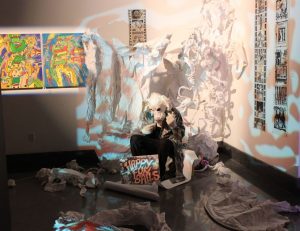 performance piece left viewers tearful, shaken and inspired enough to permanently memorialize the experience through tattoos. Titled The Artist is Present, the exhibit featured artist Marina Abramovic seated in a chair staring intently across a small table at an empty chair. Members of the audience took turns occupying that chair as Abramovic peered through their eyes and seemingly into their very souls. Some laughed self-consciously. Many broke down in tears. Virtually all experienced some type of dramatic, raw emotion.
October 19, 2021.