Ehren F. Gerhard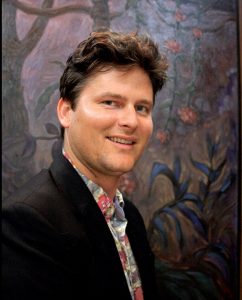 Artist:  Ehren F. Gerhard
Genre:  Expressionist
Motifs:  Botanical, Landscapes
His Art:
His media include painting, graphite, printmaking and works in ceramics. His motifs and compositions reflect his extensive travels both within the United States and abroad.
Gerhard describes his compositions as "wild, crazy, goofy, intense as possible, playful and psychedelic." But he hastens to add that he doesn't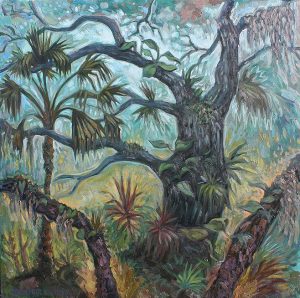 merely paint what he sees. Inspired by contemporary trends in art, his botanical compositions and landscapes are a synthesis or amalgamation of a given spot or locale as viewed from differing perspectives.
In this, he is unique. Whereas traditional landscape painting portrays the subject from a fixed point of view, Ehren's contribution to the motif is to depict his subject within the frame from multiple spots along the time/space continuum.
"This gives me the ability to
move things around rather than paint from a single point," Ehren explains. Of course, this shifting perspective presents myriad challenges and opportunities, like looking up at the sky and down at your feet at exactly the same moment.
Gerhard's overarching goal is not to create just a panorama as captured by a point-and-shoot camera, but an entire visual experience that expresses his emotional reaction to a place that can be experienced on some level by his viewers. That experience will change,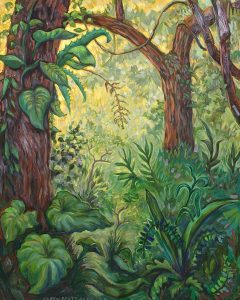 however, as the viewer moves toward the canvas or away from it because of the multiple layers of impasto and glazes that he employs.
In that regard, he clearly embraces Expressionist principles, which inspires artists to present the world from a subjective perspective by drastically distorting it to provoke emotions and ideas.
But the artist insists that there is also "something of an impressionist cast to what I do." And that includes his current practice of painting almost exclusively en plein air.
"I used to take photographs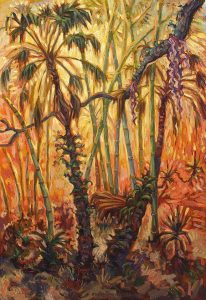 and then go back into the studio, but there are too many things you don't notice if you're just passing through a place," he adds. "Those things only reveal themselves if you're willing to stand on that site, look deep, and study what you see."
"I grew up in small towns and my family moved across the country multiple times," Ehren confides. "I see new places as exciting opportunities to discover more about unique cultures, histories and natural ecosystems."
"When I stop, look and enjoy my surroundings," Ehren adds, "I feel privileged to see the world as a magical place."
Because of his patience,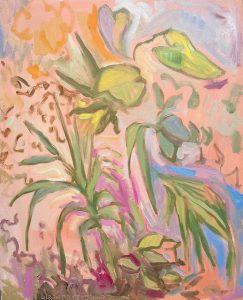 tenacity and willingness to think outside the traditional paint box, Gerhard is able to channel energy, emotion and joy into works that bend, twist and model the representational structure to which we are all accustomed in ways that pull viewers in, make them want to stay and play around awhile so they can see, explore and appreciate the multiple levels of imagery and activity that he so meticulously presents.
Area art lovers may recall his 2015 group show in the FGCU ArtLab, Reunion: Baker, Gerhard & Heubeck. He has also exhibited locally in group exhibitions at the Sidney & Berne Davis Art Center, Space 39 and ArtFest Fort Myers.
Curatorial Work
Gerhard serves as the Alliance for the Arts Exhibitions Director, a post he assumed in September of 2019. Previous to that, he served as the Arts Exhibitions Director for the Center of Visual Arts Bonita Springs. He is also an adjunct drawing instructor at FGCU. With a demonstrated history of working in the fine art industry, Ehren's curatorial resume evinces a high level of skill in art education, museum standards and practices, exhibition layout and lighting, and arts administration.
Education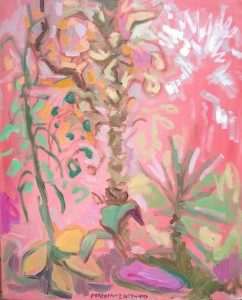 Ehren possesses a Master of Fine Arts (M.F.A.) in Painting and Drawing from Arizona State University, where he also taught courses in 2-D Design and Drawing from August of 2010 to May of 2013, and a Bachelor of Arts in Fine Art and Studio Arts from Florida Gulf Coast University, where he served as Head Gallery Assistant for a year. He is also an alumnus of the Cypress Lake High School Center for the Arts.
Fun Facts
After earning his Bachelor of Arts, Gerhard worked a series of environmentally-related jobs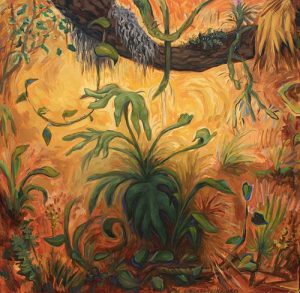 before marrying and moving with his bride to a small town in Spain, where he taught English, got to be an extra in a movie, had a solo show of his paintings and made a lot of connections. After earning his M.F.A. in 2013, he returned to Spain for a year to serve as Cultural Ambassador: North American Language and Culture Assistant at the Ministry of Education, Culture and Sport of Spain.
January 8, 2020.
RECENT DEVELOPMENTS
Gerhard's 'Heat Stroke' in SBDAC Capital Gallery through January 31, 2020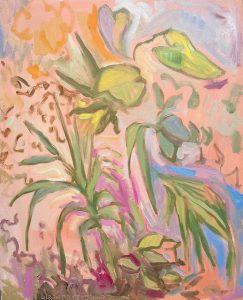 An exciting new show of work by Ehren Fritz Gerhard is  concurrently on view in the Capital Gallery at the Sidney & Berne Davis Art Center through January 31. It's called Heat Stroke, and is comprised of mixed media monotypes and botanical paintings in oil and acrylic. The imagery includes decorative tropical plants, fruit trees and edible landscaping cultivated by the artist in his very own garden.
Working from life, Gerhard created a series of gesture drawings inspired by an immersive experience in his garden. The drawings develop and work their way into larger, more complex paintings or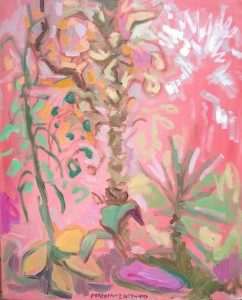 become an edition of experimental monotypes varying in color, approach and solutions. Placing emphasis on the expressive qualities of each medium to interpret the energies of the natural world, Gerhard renders each with an emotional range of colors, textures and mark-making that make a definitive statement.
For more information, please telephone 239-333-1933 or visit http://www.sbdac.com.