Beth Everhart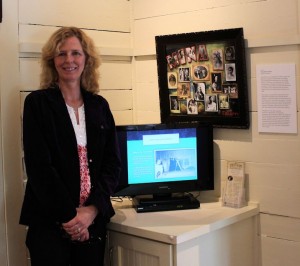 Artist:  Beth Everhart
Genre:  Photography
Her Art:
Beth Everhart is a visual artist, working predominantly in the medium of photography. Generally, her work consists of large-scale black-and white images, photographed using a variety of vintage box-style and pinhole cameras, rendering dream-like, soft-focus images. Recently she has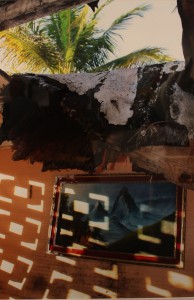 begun using digital cameras that mimic this unique film-based look.
Everhart's work has been exhibited in numerous group and one-person exhibits throughout Southwest Florida, New York City, and internationally. She was awarded an Artist's Residency at Yaddo in Saratoga Springs, New York, is a grant recipient of the Brooklyn Arts Council, and received a Juror's Choice Award at the 28th Annual All Florida Juried Exhibition at the Lee County Alliance for the Arts for her digital photograph titled Palm Window Foreclosure (right). Beth and her husband Bill will be exhibiting a collaborative photographic installation titled A Small Vacation at Arts for ACT Gallery in April, 2015.
Beth received her Master of Fine Arts degree in 1989 from Hunter College in New York City. She lives and works in Fort Myers, and is currently teaching Creative Photography and Art History at Island Coast High School in Cape Coral.
Photo Collage of Mina Edison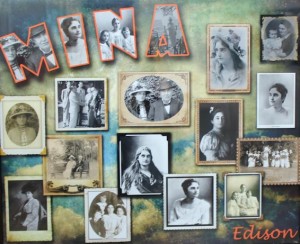 Everhart created this digital photo collage of Mina Edison for the Fort Myers Founding Females Exhibition. Mina Edison was an easy choice for Everhart. The self-described "home executive" of the Edisons' two estates and staffs not only had a profound impact on Fort Myers early development, but her influence on the community continues to be felt every day in a number of profound ways.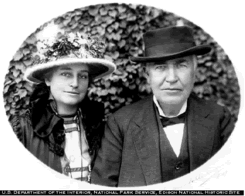 Mina first came to town in 1886, when she honeymooned with new husband Tom at the Keystone Hotel while Seminole Lodge was being completed. After their stay the following winter, it would be 14 more years before they would return to Fort Myers. But from that time forward, Mina would be active in numerous civic and charitable organizations. She co-founded the Fort Myers Round Table, an influential group of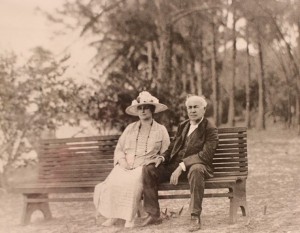 community leaders, was instrumental in beautifying the city (through various garden clubs and beautification councils) and assisted the city's less fortunate. A dedicated conservationist long before the word entered common parlance, Mina was a member of the National Audubon Society and the Chautauqua Bird & Tree Club. During this time, Mina became close friends with renowned cartoonist and conservationist Jay Norwood "Ding" Darling.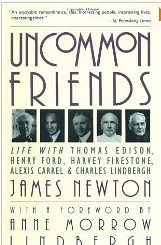 James D. Newton tells a story in his book Uncommon Friends about his first meeting with Fort Myers' grand dame. As a 20-year-old, Newton began developing the subdivision for the Snell Brothers of Sarasota which is now known as Edison Park. He hired a German immigrant by the name of  Helmuth (Helmut) von Zengen to create a sculpture for the spired and arched entrance he was planning to place across Llewellyn Drive.
Each day, von Zengen labored on his artwork behind canvas tarps, and each night when he finished for the day, he carefully covered the work-in-progress beneath the tarpaulins in order to prevent anyone from seeing his sculpture prior to her unveiling at the official dedication. As the statue neared completion,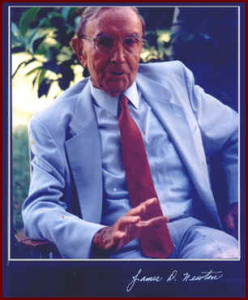 Newton was summoned to the Edison home to speak with Mina on an "important matter." It seems that a group of ladies had gone one night with a flashlight, looked beneath the heavy canvas and discovered, to their horror, that von Zengen was carving a nude maiden. "I don't think it should be that way," Mina told Newton flatly, fixing him with her steely eyes.
It's not clear if Mina was part of the group who'd peeked behind the canvas, but James Newton knew he would rather have Mina Edison as a friend than a foe. So he instructed von Zengen to drape the maiden with a veil of powdered marble, and that's how The Spirit of Fort Myers came to look as she does today.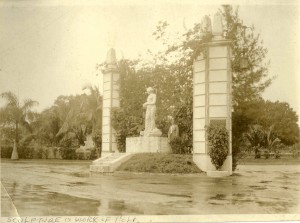 Newton would later write, "During the twenty years that followed, [Mina] told the story again and again how, after our confrontation on the porch, I had gone downtown and described her as the 'hard-boiled Mrs. Edison.' It amused her to tell it and it embarrassed me. What I had said was that she gave me the impression of being a formidable lady. It was through Edison Park that I came to know Thomas Edison."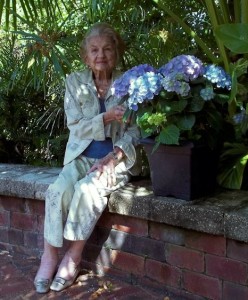 Formidable is not quite how Berne Davis remembers Mina Edison. When she was 24, she became engaged to Sidney Davis, who made the Edisons' acquaintance in 1925 as an employee of the Lee County Bank & Trust. They became fast friends and when Sidney told Mina he was getting married, she insisted on meeting his betrothed.
"I was frightened to death to meet her, but she invited us for dinner and Sidney insisted we go." To a girl whose dad worked in a saw mill and who'd worked as a secretary at the Chamber of Commerce, a local attorney's office and at a municipal bond business since graduating high school, Mina Edison possessed the stature and aura of an Oprah Winfrey. "She held out her arms and hugged me and my fears just melted away," Berne recalls. So began a friendship that lasted until Mina's death on August 24, 1947.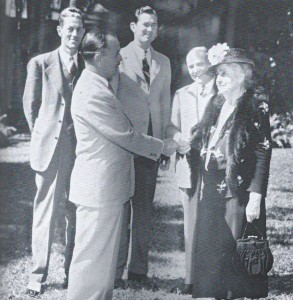 During the intervening 14 years, Mina introduced her new friend to the world of garden clubs, which in the 30s and 40s, functioned as important social organizations that not only initiated civic beautification projects, but demonstrated for the first time in history that women could wield positive socio-political power within their communities. Berne also took note when Mina deeded the Edison winter estate to the City of Fort Myers in 1947 for the enjoyment of the public in memory of her husband.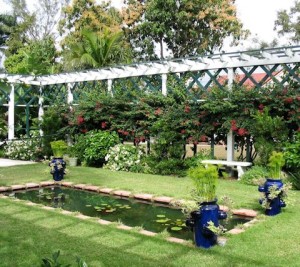 The lessons Mina taught, example she set and life she led inspired Berne in later life to serve on the board of Edison State College, the Edison College Foundation, and the Clinic for Rehabilitation of Wildlife on Sanibel. She was involved for years in the Edison Festival of Light, and funded the restoration of Mina's moonlight garden. As the first president of the Fort Myers Women's Golf Association, Berne initiated sweeping landscaping improvements to the Fort Myers Country Club.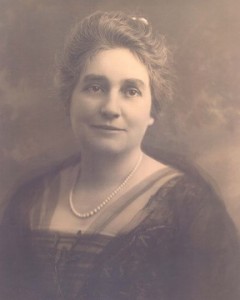 And in 2006, she gave $620,159 to FGCU to create an endowed chair for horticultural education called the Bernese B. and Sidney R. Davis Chair for Landscape Design, Horticulture, Education and Research. Berne's generous donation was matched by $434,411 from the State of Florida Major Gifts Fund, bringing the total endowment to more than $1 million, and today the Chair furthers both Berne's and Mina's interest in landscape design and horticulture by making it possible to educate and train future generations of landscape designers, horticulturalists and educators.
In this way, Mina Edison continues to inspire meaningful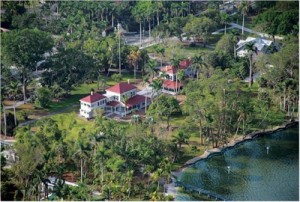 contributions to the community she loved. And, of course, legions of residents and visitors have learned about Tom's experiments, inventions and patents and his correlative importance to Fort Myers, the country and the world through the tours that have been conducted of the Edison estate since it first opened to the public in 1950. Today, more than 250,000 people visit the Edison & Fort Winter Estates each year, with the site making ongoing contributions to science, education and the economy of Southwest Florida.
A Small Vacation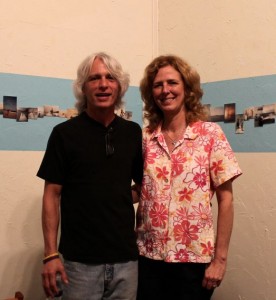 A Small Vacation is an assortment of found snapshots that Beth and her husband Bill arranged into a series of collages that are united by the ocean, lake, river or other water horizon line included within each image. The collages were exhibited during March of 2015 in the White Gallery at Arts for ACT in the downtown Fort Myers River District.
"By the turn of the 20th century, the Eastman Kodak company's introduction of inexpensive box cameras and prepackaged film made it possible for the first time for anyone to be a photographer," note the couple in the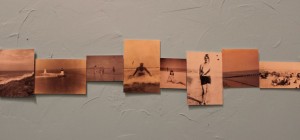 Exhibition Statement they've prepared for the show. "While the mass appeal of the Kodak camera owed much to the technical innovations of the company's founder, George Eastman, his marketing strategies played a large role. To

underscore the idea that photography was no longer a complicated process best left to

professionals, Kodak came up with one of the most memorable advertising slogans of all time: 'You press the button, we do the rest.'"
Over the ensuing decades, millions of Americans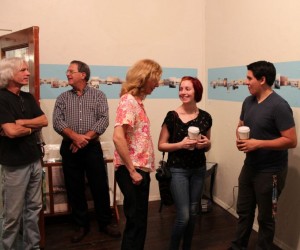 took billions of photographs. These "snapshots" (as they became known) documented events from everyday life such as weddings, graduations and family get-togethers. Not surprisingly, the family vacation was a prime occasion to record on film. "A final step in the vacation narrative is to arrange all the pictures in sequence, with a note regarding date and place, in a special vacation album," Kodak recommended in

a slim book entitled How To Make Good Pictures—A Guide for the Amateur Photographer, published in 1951. "Add a new chapter each year, and in a few seasons you'll have a book of memories that's beyond price."

In recent years, collectors have become interested in the trove of personal photographs that have been discarded by people over time, and "found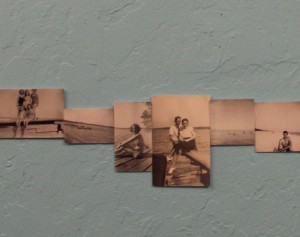 snapshots" are today offered for sale at flea-markets, antique stores or online, with some images selling for hundreds of dollars on EBay.
Collectors covet ordinary snapshots that evince unassuming charm, spontaneity and accidental mistakes such as blurs, tilted horizons, double exposures that produce an almost surreal effect, and, of course, cut off heads and the unintended shadow on the ground or reflection in a window of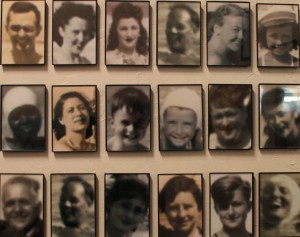 the person taking the picture. Some collect for particular subject matter, such as people wearing Halloween costumes, birthday parties, cars or parades, while others sift through hundreds or thousands of mostly forgettable images for that one surprising gem.  "One thing that really surprised me is that even though these pictures were presumably all taken by amateur photographers, there are some that are perfectly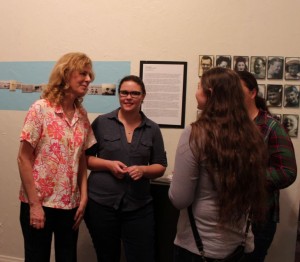 composed, professional-looking world class shots that represent photography at its best."
A critical interest in what is academically referred to as "vernacular photography" is evidenced by major museum exhibits, books and websites like The Museum of Found Photography, where visitors are invited to submit their own found images. While a certain "snapshot aesthetic" has for decades been linked to fine art photography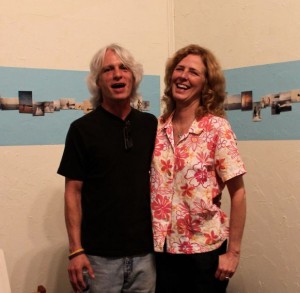 and artists such as Robert Frank, William Eggleston, and Diane Arbus, the ways in which a more recent generation of artists have incorporated actual snapshots into their work is the subject of some debate.
Beth and Bill Everhart began collecting found snapshots several years ago while living in New York City. They weren't sure why they were drawn to them, they just were.
"They possess a certain beauty," Beth mused at the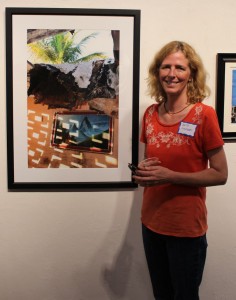 opening of A Small Vacation during Art Walk. "And mystery too," Bill added. "Another time; another place." And as unabashed lovers of the history of photography, found photos provide a material link to cameras and film processes rendered obsolete by modern digital point-and-shoot equipment.
Finding these old, discarded snapshots at the Chelsea flea market, junk stores, and occasionally on eBay, the Everharts eventually organized the photographs into general categories: Christmas, birthdays, picnics, images of bicycles, etc. It was in the back of their minds that these peculiar objects could be used in some way in a work of art or installation, but nothing seemed to come to mind. Then, one night as they spread out a group of vacation snapshots on a table, they noticed the reoccurrence of a horizon line of water. It occurred to them that it would be possible to link together an unbroken horizon line of ocean, lake, stream or swimming pool, and, aha, they had their solution.
"The result is A Small Vacation," beams Beth.
Photos of unknown people from the past splashing in the water or walking along a beach may seem at first blush as being somewhat banal – the outdated clothing, funny hairdos, pointy glasses. With closer scrutiny, however, these images can also evoke a certain sense of loss. The vast majority of these day trippers and vacationers are undoubtedly deceased, and all the found photographs are now separated from whatever personal meaning they once held for family, friends and other loved ones of the people in the pictures. They are ghosts frozen on a black and white beach and we are voyeurs who cannot help but be confronted by our own mortality.
"We've noticed," states Bill, "that as people look at the collages, they begin making up stories about who the people were and what they were doing at the time the pictures were taken." It's akin to people watching, but without any risk of being caught. "Each person who sees the exhibit will make up a different story," Beth observes.
Which could be the basis for a whole new exhibit.
Still, when viewed together in a unified strip of imagined blue infinity, one can also experience the timeless all-American fantasy of good times, sunny skies and endless summers. "One person noticed a distinctive beach umbrella in one of the snapshots," Beth shares. "It was identical to a beach umbrella that had been in their family for 40 or 50 years. The photo brought back all kinds of memories of days at the beach they'd experienced growing up and as parents taking their own children down the shore."
So far, no one has claimed any of the photographs that Beth and Bill have included in the exhibit. "But how cool would that be to have someone say 'Hey, that's me' or 'That's my grandmother!'?"
And for that reason, and out of respect for their historical importance, Bill and Beth did not simply cut and paste the actual photographs that appear in each collage. "We wanted to preserve the archive," Bill remarks. "Besides, many of the originals are yellowed, tattered, fragile and delicate, with these clunky white borders." So they scanned the photographs 1:1, digitized them, printed them without the borders and then pieced them together along that unifying horizon line.
The artists first met when they were graduate students at Hunter College in New York City and both received their Masters of Fine Arts degrees from Hunter. Bill and Beth married in 1991, and have resided in Fort Myers, Florida for the past ten years. Bill is currently working on a book proposal concerning the influence of the Kennedy assassination on themes found in American pop music. Beth's photography has been widely exhibited in New York, Southwest Florida, and internationally. She is a Fort Myers Founding Females Portrait Artist, contributing a collage of historic photos of Mina Edison to the show, which is on view in the Caretaker's House at the Edison & Ford Winter Estates through May 28, 2015.
A Small Vacation is Bill and Beth's first collaborative exhibit at Arts for Act Gallery.