The art of Zan Lombardo encapsulates hours of enthralling stories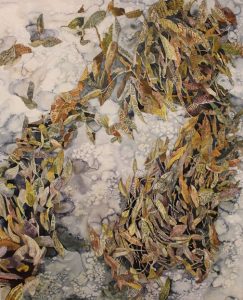 Zan Lombardo paints what gives her goosebumps, and she considers a work successful if it delivers goosebumps in the same measure when it is completed. Her luminous watercolor scrolls in Forge & Scroll do just that. In the aggregate, they create a whimsical-almost-mystical world that derives its inspiration in equal parts from nature and the realm of dreams, where the collective imagination of all the creatures who inhabit the universe gives rise to beautiful wonders. As such, her compositions possess attributes of both magical surrealism and biomorphism.
But what jumps out on first impression is not so much the content, but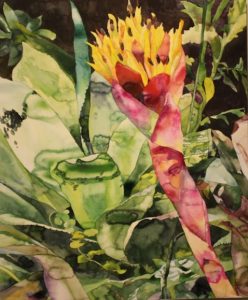 the scale of Lombardo's compositions. They're immense. A watercolor artist, Lombardo works on 140-pound Arches paper. It comes in 4-by-30 foot scrolls. For her homage to mangroves, she used a 14 foot long swath of Arches paper. For Everything Is Indeed Reaching Out to Everything Else, she used an entire scroll.
But what gives Lombardo's compositions their whimsical, dreamlike quality isn't their size. Rather, it is her color palette. Organic, Lombardo works in hues of blues, greens and the ochers, umbers and alizarins encountered in nature. In fact, there's no Ivory or Lamp Black, or even Indigo, in her paint box.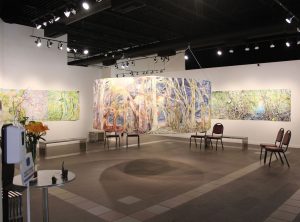 The darkest pigment she uses is Payne's Gray. This engenders harmonious transitions without the hard lines or modelling found in the Surrealist works of Breton, Dali or Yves Tanguy.
"Watercolor needs to read like a stained glass window," says Lombardo, who taught art for 35 years. "The light from the whiteness of the paper should shine through every layer of paint." And that explains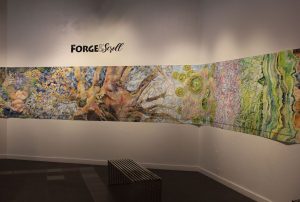 the light luminosity of her paintings, which breathe and shimmer, virtually reflecting the sunlight, wind and sound found in nature even in the densest of forests or thickest tangle of mangrove props and knees.
While viewers are encouraged to ascribe their own interpretations to Lombardo's detailed and complex compositions,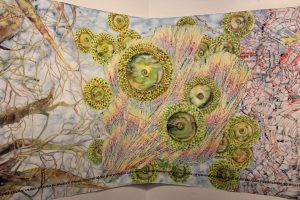 Zan fashions herself a storyteller who works in the medium of poetry and paint. In fact, she comes from a family of gifted storytellers. In this vein, Lombardo has included a poem along the bottom of Everything Is Indeed Reaching Out to Everything Else that provides insight into the inspiration that gave rise to the immense work, which took six years to complete.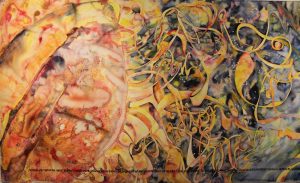 "I created this painting to be a parking lot – a place to put my frustrations, my anxieties, my fears during my last 10 years of being a public school teacher," Zan shares. Before starting work, she set down two guiding principles.
The first was unconditional acceptance of her creative process. "If I felt like drawing, I did. I never

erased."
The second was that everything had to be connected to everything else. "So instead of drawing a continuous line, I drew a broken line and every time the line broke, I branched out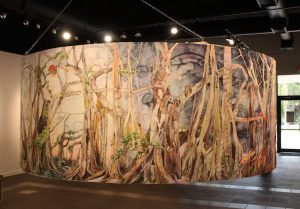 and reached out for something else," Lombardo expounds. "So it starts with the sun in one corner and includes all seven continents and who lives there."
There are hours of stories just in this one painting. These are not compositions you can glance at for a moment or two. Rather, they demand ongoing interaction.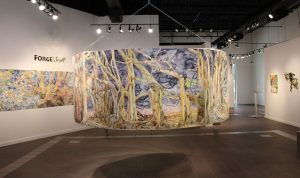 They command an engagement that could last entire morning or a whole afternoon. In this regard, Lombardo's magical, mystical fantasy world possesses a Tolkien-like lure and romanticism that makes one want to linger.
If not return again and again.
Now a resident of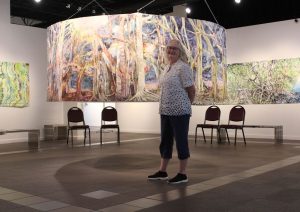 Pine Island, Zan Lombardo is the recipient of numerous awards including the Robert Rauschenberg Power of Art Award and the National Energy Foundation's Igniting Creative Energy Award.
Forge & Scroll comes down on September 26, but you can see the exhibit and hear Zan describe her mangrove composition Friday at 5:00 p.m. in the main gallery when she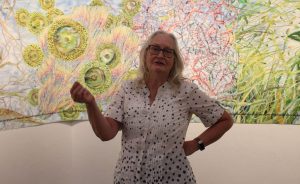 hosts Mangroves as Poetry, an event that will feature poetry, a gallery talk and a soundtrack that features some of the denizens of the mangrove swamps and warrens that line the coasts along Pine Island, Matlacha and Sanibel & Captiva.
September 23, 2021.