Maria Ramona Sanchez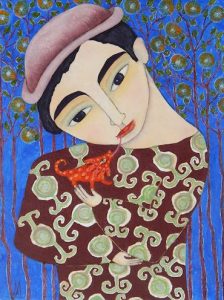 Artist:  Maria Ramona Sanchez
Genre:  Surrealism
Her Art:
Maria Ramona Sanchez  is a self-taught artist whose medium is oil on wood, canvas and handmade paper. Painting is a deep and integral part of this artist's life.
"It is a perceptual adventure, and my most pleasing support whenever giving or receiving anything. My paintings and their inhabitants come without effort, sometimes surprised to find themselves in them. And they arrive with a mission: that of populating the universe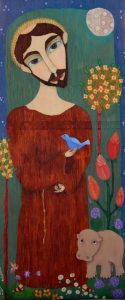 with beauty, love and a serene happiness."
Sanchez's work has been exhibited in solo and group exhibitions in Latin America, the United States and Europe, including a solo show at DAAS Co-Op Gallery in Fort Myers in 2021. She has also participated in important art fairs (Chicago, Art Miami, Art Santa Fe, Red Dot Art) and museum exhibitions (MOLA, Long Beach, Santa Fe Museum of History in New Mexico, Naples Museum of Art and National Museum of Fine Arts in Havana, Cuba). Many of her paintings are part of important private collections worldwide. She has also rendered big format works that are part of public and private places.
Sanchez has also illustrated books for children and youngsters (Scholastic/Lectorum in US and Everest, Spain).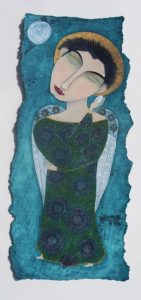 Education
Maria Ramona Sanchez  was born in Havana, Cuba in 1952. She graduated from the University of Havana with a degree in Spanish Literature. She currently lives and works in Southwest Florida.
February 21, 2021.