Marco Island Art Festival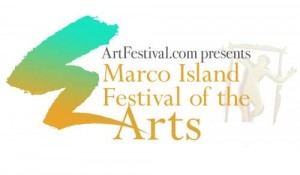 Name:  3rd Annual Marco Island Art Festival
Dates:  March 12 & 13, 2016
Place: Veteran's Park off Collier Boulevard in Marco Island
Description:  Variety and diversity are themes at every Howard Alan event and this competitive show is limited to approximately 130 exhibitors chosen by a jury of highly qualified, talented, experienced, 2D and 3D fine artists and craftspeople. Visitors will find paintings in oil and acrylic, 2D and 3D mixed media, assemblages and collages, watercolors, pastels, drawings in pen and ink and charcoal on paper, etchings and lithography, photography and digital art, bronze and metal sculpture, Raku, ceramics, stone and wood carvings, wood music boxes, glass fusion and glass art, leather works, fabric, paper mache and hand-crafted art jewelry.  Spacious aisles allow art enthusiasts to explore the exhibits and interact with the artists who will be present for the duration of the show.
Cost: Admission is free
Parking. Parking is free and on-site.
Organizer: Howard Alan Events & American Craft Endeavors.
Howard Alan is one of the most widely-recognized and highly-regarded names in the art festival industry. Howard, his wife and business partner Debbie, and their dedicated staff run 45 annual juried art shows and 40 craft shows each year out of their small office in Tequesta, Florida. Be it Aspen, Chicago, Pittsburgh, Alexandria, Cleveland, Ft. Lauderdale or Sarasota, you are sure to find a Howard Alan event somewhere. These popular outdoor festivals are consistently ranked by Sunshine Artist Magazine among the top art shows in the country.
Over the last 25 years, Howard Alan is proud to have exhibited the work of over 10,000 different artists worldwide. Today, a typical Howard Alan show will feature anywhere from 100 to upwards of 300 exhibitors. Participating artists are like family to Howard and Debbie. Many have been with them since the very beginning, and even more credit Howard Alan for allowing them to make a living doing what they love most.
Websites: http://www.artfestival.com.