Young filmmaker Molly Smith makes films with social commentary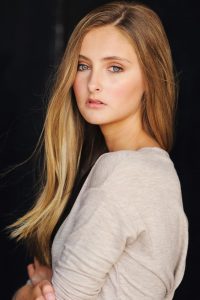 Best Florida Film in the Youth Category was conferred by the Bonita Springs International Film Festival on I Don't Know. Centered around a boy who reflects on his past choices through the power of spoken word poetry, the 4-minute film was written and directed by Central Florida filmmaker, screenwriter, singer/songwriter and actor Molly E. Smith.
I Don't Know is Molly's fourth film in the last three years. Her first was a 2016 short titled Pickles, which was selected by the Fort Lauderdale International Film Festival as a semi-finalist.
Her second film, Colors of Innocence (2017), met with even greater success. It won the award for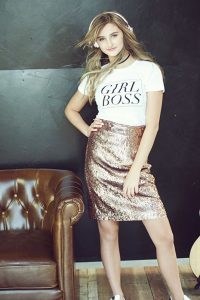 best High School short at the Boynton Beach Short Film Festival, was the runner-up for Best High School Narrative at FLIFF, and was juried into six other film festivals. For her role as the film's director, editor and composer, Smith was named a top ten finalist for Female Rising Star by the All American High School Film Festival in New York City.
Last year, Smith completed two films, a documentary titled Finding Home (nominated as a top three finalist in the Suzanne Niedland Documentary category at the Palm Beach International Film Festival) and I Don't Know. In between, she also found the time to attend the prestigious Northwestern University's Summer Film Intensive, a five-week film course of study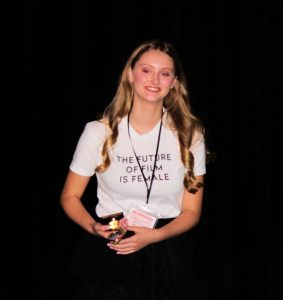 for student filmmakers.
Smith not only directed Pickles, Colors of Innocence and I Don't Know, she wrote the screenplays for them, as well. The one for I Don't Know evolved from a play she wrote as a Montverde Academy sophomore under the working title of "Words to Speak, Stories to Tell." She subsequently adapted it into a 30-page screenplay, which she submitted to the Palm Beach International Film Festival's Student Showcase of Films. It was one of some 600 submissions that the Showcase received that year, with 250 reaching the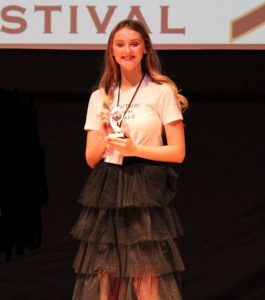 judging stage and only 32 being selected as finalists. Smith's screenplay was not only among the three finalists, it won the Nellie and Fred Chasin Screenwriting award. This particular award is particularly impressive as the screenwriting category is one of the few where high school and college entries are judged together.
Being a student with virtually no budget, Molly couldn't afford to shoot the entire script, so she further modified the screenplay into the short film that won Best Florida Youth Film at this year's Bonita Springs International Film Festival.
But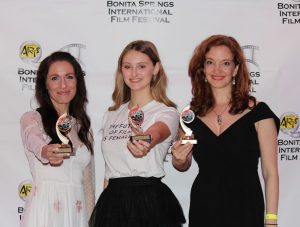 that wasn't the film's only accolade. I Don't Know also won the Best Overall Film Award at the Enzian Reel Short Teen Film festival and is a finalist for Best High School Film at the Palm Beach Student Showcase of Films. It also won a Scholastic Silver Key award and was runner up for Best Florida Film at Tally Shorts Film Festival, and has now screened at over 15 festivals including Key West Film Festival, Naples International, and the All American High SchoolFF in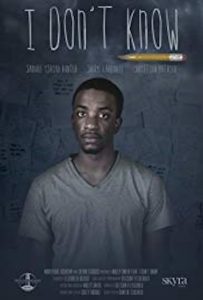 New York City, NY.
Molly says she fell in love with filmmaking at 13 when she worked on an FSU student film.
It was about that time when she also began writing music. In addition to writing the music for Colors of Innocence (which was a Best Original Score finalist at the All American High School Film Festival), Finding Home and I Don't Know, Molly released her first single, "Born to Fight," on iTunes and Spotify in August of 2017. That same summer, Molly also attended Prodigy Camp in Seattle as one of ten up-and-coming high school songwriters from around the world.
Although filmmaking is Molly's first passion,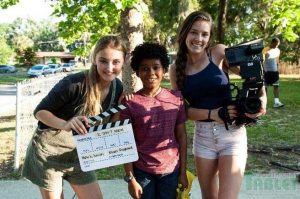 she knows the other side of the lens. She's appeared in three films, a short titled Wildflower (playing the lead as Cassie), No Place in This World (as Hannah Brently) and Innocence, and also appeared in one episode of the 2016-17 comedy television series of Misfits & Margaritas.
"Molly is a talented student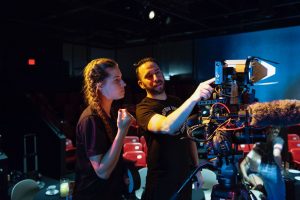 who continues to impress us with her skill at crafting stories that connect and captivate diverse audiences," Montverde Academy Headmaster Dr. Kasey K. Kesselring said in an interview following Molly's win in the Student Showcase of Films competition. "Montverde Academy strives to provide the environment for students, such as Molly, to find and pursue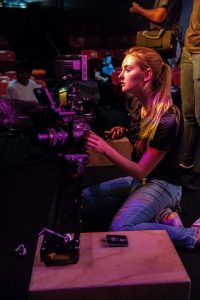 their passion beyond academics. We are happy to be a part of this gifted filmmaker's story as she continues to excel in creating compelling pieces that inspire others."
Smith is adept with a number of technical tools and devices, including the Canon C300, gimbals, sliders, dollies, and light modifiers. She also studies at Skyra Studios, participating in weekly classes on screenwriting, cinematography, film production and editing. At Skryra, she has also served as a production assist on professional concept shoots and commercials.
"I love making films that have a social commentary–films that matter," effuses Molly, who will begin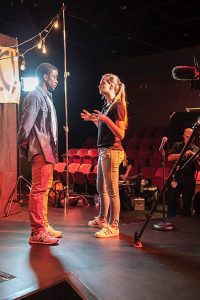 applying next year to universities that offer BFA in Cinematic Arts programs.
"Film allows me to share stories other than my own and bring awareness to issues I feel are important in my community. I hope to continue my use of poetry and social commentary in my filmmaking and playwriting to develop my voice as an artist."
For example, Molly recently completed Dear America with student filmmaker Sage Croft, a film about Generation Z and gun violence. It now has over 66,000 views on Facebook, and almost 10,000 more on YouTube.
"I also just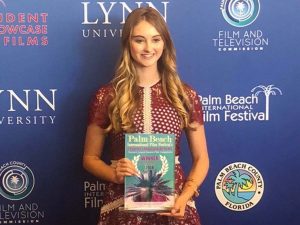 finished an Adidas spec commercial highlighting pole vault and female empowerment, which is now a finalist at the Palm Beach Student Showcase of Films," Molly divulges. "And I recently collaborated with high school filmmaker Josh Ceranicas the Director of Photography on his new dark comedy film, and next I will be working on a short abstract piece about the moment between life and death."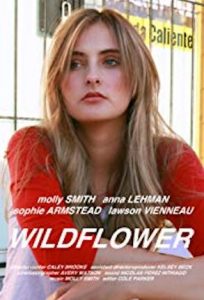 Keep an eye on this talented and energetic filmmaker. You'll want to be able to tell folks five or ten years from now, "I knew her when …."
We, here, in Southwest Florida have another chance to see I Don't Know and meet Molly in person. I Don't Know screens at the Fort Myers Beach International Film Festival in April.