'State of Rodeo' explores 500-year history of rodeo in Florida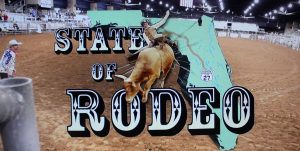 In 1521, Ponce de Leon introduced a small herd of cattle and horses to the shores of La Florida. Centuries later, rodeos evolved from impromptu contests that were held during cattle roundups and Mexican fiestas. (In fact, the word "rodeo" comes from the Spanish rodear, which means "go around" otherwise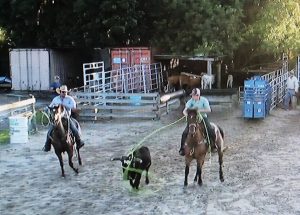 known as "round up.") Having corralled their herds for branding and sorting, cowboys (sometimes called Florida crackers) used the occasion to exhibit their skills in riding, roping and bulldogging. Competitions sprung up naturally among top hands as their fellow cowboys looked on.
State of Rodeo explores the five century history that binds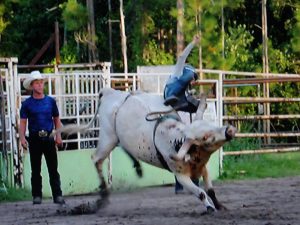 generations of Floridians – from the first Spanish explorers to Native American cow-keepers to the pioneer Cracker families and today's urban cowboys. And as filmmakers Scott Barnett and Johanna Vega take viewers on a journey along the rodeo trail, which extends through Florida's heartland from Tallahassee to Miami, they tell the stories of the people that keep the rodeo tradition alive in the Sunshine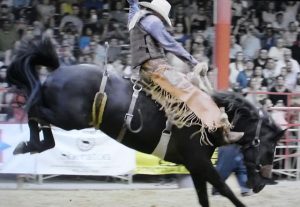 State.
Locally, The Arcadia Rodeo claims to be "The Grandaddy of 'em All!" It is organized and operated by the Arcadia All-Florida Championship Rodeo, a non-profit organization that was established in 1952 by the Arcadia Rodeo Association, which evolved from a group of American Legion Members who held the first rodeo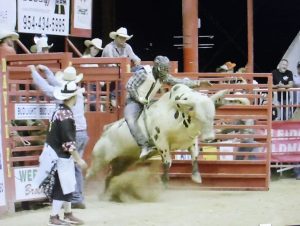 in 1929.
Other rodeos in the Sunshine State include:
Silver Spurs Rodeo: Sanctioned by the PRCA, the Silver Spurs Rodeo is a semi-annual rodeo that takes place every February, June, and October. The Silver Spurs Rodeo is the largest rodeo east of the Mississippi and is annually ranked among the top 50 events sanctioned by the Professional Rodeo Cowboys Association (PRCA). Rodeo features bull riding, bareback bronc riding, barrel racing, team roping, and more.
The Homestead Rodeo: Held just outside of Miami in January each year and sanctioned by the Professional Rodeo Cowboys Association, the Homestead Championship Rodeo and Frontier Days feature bareback and saddle bronco riding, tie-down roping, team roping, steer wrestling, cowgirls' barrel racing and the crowd favorite, bull riding.
Baker's Old Spanish Trail Pro Rodeo: The Annual Baker's Old Spanish Trail Pro Rodeo is held in early April each year. in in Baker's Indore Arena in Baker, Florida. Sanctioned by the National Cowboy Pro Rodeo Association, this rodeo features bareback bronc riding, bull doggin, bull riding, calf roping, cowgirl's barrel racing, cowgirl's breakaway roping, saddle bronc riding, and team roping.
Central Florida Rodeo: This rodeo is held in Lakeland, Florida.
Ocala Shrine Rodeo: The Ocala Shrine Rodeo was founded in 1983 by the Ocala Shrine Club as a fundraiser to support the Shine Hospitals for Children.
The Annual Ocala Shrine Rodeo returns to the Southeastern Livestock Pavilion in Ocala, Florida annually in early September.
Okeechobee Cattleman's Rodeo: This rodeo includes bareback bronc riding, barrels, bull riding, calf roping, mutton bustin, saddle bronc riding and steer wrestling.
Davie Florida Pro Rodeo: The Weekley Brothers Davie Pro Rodeo is now entering its 26th year of being a Professional Rodeo Cowboys Association sanctioned rodeo. Over that span, Davie has been the site of more than 220 rodeos, with multiple rodeos being held at this venue throughout the year.
Florida High School Rodeo Association: Held in Groveland, this rodeo is open to any high school student residing in the State of Florida.
This is Florida. This is the State of Rodeo. See trailer here.
Scott Barnett is an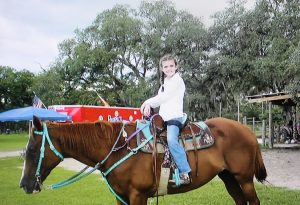 Emmy-Award-winning Executive Producer for film and television including the hit show Kid Stew. Scott began his career as a commercial producer and director and continues to create entertaining content for clients including VISITFLORIDA, Take Me Fishing, Winn Dixie and other marketing campaigns for the advertising industry. Scott has an MBA in Entrepreneurship from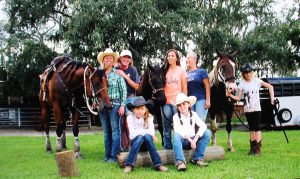 Nova Southeastern University and graduated from the University of Miami.
State of Rodeo screens at 2:50 p.m. on Sunday, May 23 in the Moe Auditorium.
May 18, 2021.