A dance party broke out at the BIFF opening night VIP after-party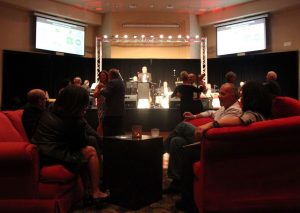 The Bonita Springs International Film Festival opened last night with a screening of Vince Giordano: There's a Future in the Past, a documentary about a New York big band leader who, together with his 11-member band, are working assiduously to preserve, protect and perpetuate swing and old jazz arrangements from the 1920s and '30s. Then, at the VIP after-party that followed,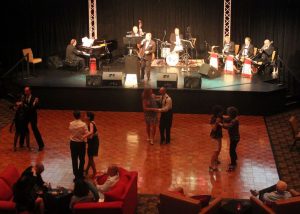 the Paramount Swing Orchestra played homage to the motif, with the Fred Astaire Studio Bonita Springs dancers getting the action going on the Hinman Auditorium dance floor.
Yuriy and Oleksandra Datsyk own and operate the dance studio, which they opened in Bonita Springs in 2014 after managing the New York Midtown Fred Astaire Dance Studio for more than 11 years. A world-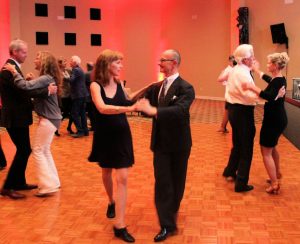 renowned professional dance couple and dance educators, the Datsyks have more than 30 years of professional dance experience and retain the titles of former Ukrainian National Professional Grand Finalists and Champions in International Latin, Standard and 10 other dance divisions. Their professional demeanor and impeccable taste have made them some of the most respected teachers and coaches in the industry,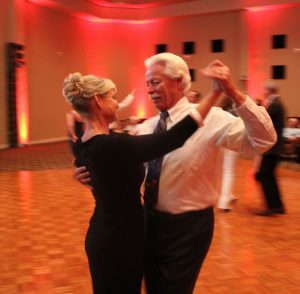 and their passion and enthusiasm for Ballroom dancing is highly contagious and inspires greatness in their students.
That passion was on display during the BIFF opening night VIP after-party as they took to the dance floor for one big band song after another. They were fun to watch, as they changed partners and dance disciplines, which included swing, fox trot, Lindy and even a Latin number or two. On balance, Yuriy and Oleksandra and their students were elegant, charming and spirited – which is just as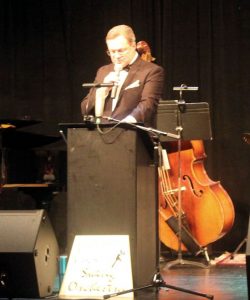 Vince Giordano and his Nighthawks would want had they been playing the arrangements themselves.
The film itself was an uplifting and insightful journey into the New York bandleader's ongoing effort to amass, categorize and archive a monumental collection of more than 60,000 big-band arrangements which has made him to go-to source for authentic period soundtracks, as evidenced by Martin Scorsese's The Aviator and Wood Allen's Sweet and Lowdown. Some of the more impressive scenes from the documentary were those that took viewers into the basement of Vince's home in Brooklyn for a glimpse at the endless rows of metal filing cabinets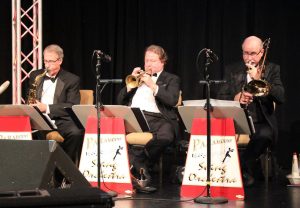 crammed full of perfectly preserved sheet music from the '20s and '3os. His is truly a labor of love.
And for Yuriy and Oleksandra Datsyk, dance is their first and foremost love. They have traveled extensively across Europe, competing successfully and teaching international style Latin and Standard Dance. Dedicated educators, they were both on the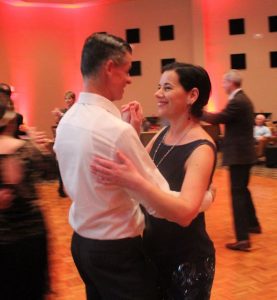 Ballroom Dance faculty at the Institute of Choreography in their hometown of Lviv, Ukraine where, in 1990, they established a dance studio and school of dance "Style" as a tool to share their knowledge with hundreds of children and adults. As a result, many of their students competed and won numerous national and international DanceSport competitions.
Over the course of their careers, they have choreographed and performed stage and television shows in Ukraine, Poland, Hungary and the U.S. In 1999, Yuriy and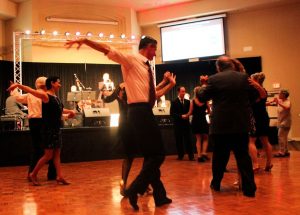 Oleksandra moved to the U.S. to join Fred Astaire Dance Studios in midtown Manhattan. Now residing here in Bonita Springs, they are working to breathe new life into the Ballroom, Latin and social dance scene of Southwest Florida.
The Bonita Springs International Film Festival runs through Sunday, January 28.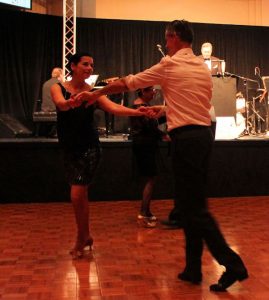 January 26, 2018.
RELATED POSTS.
Vince Giordano and The Nighthawks documentary to open Bonita International Film Festival