How 'Lost Weekend' landed its star-studded cast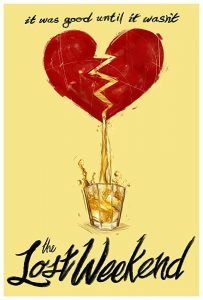 Among the short films being screened this year by the Fort Myers Film Festival is a 14-minute short titled The Lost Weekend. Written and directed by Ryan O'Leary, The Lost Weekend is a painstakingly honest account of desperate romance in the digital age.
After a rough breakup, Charlie Monahan dives headfirst into the world of online dating. Guided by his charismatic best friend, Rufus, Charlie meets the charmingly complicated Maggie Mae. In an era where everyone's connected, Charlie's never felt more apart. Getting a crash course in the differences between expectations and reality, Charlie is ultimately forced to confront the challenges of maintaining a relationship in the digital age.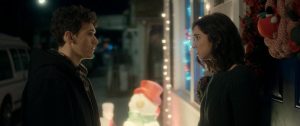 In most cases, short films give rise to features, but in this case, O'Leary actually wrote the screenplay for the feature first. O'Leary called it Lost Year and he began seeking investors soon after completing the script in 2015. Confident that he'd be able to raise the necessary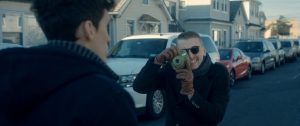 capital, he hired Adrienne Stern as casting director. Films that she's previously cast have premiered at Sundance, Toronto, Cannes, Tribeca, Berlin, South by Southwest, Seattle and many other prominent film festivals. Many have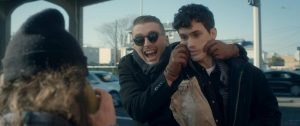 taken home prestigious awards. Stern began lining up prominent actors, and the project even attracted the attention of Variety Magazine.
But O'Leary and his team weren't able to raise enough to shoot the feature.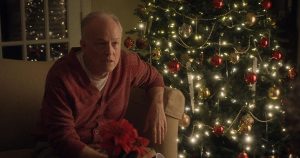 "[But] our investors approved using the capital to make a really good short with the best actors possible," O'Leary relates. "It entailed cutting many of my favorite scenes from the feature and several characters. It was an unusual approach, but we got to make something special and the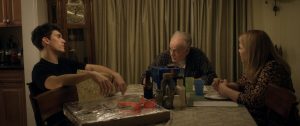 festival run has been wonderful."
Rather than simply walk away, Stern stayed involved and continued assembling a cast for the abbreviated work. As a result, the cast of The Lost Weekend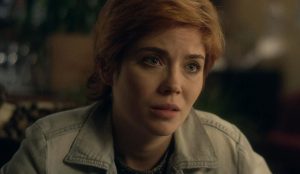 is impressive.
One of the first "names" to come on board was Reed Birney. He's perhaps best known for House of Cards (2013) and The Blacklist (2013), but O'Leary is more impressed by all the honors and awards he's received. In 2016, he won the Tony Award for Best Performance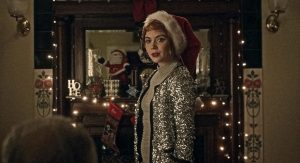 by a Featured Actor for The Humans, but he also received a Special Drama Desk Award in 2011 "for his versatile and finely nuanced performances over the past thirty-five years and for his exceptional work this season in Tigers Be Still, A Small Fire and The Dream of the Burning Boy."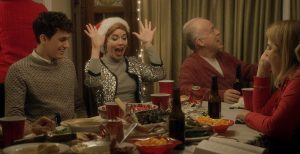 In 2006, he received a special honorary Obie Award for "sustained excellence of performance."
Birney's involvement brought in Libe Barer (I See You (2019), Colony (2016), Sneaky Pete (2015)) to play Penelope, the girl who kicks Charlie Monahan to the curb at the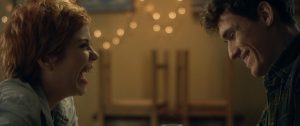 start of the film.  She was living in California at the time. She used the small amount of money O'Leary could afford to pay her to pay her plane fare to New York for the shoot "just to do some scenes with Birney."
O'Leary and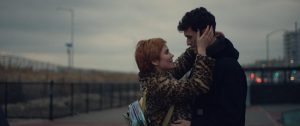 his production team filmed the short over three days the weekend following Thanksgiving. The interior scenes were shot on Long Island; the exterior scenes in the Rockaways.
"That turned out to be ideal because some of the people we wanted most
just happened to be available," O'Leary shares.
Like Catherine Curtain,  a New York actor best known for her work on the television shows Stranger Things (seven episodes spanning 2017-2019), Insecure (eleven episodes spanning 2016-2018) and Orange is the New Black (40 episode spanning 2013-2017).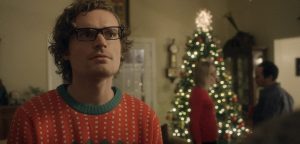 "The week leading up to our shoot, she was filming a movie and right after she did her lines, she left for Washington D.C. to film some episodes of Homeland (she did seven in 2018). (Her other television appearances include Amy Faltin in the TV film Surveillance, a 2017 episode of Blue Bloods, the TV film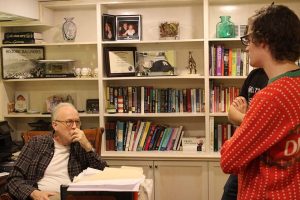 The Pearl, a 2006 episode of Law & Order: Criminal Intent ("Masquerade"), a 2002 episode of Third Watch ("Falling"), two episode of Law & Order ("Panic," 2000 and "Tango," 2008) and The Guiding Light (1997). Her filmography includes roles in 36 films, including five that are in post-production and two others released in 2020.)
Sam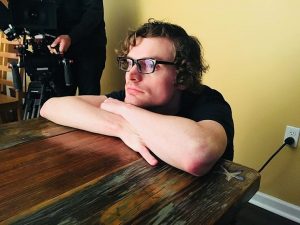 Vartholomeos ( Star Trek: Discovery (2017), Law & Order: Special Victims Unit (1999))plays Charlie.
And Gracie Gilliam appears in the role of Maggie Mae. Gillam is best known for her roles as Lela in the Disney Channel's feminist 1960s-Beach-Party-Movie musical franchise Teen Beach Movie (2013) and Teen Beach Movie 2 (2015), as well as spunky BFF Amy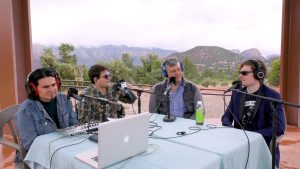 Martin in ABC Family's The Nine Lives of Chloe King (2011). (She also appeared as the tortured preacher's daughter April Young on The Vampire Diaries (2012-13), fallen angel Hael on Supernatural (2013), daycare employee/love interest Megan on Baby Daddy (2013), movie star diva Brady Braxton on Austin and Ally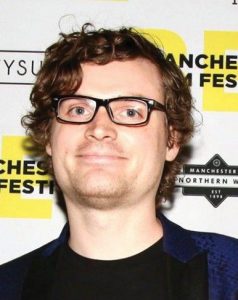 (2014), put-upon tennis star Erica Young on Hawaii 5-0 (2015), murderous Stockholm Syndrome victim on CSI-Cyber (2015) and murder complacent sorority girl on Scream Queens (2015). She can be seen in films like Some Kind of Hate (2015), Dark Summer (2015), Tales of Halloween (2015) and Dreamworks' Fright Night (2011), which the actress booked directly after graduating high school from The North East School of the Arts in San Antonio, Texas with a degree in Musical Theatre. In 2016 the actress moved to New York to attend Columbia University's school of general studies where she studies Film and Art History and stars as apocalyptic marine chick Sarge in SyFy's Z Nation (2017-18) during her summer breaks.)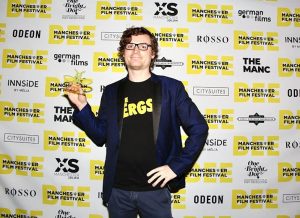 "So it was very fortuitous," sums up O'Leary, who confesses to being completely humbled and somewhat overwhelmed to see such well-versed and accomplished actors as Birney, Barer, Curtain, Varholomeos and Gracie Gilliam doing lines and scenes from the screenplay he'd written.
"Working with this cast has been the highlight of any film work I've done so far. They made me work harder and better than I ever had before."
The Lost Weekend will be screened the Sidney & Berne Davis Art Center during the 7:00 p.m. Shorts Block (No. Seven) on Friday, October 23.
October 1, 2020.