Dialogue is keynote of Thank God for Indie Mondays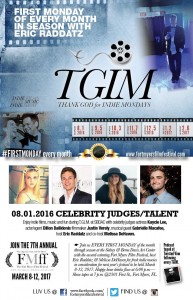 Thank God for Indie Mondays resumes for a 7th season on August 1 inside the Sidney & Berne Davis Art Center. Continuing on the first Monday of every month through February 6, 2017, the popular event invites indie film enthusiasts (known as cineastes) to comment on submissions from all over the world that are being considered for inclusion in the Seventh Annual Fort Myers Film Festival in March 0f 2017.
Dialogue is the keynote of among T.G.I.M. participants. Some people love particular entries. Other people could not hate them more. But as long as audience members are not ambivalent, Film Festival Director Eric Raddatz and FMff Producer Melissa Tschari DeHaven regard a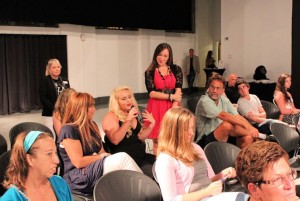 screening as successful. That's because the objective of "Intellectualization Mondays" is to get people thinking, talking and engaging in a respectful (albeit sometimes spirited ) exchange of ideas that help T.G.I.M.'s participants to define and refine how they feel about a wide range of political, social and personal issues.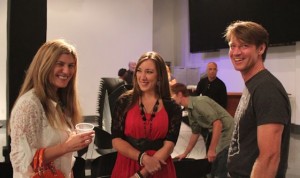 Last season, for example, T.G.I.M's celebrity judges and audiences took advantage of the opportunity to preview and critique
a film in which a doctor develops a technique that allows people to travel in their mind back in time to relive experiences they had not yet been fully able to process (AGAIN);
a video journey that illustrated the distance water travels on its trek through Florida's Everglades ecosystem (Flow);
a documentary that provided insight into the world of Lee County law enforcement by following one of its finest as he discharged his duties over the course of a shift (Proud);
a short in which a man betrayed by his wife and their best friends resolves to avenge their infidelity as the new year rings in (Resolution);
a short featuring area actors and locations that dealt with the deadly sin of envy (RING);
a six-minute film that involved a couple who go to bed mad at one another only to have their night interrupted by a intruder downstairs (Sh-h-h); and
As this brief survey underscores, the storylines are as unpretentious as they are varied, and even where the running times are measured in mere minutes, the films can give rise to deep and complex commentary on people, life and the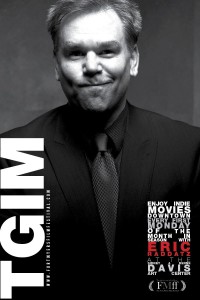 human condition. You don't need to be a producer, director or actor to have an opinion, and what you think is just as valued and important as what T.G.I.M.'s celebrity judges may espouse.
So, make plans to join Eric Raddatz, Melissa Tschari DeHaven and people just like yourself who appreciate the art of film and enjoy sharing thought-provoking opinions and lively discussion about the often edgy but always novel cinematic offerings of first-time, amateur and aspiring world-class filmmakers. And don't be surprised if you become so inspired that you want to join the T.G.I.M. group for the afterbuzz at Twisted Vine after the show for late night happy hour and appetizers.