January, 2017 T.G.I.M. celebrity judge Betty Wells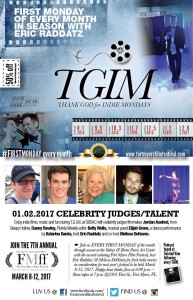 T.G.I.M. resume on Monday, January 2, and actor Betty Wells will join Jordan Axelrod (third photo) and Danny Rawley (fourth photo) on the panel of celebrity judges assembled by hosts Eric Raddatz and Melissa DeHaven.
Betty works for Florida Media Group as Senior Editor of Fort Myers edition of Florida Weekly, and contributes to the content of Florida Weekly's other four newspapers. Florida Weekly is a newsmagazine that engages sophisticated readers throughout several markets in Florida. The Florida Weekly team works tirelessly to create an informative newspaper that connects with more than 200,000 weekly readers in print, on smartphones and tablets, on social media, and online. Rather than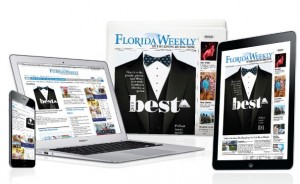 tell its readers what's happened, Florida Weekly focuses on what's next and what it means. The magazine's niche is giving the community a good, reasoned, fact-based, interesting look at Florida — its people and its issues. (And, it works. Over the past nine years, Florida Weekly's writers, designers and ad builders have won 159 individual awards from the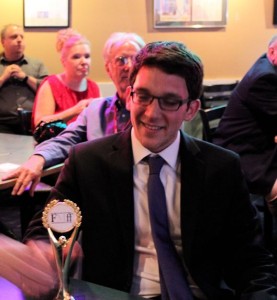 Florida Press Association, The Society of Professional Journalists and Florida Newspaper Advertising and Marketing Executives association. In addition, the Florida Press Association has named Florida Weekly the best weekly newspaper in the state for the past four years.)
Between 2004 and 2010, Wells served as metro editor and special projects editor at the Fort Myers News-Press. In the latter capacity, she directed coverage of FEMA, including the precedent-setting court case in which the News-Press sued the federal government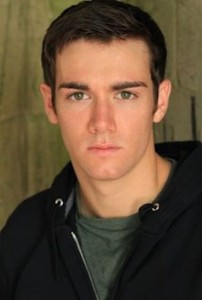 for public records and won. She also directed the paper's citizen journalist project, Team Watchdog, and other content and online projects. (Consisting of a team of 20 specially-culled volunteer citizen journalists prepared by experience to help reporters and editors with research and advice, Team Watchdog gave readers a sense of ownership and citizen inclusion in the news gathering process.)
Prior to her stint with the News-Press, Betty spent 23 years with Knight Ridder, at The Wichita Eagle in Kansas as a reporter and editor, in the Knight-Ridder Washington Bureau as a reporter, and at the Post-Tribune in Gary, Indiana, as managing editor and executive editor.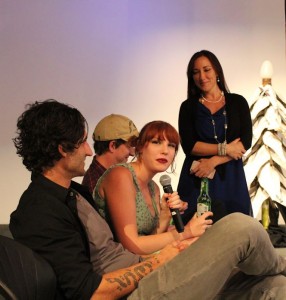 Wells is a graduate of Wichita State University.
Doors open for cocktails at 6:00, with screenings beginning promptly at 7:00 p.m. Elijah Green will perform as musical guest, and Melody Lane Performing Arts Center co-owner and director Katarina Danks will perform a dance routine.
T.G.I.M. gives you a bird's eye view of how the Fort Myers Film Festival views submissions and gives you a say in which submissions make it into the 7th Annual FMff. T.G.I.M. is brought to you in part by Riverside Realty,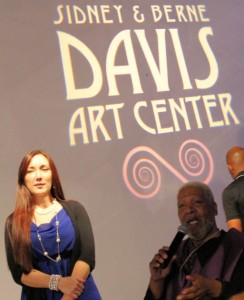 Capone's Pizza, Bennett's Fresh Roast Coffee, Florida Weekly, Higginson Tax & Accounting and Florida SouthWestern State College and j Bert Davis MD FACS.
December 31, 2016.
Related Posts: