Film and event schedule for Thursday, April 7, 2016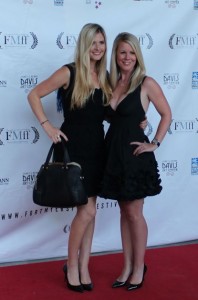 The Sixth Annual Fort Myers Film Festival opens on Thursday, April 7. Of course, for most Southwest Florida cineasts, the focus will be on the opening night gala at the Barbara B. Mann Performing Arts Hall, where the festival will host the world premiere of John Scoular's Marcus Jansen – Examine & Report, a documentary that introduces Southwest Florida residents and visitors to the world of contemporary art through the atelier of Marcus Jansen, a critically-acclaimed and celebrated Fort Myers artist who has been exhibiting his work on an international scale for the last two decades. Scoular's documentary includes a host of art celebrities and personalities, including Steve Lazarides, Lawrence Voytek, WEST Rubinstein, Brooke Lynn Mcgowan,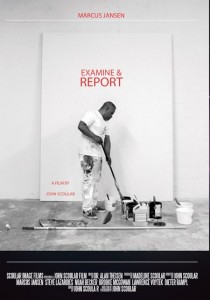 Noah Becker, Dieter Rampl and more, and the screening will be followed with a Q&A with both Marcus Jansen and John Scoular, as well as a chic, suave and sophisticated after-party right on the stage of the Performing Arts Hall. The red carpet will be unfurled at 5:00 p.m. for hors d'ouevres and cocktails, with the screening beginning promptly at 7:00 p.m.
While the red carpet gala may represent the icing, there's plenty of cake on April 7 as the festivl will present a full day of programming at venues which include the Heights Foundation, Quality of Life Center and Sidney & Berne Davis Art Center.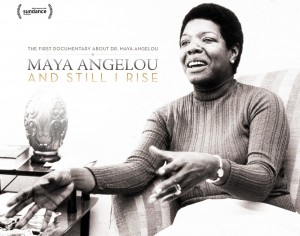 The Heights Foundation will be the site of a 3 p.m. student screening of Maya Angelou and Still I Rise (125m, U S A) by Bob Hercules and Rita Coburn Whack, who plan on attending. The inspiring documentary, played only at Sundance before the Fort Myers Film Festival, takes an intimate look at the celebrated author's tumultuous childhood riddled with sexual abuse and racism and her ascent to become one of the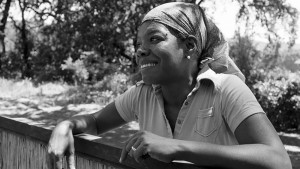 most celebrated and inspirational figures of our era. This screening is being produced with special thanks to the SWFL Community Foundation and will be followed by a Q&A with directors Bob Hercules and Rita Coburn Whack.
A second screening of Maya Angelou and Still I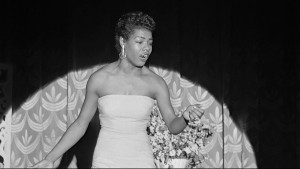 Rise will take place on April 7 at 6 p.m. at the Quality of Life Center. Filmmakers Bob Hercules and Rita Coburn Whack also plan to attend this screening and will participate in a Q&A following the film as well.
The films start early at the Sidney & Berne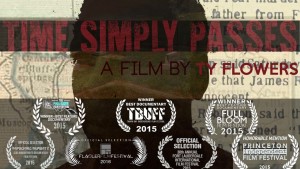 Davis Art Center and will continue to mid-afternoon:
10 a.m. Time Simply Passes (54m, ) Time Simply Passes is a film about James Joseph Richardson, an orange picker in Florida who was wrongfully convicted of murdering his seven children in Lee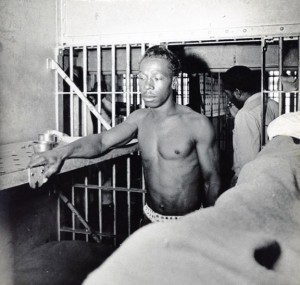 County in 1967. After spending 21 years in prison, he was released in 1989 when his conviction was overturned due to miraculous circumstances. He became a national celebrity and the face of the Innocence Movement, but for the last 25 years, he's been struggling to survive, living off donations from friends while attempting to receive compensation from the State. This is a film about race, about Florida, about the evolution of small-town justice, about forgotten historical moments, about systemic corruption at all levels of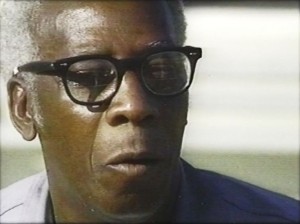 government, and a philosophical evaluation of the concept of restorative compensatory justice. The screening will be followed by a Q&A with director Ty Flowers. [Strictly Local: Justice; Race; Black; Lee County]
11 a.m. Following Time Simply Passes, the festival will host a panel discussion with journalists, filmmakers and the festival's executive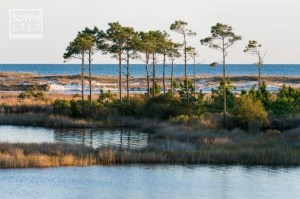 and programming directors.
12 p.m. Coastal Dune Lakes: Jewels of Florida's Emerald Coast (56m, U S A) The coastal dune lakes of northwest Florida are home to many diverse species—some of them endangered, such as the loggerhead sea turtle, the snowy plover, and the Choctawhatchee beach mouse. These lakes also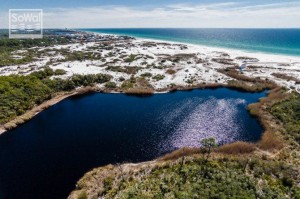 offer locals and visitors a peaceful haven, which has led to an increase in human activity resulting in both positive and negative effects. In this documentary, filmmaker Elam Stoltzfus takes viewers on a journey in which they'll see what makes them so  unique and what local organizations are doing to ensure that future generations can enjoy Florida's natural beauty and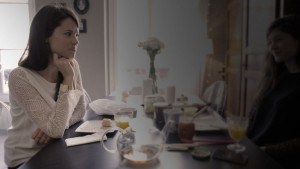 endangered wildlife. [Documentaries: Florida water; Climate; Wildlife protection]
1 p.m. She Started It (90m, USA) Directed by Nora Poggi, She Started It is a documentary that provides a rare look at the lives of five ambitious women entrepreneurs (Thuy, Brienne, Sheena,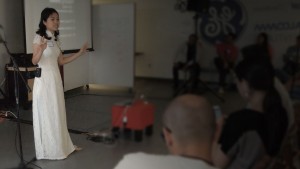 Stacey & Agathe) who will stop at nothing to pursue their dreams. [Documentaries: Women, Business: Entrepreneur]
2:30 p.m. SHORTS BLOCK #1
Voice of the Valley (12m, U S A) Born with TAR syndrome, a rare genetic disorder, Colby VanVoorhis uses his voice to fit in and indulge his love for sports. dir. by Kenny MacBain Shorts: TAR syndrome; Inspiration
El Primer Dia (20m, U S A) On his first day out of prison, a troubled man tries to re-establish his relationship with his five year old daughter. Director Rita Pereyra (in middle of photo to the right) and fellow MDC students Martin Castañeda and Andrea Estrada won both the Jury Grand Prize and the Audience Award for El primer dia (The First Day) at the 2015 Miami International Film Festival's 5th Annual Cinemaslam competition. The film also won awards for Best Drama, Best Actor, Best Actress and Best Director, winning the most awards of any one film in Cinemaslam history. [Shorts: Christian, Hispanic, Latino, Women, Student Film, Children, Mature/Adult, Black, Senior, Youth]
Two left feet (6m, Italy) In a neighborhood of Rome, Mirko is playing soccer with his friends. He meets Luana, sitting nearby. The two twelve years olds hit it off but an awful surprise leaves Mirko breathless. Luana instead smiles happily for the first time in her life. dir. by Claudia Mignosi Shorts: Disability, Children, Youth, Comedy
Von Strantz "1793" (5m, U S A) Practical effects create this unique music video about a marionette's journey to the city. The video was filmed in layers with a projection of the lead singers face cast onto a mask and puppet. sub. by Joe Leavell Short Shorts: Animation, Film Noir, Drama, Romance, Horror, Thriller, Fantasy, Music, Adventure
Wild Vision (9m, U S A) Although Carl Heilman II has been photographing the beauty of the Adirondacks for 40 years, there's something that keeps him coming back for more. dir. by Daniel McCullum Documentaries: Photography; Natural beauty
The Blue Room (5m, U S A) A short film about a young woman having a phone conversation with her mother. dir. by Mathilde Suissa Shorts: Women, Student Film
3:30 p.m. SHORTS BLOCK #2
The Break Up (3m, U S A) A boy and his imaginary friend decide it's time to part ways. dir. by Desta Reff Short Shorts: Children; Imagination
Touch (6m, U S A) A curious photographer lives through her camera and views the world through her lens. However by doing so, she may be losing touch with humanity. dir. by Harper Rogers Shorts: Children; Mystery; Adventure
Travel Companions (3m, U S A) Oursie the bear and Ampersand the snail go on a journey to reunite Ampersand with her family. Along the way they must brave the elements, and discover that it's who you're with that makes your travels worthwhile. sub. by Alex Anderson-Kenney Short Shorts: Children; Animation; Family
Golden Shot (9m, Turkey) Imagine the sun, by looking at a light bulb. dir. by Gokalp Gonen Shorts: Animation, Science Fiction, Fantasy, Action, Mystery, Adventure
A Drag Queen For Kids (14m, U S A) A show that's complicated for everyone except the kids. Directed by Byron Karabatsos,  A Drag Queen for Kids follows Dito Van Reigersberg and his alter ego, Martha Graham Cracker, as they prepare for and perform a kids show. Dr. Seuss. Jokes are reshaped, songs carefully altered, innuendos abound. This short film shows that what makes a drag queen powerful – and dangerous – isn't her clothes, it's her empathy.[Documentaries: LGBTQ; Children]
Tickets, trailers and further information on individual films, panels, Q&As, trailers and more are available on FMff's website as well as on Facebook. If you live here, you certainly should be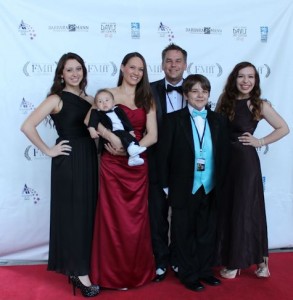 proud of your festival—now in our 6th year. If you are coming from out of town, prepare yourself for an amazing week of independent films, fun, excitement and most of all—inspiration. #beINSPIRED #FMFF2016.
Tickets to the opening night film and party ARE ON SALE NOW CLICK HERE. Tickets to the rest of the films is available as well.
Related Articles.