Rebecca McFadzien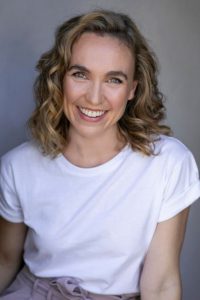 Bad Kiwis by Deb Foster and Rebecca McFadzien was named Best Short Film at the 8th Annual Fort Myers Film Festival in 2018. The filmmakers are back again this year. With Bad Kiwis 2: Kiwi Driver, an eight minute comedy in which the duo visit the California DMV for purposes of getting their U.S. driver's licenses. The acting is crisp. The wit is as quick as Rebecca's driving. The yarn is as good as gold. And the production value (cinematography, sound, music) will impress even the most discerning filmmaker.
Rebecca plays the part of Summer, a Skux Kiwi who's not about to be fobbed off by bureaucratic red tape or a DMV examiner who not only lacks a sense of humor but has the poor judgment to mistake Rebecca for (I'm loathe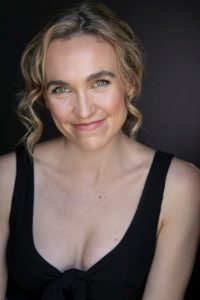 to even say it) an Australian eh! But her filmography includes a total of 17 films. In addition to Bad Kiwis and Bad Kiwis 2: Kiwi Driver, she plays Zoe in Muse (currently in post-production), Blair in Happy Birthday Duncan (also in post-production), Red Room Trainee in the TV movie Black Widow Origins (2017), Claire in the TV Series Passive Aggressive Secret Santas (2017), Hazel in the pilot for the TV Series Tinerellas (2016), Claire in the TV Series A Los Angeles Friendsgiving (2016), Brit in the low-budget 2016 horror film Quarries (which took home the award for Best Narrative Feature at the Women's Independent Film Festival in London), Tara in the short film Archie the Time Machine (2016), Amelia King in the TV movie Project J (2016), a student in Syrenia (2015), a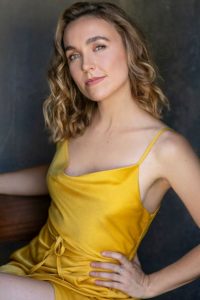 Tour Guide in Power Rangers Dino Charge (2015) and a waitress in the TV Series short Flat3.
Although McFadzien considers herself a true Kiwi, she was actually born Off-Broadway in New York. However, her parents had the good sense to raise and educate her in New Zealand, and she developed her love of acting and dislike for wearing shoes during her formative years in the Brook Haven suburb of Auckland (which she and Deb Foster reference in Kiwi Driver and underscore in a scene in which she ditches her stylish tan heels in favor of more practical jandals (flip flops) as she runs back and forth to the DMV in order to provide proof of residency).
Rebecca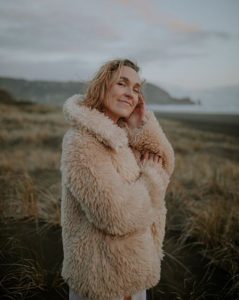 has a Bachelors of Performing and Screen Arts Degree from Unitec in Auckland, appeared as a guest star in the long-running Kiwi soap Shortland Street (as Veronica Greenwood) and Power Rangers, and then moved to Los Angeles. Days after her arrival, she landed the role of Brit (a bubbly, inclusive and incredibly chatty Kiwi) in the female-driven thriller Quarries (see above). Since then, she has worked on various television series, including the new Lifetime Network Comedy series Battle of the Sexes. She has also played the female lead in the pilots for two other television series, Walter Wants a Woman and Fairy Luna and Friends.
McFadzien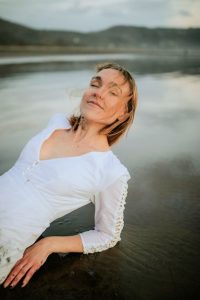 has also performed in several roles on stage, including Anne in The Diary of Anne Frank, Sandy in Grease, Mayzie in Seussical, and Belle in Disney's Beauty and the Beast. But she got her first lead at the age of just ten, when she landed the role of Annie in Dublin. She has also been doing some presenting work for both live and recorded events.
Rebecca prefers screen acting to the stage because "the honest intimacy, the deep level of raw vulnerability and the brave acceptance of imperfection" can be conveyed to the viewer "through the mere flicker of an eye or twitch of a lip." As both a filmmaker and writer, Rebecca aspires to create positive change in the world through the stories she tells while empowering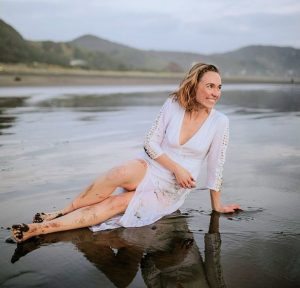 others to be true to themselves. Essentially, her goal is to bring a little sunshine into the world or, at the very least, give people a laugh.
Rebecca loves swimming in the ocean, gazing up at the moon, collecting crystals and connecting with people. To find out more about Rebecca, check out her Facebook page: https://www.facebook.com/rebeccamcfadz.