With 'Ori,' Shelbie Tyndall takes quantum leap as actor, screenwriter and aspiring filmmaker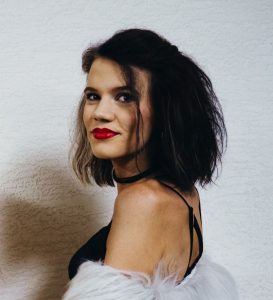 Shelbie Tyndall plays the part of Miriam in Ghostbird Theatre Company's upcoming video production of Ori, a new play written by Ghostbird Artistic Director and FGCU Theatre Professor Barry Cavin. It's a role that represents a quantum leap in this emerging creative's craft not only as an actor, but as a screenwriter and aspiring filmmaker.
Tyndall's impressive resume contains numerous screenwriting credits, but not many appearances on stage or in film. In fact, her background as an actor is in musical theater. In high school, she appeared in several musicals, including Man of La Mancha. But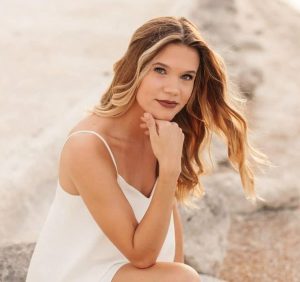 Cavin noticed her potential as a dramatic actor during her work in various theater classes at Florida Gulf Coast University. And so he cast her as Bawd in Antonin Artaud's Jet of Blood, part of Ghostbird's October House, performed last year in the historic Langford-Kingston Home.
"It was a small role," laughs Shelbie, who is charmingly self-deprecating. True, she had but a single line of dialogue. But that's not to say her presence in Jet of Blood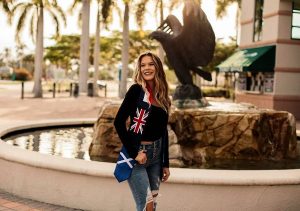 was insignificant or fleeting. The part required her to express her character's persona through movement, physicality and blocking. She acquitted herself well.
So well, in fact, that Cavin immediately thought of Tyndall for the central figure in Ori. She immediately accepted when he offered her the part, little realizing at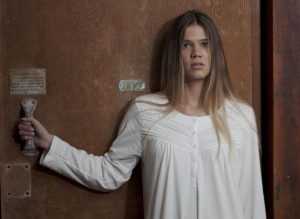 the time how big a role it was. Only later, when Cavin handed her the script, did she discover how many lines Cavin had assigned to Miriam, a woman held captive on a dying island who is suddenly faced with an incomprehensible choice – leave and start a new life someplace else or remain behind in a place she's come to call home.
Reluctant to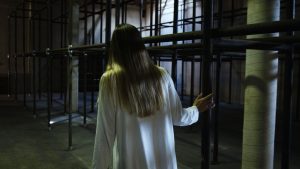 give away too much, Tyndall is circumspect when it comes to discussing her character. "Miriam is really strong-willed, and just as we're going through hard times right now, trying to decide not only what's good for us but also good for a majority of the people, Miriam has to decide when to make selfish and selfless decisions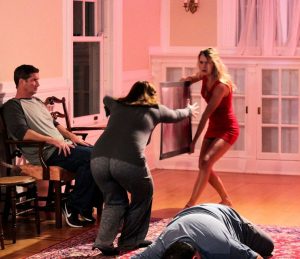 in terms of her wellbeing and the wellbeing of others. She is really an inspiring character."
Tyndall is strong in her own right, as well.
When she and the Ori cast began rehearsals, they expected to perform the piece as a play under the stars and night sky in the Calusa Nature Center Planetarium. But when the pandemic struck, Cavin not only had to change venue, he had to shift to a video presentation.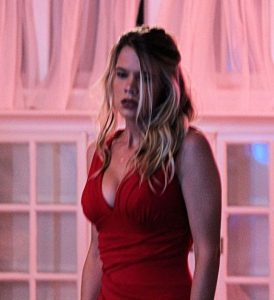 "When he said it was going to be a film, I was kind of blown away," Shelbie recalls. "I didn't know how to approach it."
She adapted quickly.
As it turned out, the change in plans benefited Tyndall in two profound ways. When she was learning her lines and rehearsing to do a live stage play, she had to plan on doing each run sequentially from beginning to end. But that's not how the play was filmed.
"To accommodate everybody's crazy [COVID-influenced] schedules,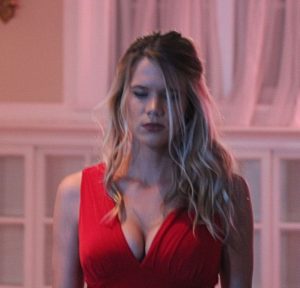 we filmed the scenes out of order. For example, on Friday we filmed [scenes] 12, 17 and 23."
Cavin has a reputation for writing nonlinear stories any way, but now Tyndall was also required to perform her role in a nonlinear format, being mindful of her character's progression in both earlier and later scenes but careful not to let that bleed into the current scene. It's a closer approximation to the way in which films are normally shot,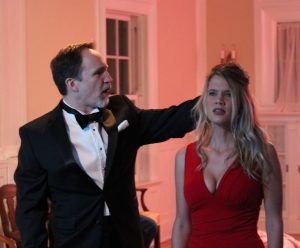 but in this case, she had the benefit of being able to compare and contrast the way in which a stage production is performed versus how a movie is typically made.
But performing the part of Miriam also gave Tyndall a greater appreciation for the role of the actor in both a stage production and film.
"It was kind of cool to see what happens on the [acting] side because usually I'm writing the screenplay or serving as the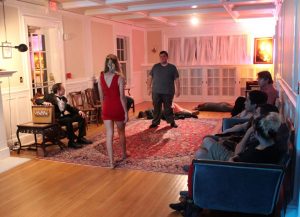 script supervisor, making sure everything is being consistent. I had a lot of questions for Barry, this being his original work, about what he was specifically envisioning for the character in different scenes. It forced me to think about what I wanted the audience to see from moment to moment, and how I could best portray what he wanted not only as writer, but as the director.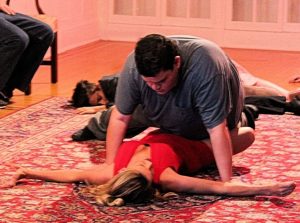 Knowing some of the questions an actor might have for the writer, what their initial process is, and their intentions for the audience will unquestionably enhance my screenwriting."
And that is certain to inform the way she writes dialogue, conceives characters and formulates plot and storyboards – as will knowing first-hand what it's like to perform scenes out of order.
Tyndall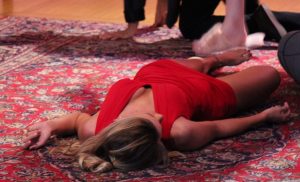 expects her work with Ghostbird to improve her overall writing skills in other ways too.
"I'd seen some of their performances previously, but actually being in a couple of their productions has been very humbling. Ghostbird encapsulates what live performance is all about, what it is supposed to be, namely making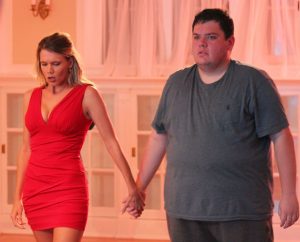 the audience question the human condition."
And because Ghostbird focuses on site specific, in situ theater, it has also taught Tyndall the importance of set and location.
That lesson has been particularly poignant in connection with Ori, which was moved to the Buckingham Complex for filming.
"Buckingham Complex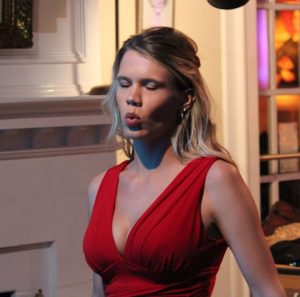 is so creepy given its history [go here for more on that], but also it was kind of beautiful being in this abandoned community where people just got up and walked away. It kind of really fit the setting of the film. I was initially disappointed that we couldn't do the play at the Calusa Planetarium under the stars, but this really worked out for the film because it had this eeriness and beauty of being [in place that has been] untouched for so long."
The Buckingham Complex originally opened in 1960 as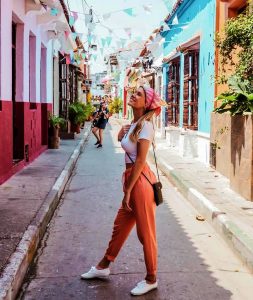 the Sunland Training Complex, a self-contained city comprised of suburban-style homes that were utilized to house people with developmental disabilities from infancy to old age. But Shelbie's awareness of the place is more than merely academic. As a lifelong North Fort Myers resident, she not only knew quite a bit about the history of the location before she and her cast mates went out there to film Ori, a friend of the family worked there for several years before it closed in 2010.
"It feels a waste and it's kind of sad so I'm glad that we were able to utilize it a little bit."
Shelbie's roles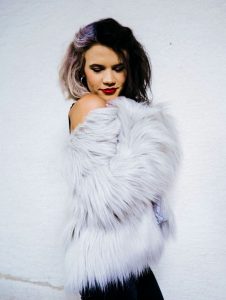 in Jet of Blood and Ori has provided yet another benefit. They gave her the opportunity to observe Barry Cavin direct. Just as Jet of Blood prepared Tyndall for her role in Ori, Shelbie sees her role in Ori as preparing her to direct a film of her own one day.
Her affiliation with filmmaker Aaron Jackson and his company, Dangerous Curves, is also conditioning her to make that inevitable transition.
"I think being in the crew and writing and acting and seeing direction first hand from Barry and Aaron Jackson is definitely leading me in that direction," Shelbie agrees.
But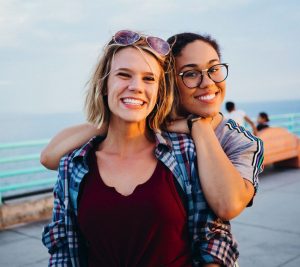 she's not waiting around for something to happen. No, Shelbie Tyndall makes her own magic.
In spite of the pandemic, she's busy writing. She terms that as a "coping strategy," but the truth is that she has something to say. Often times, she speaks through her screenwriting, where she collaborates with bestie Lauren Tindle (who plays her sister, Jordan, in Ori).
"We hope, as friends, to make movies together. We're definitely kindred spirits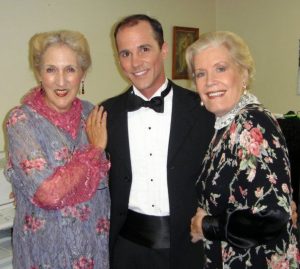 when it comes to writing. We would love to put out some film work that has representation of the LBGTQ community and people, especially women of color. That would be the ultimate goal."
And she's also an aspiring songwriter.
"I'm hoping to put out an EP soon," she teases. "I taught myself the guitar and ukulele, and it's been a wonderful way to experiment with my writing."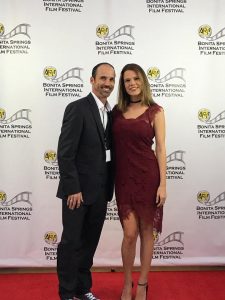 (She's even got a feel for how to perform in a fun, gotta-see-it-again music video (where's she lip sincs some T-Swift.)
While Tyndall has not allowed the pandemic to derail her, COVID not only spoiled graduation form FGCU, it's forced a change in her post-graduation plans.
"Before COVID, I was going to take some classes and then teach English abroad, but that is not an option any longer so I'm going to be a substitute teacher for a while until I get to do what I really want to do."
And she'll be collaborating with Jackson and Dangerous Curves in the next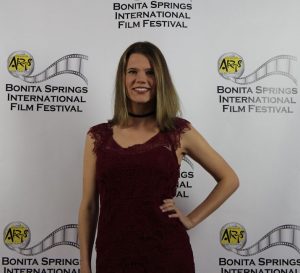 iteration of the 48-Hour Film Festival in Richmond, Virginia and Greensborough, North Carolina. The 48-Hour is a wild and sleepless weekend affair in which filmmaking teams write, cast, shoot, edit and produce short films in just 48 frenetic hours. In 2016, she co-wrote the screenplay (in just two hours) on behalf of Jackson's team for a short film titled Fighting a War of My Own, which went on to receive eight nominations and six awards at the Richmond, Virginia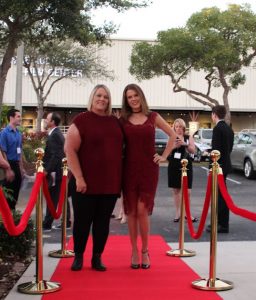 48-Hour Film Festival, including Best Writing and Best Use of Line. (Fighting a War of My Own was screened at the 2017 Bonita Springs International Film Festival.)
"I've been doing that with him pretty much every year since my sophomore year of high school."
Just as Ori has proven to be an invaluable learning experience for the actor-screenwriter-aspiring filmmaker, Shelbie thinks that the pandemic also has valuable lessons to teach.
"I think there are beautiful moments to come out of these hard times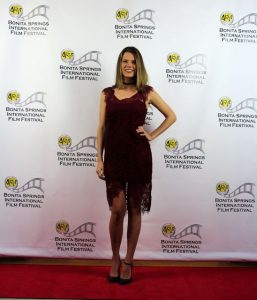 if we make of it what we can. While Ori has kind of a negative outlook, in the end, it's all about really living in the moment, holding on to what you have and viewing that as important."
Perhaps we should add philosopher to Shelbie Tyndall's creative repertoire. Then again, what screenwriter/playwright doesn't have a little bit of philosopher in her?
You can see Shelbie Tyndall as Miriam in Ori on August 7 on Ghostbird Theatre Company's new YouTube Channel. Details will be forthcoming.
July 27, 2020.