Spotlight on 'Buck's Backyard' mural finalist J.P. Almonacid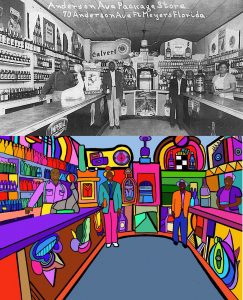 J.P. Almonacid is one of three finalists chosen by a selection committee to paint a mural out at McCollum Hall. Called Buck's Backyard, the project is a homage to the Safety Hill gathering place that became an epicenter for entertainment, dances and social events in the 1930s and '40s.
Born in Chicago in 1974, Almonacid was raised across the Alley in Broward County where he was heavily influenced by graffiti and graphic arts. He drew upon these artistic sensibilities when he moved to Bogota, Columbia in 1993, pioneering the graffiti and street art culture that exists today throughout the country.
"I worked as an ESL teacher, and on my time off, I worked in my home studio," says J.P. "By 2005, I had a full-time sponsor and was able to work full-time in my own studio until 2018," with his work consisting of large-scale canvases and sculpture during this time.
Almonacid moved back to the United States in 2018 and took up residency in the Fort Myers area. In addition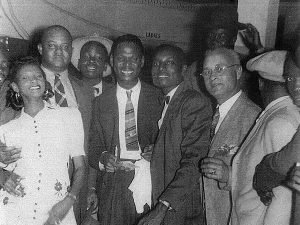 to participating in group shows at Arts for ACT Gallery and the Sidney & Berne Davis Art Center, he has also had exhibitions in Carlos Nieto Gallery in Bogota in 2009, the Museum of Contemporary Art of Bogota in 2007, Alianza-Colombo Fransesa Santa Marta in 2003 and Quinta San Pedro Alejandrino Museum in Santa Marta, Columbia in 2002. His mural work includes commissions at Vertical Aviation in Bogota in 2013,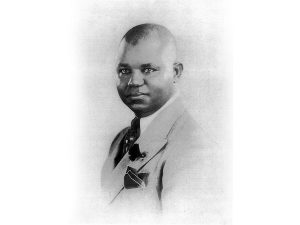 Productos Morgan Tenjo Columbia in 2011 and for Marcela Moreno of Bogota in 2012 and 2010.
The Buck's Backyard mural will be painted on seventeen concrete panels on the eight-foot-wall that separates McCollum Hall from the residential neighborhood that adjoins the property to the north. During the 1930s and '40s, McCollum Hall became Southwest Florida's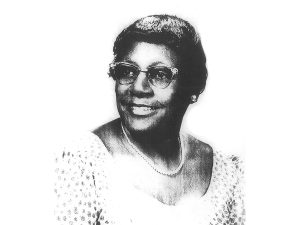 most famous entertainment venue. Part of the "Chitlin' Circuit," the second-floor dance hall hosted such internationally-renowned musicians as Count Basie, Louis Armstrong, B.B. King, Lionel Hampton, Otis Redding, Lucky Milliner and Duke Ellington and his orchestra. During performances, many area residents would gather in the parking lot outside, where they would play along with the musicians inside on slap boxes,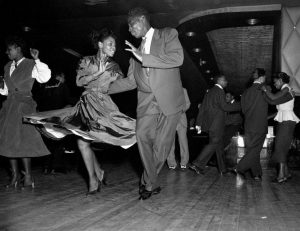 harmonicas and other instruments, eat barbeque, drink beer and smoke cigars. The venue was also the site of boxing matches, dances and other social events. Affectionately named Buck's Backyard after the building's owner Clifford "Buck" McCollum Sr., the grounds and parking lot also became the epicenter of impromptu jam sessions, socializing and just plain hangin' out.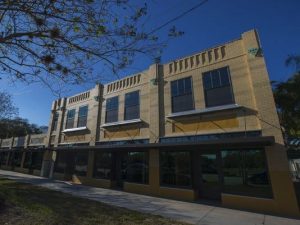 Joining Almonacid as finalists for the commission are artists Michael Rosato and Erik Schlake. Each of the finalists will present their final design concepts to the City of Fort Myers Public Art Committee on Tuesday, September 15. The meeting is open to the public and those wishing to have input on the winning design are welcome to attend and voice their opinions. The Fort Myers Mural Society anticipates that work on the mural will begin in early January and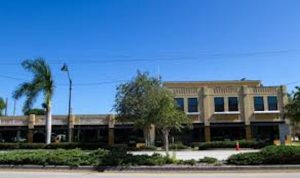 completed on or before April 30, 2021.
For more on the selection process and McCollum Hall's transformation into a retail and multi-use event space, please go here.
July 27, 2020.