Spotlight on 'Buck's Backyard' mural finalist Michael Rosato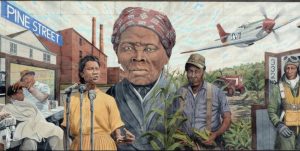 Michael Rosato is the second of three finalists chosen by a selection committee to paint a mural out at McCollum Hall. Called Buck's Backyard, the project is a homage to the Safety Hill gathering place that became an epicenter for entertainment, dances and social events in the 1930s and '40s.
Rosato

specializes in designing and painting large-scale murals for public and private spaces. He paints most of his work on canvas in his studio and then personally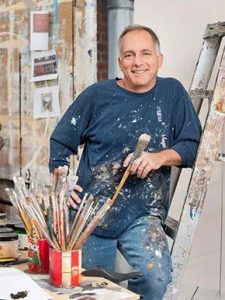 installs the finished paintings on site.
Corporations, museums and individuals have commissioned Michael to create artworks for display in museum exhibits, corporate headquarters, retail spaces, restaurants, sports arenas, outdoor venues and private residences. His murals can be found in venues across the country, including the Oklahoma City National Memorial in Oklahoma City, Texas Motor Speedway in Fort Worth, the Smithsonian Museum of Natural History in Washington, D.C., the Loudoun Heritage Farm Museum, in Sterling, Virginia, the Headquarters of Bacardi Rum in San Juan, Puerto Rico, the Texas Ranger's Ballpark in Arlington, TX, the U.S.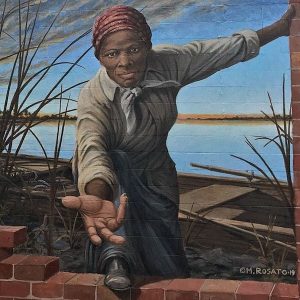 Fish and Wildlife Museum in Cape Charles, Virginia, the Virginia Military Institute in Lexington, Virginia and the Chesapeake Country Mural Trail in Cambridge, Maryland. But his work gained national attention and headlines in 2018 when his mural Take My Hand went viral online, was featured by the Today Show twice in one week and was covered by news outlets including The Washington Post and The Baltimore Sun.
Take My Hand celebrates Harriet Tubman, a colossal mural that reflects Rosato's signature style of painting,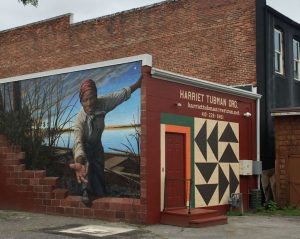 which is characterized by monumental compositions, site-specific subject matter and expert use of trompe-l'oeil. It adorns the exterior wall of a museum dedicated to the African-American abolitionist who helped other former slaves flee the South through the Underground Railroad.
Before starting the project, he gathered input from community members in an effort to ascertain what they hoped the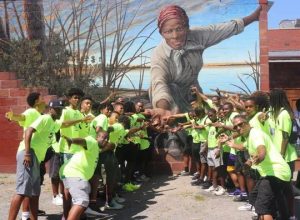 mural would convey.
"I knew the mural had to communicate the essence of what Harriet means to people, who she was, and what she stood for," Rosato told My Modern Met art writer Kelly Richman-Abdou for an article published on September 11, 2019. "I also wanted to create an engaging image that people would want to interact with. I knew I had to capture [her courage and strength]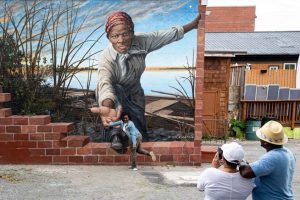 and create a moment for people of all ages and backgrounds that would be inspiring and reflective. I felt a huge amount of responsibility to the African American community to portray this heroic woman with honesty and integrity."
In addition to working intimately with stakeholders in connection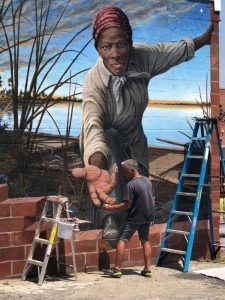 with the Tubman mural, Rosato has seen first-hand how murals can help revitalize a community. In Cambridge, he has worked closely with the Arts and Entertainment District (the equivalent of our local River District Alliance and Community Redevelopment Association), which hired him to paint large-scale murals across the city that brought to life and public attention the power and rich histories of the African-American community on Pine Street (which is one of the oldest African-American communities in the country, dating back t the mid-1800s).
"There is no one in the area like him that has done such extensive work

all over the country," Dorchester County Tourism Director Amanda Fenstermaker told Sonya Walker last fall for an article appearing in the Tallahassee Democrat on November 26, 2019. "We just really appreciated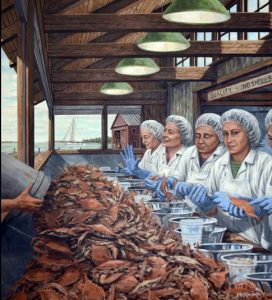 how much he knew about the Eastern Shore and the heritage here, the heritage of the community and how he could really take those stories and concepts to life with his art."
Rosato has a degree in Interior Design from Florida State University, but he taught himself to draw through a combination of visiting museums in Florence, Italy as well as New York City and Washington, D.C. and drawing black-and-white Michelangelo sketches on the wall of his NYC apartment. He also apprenticed with a DC-based muralist, where he learned the basics of underpainting,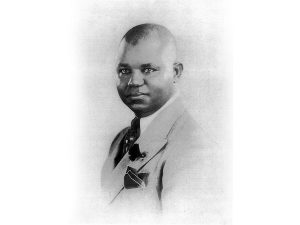 mixing colors and applied pigment to exterior walls. But he credits FSU Design Professor Peter Munton with cultivating the seeds of his latent creativity when he asked Rosato and a group of other students during a luncheon, "Who here believes in magic?" He has now been painting in excess of 27 years.
The Buck's Backyard mural will be painted on seventeen concrete panels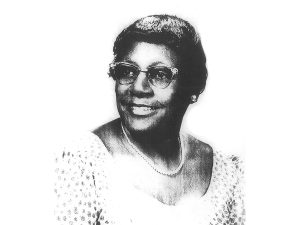 on the eight-foot-wall that separates McCollum Hall from the residential neighborhood that adjoins the property to the north. During the 1930s and '40s, McCollum Hall became Southwest Florida's most famous entertainment venue. Part of the "Chitlin' Circuit," the second-floor dance hall hosted such internationally-renowned musicians as Count Basie, Louis Armstrong, B.B. King, Lionel Hampton,
Otis Redding, Lucky Milliner and Duke Ellington and his orchestra. During performances, many area residents would gather in the parking lot outside, where they would play along with the musicians inside on slap boxes, harmonicas and other instruments, eat barbeque, drink beer and smoke cigars. The venue was also the site of boxing matches, dances and other social events. Affectionately named Buck's Backyard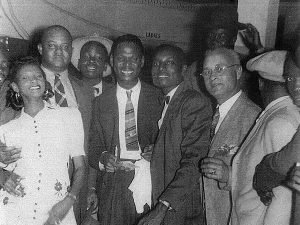 after the building's owner Clifford "Buck" McCollum Sr., the grounds and parking lot also became the epicenter of impromptu jam sessions, socializing and just plain hangin' out.
Joining Almonacid as finalists for the commission are artists Michael Rosato and Erik Schlake. Each of the finalists will present their final design concepts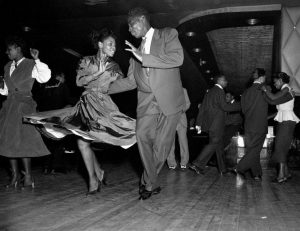 to the City of Fort Myers Public Art Committee on Tuesday, September 15. The meeting is open to the public and those wishing to have input on the winning design are welcome to attend and voice their opinions. The Fort Myers Mural Society anticipates that work on the mural will begin in early January and completed on or before April 30, 2021.
For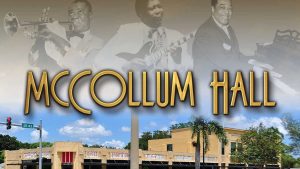 more on the selection process and McCollum Hall's transformation into a retail and multi-use event space, please go here.
July 28, 2020.