Big Temptation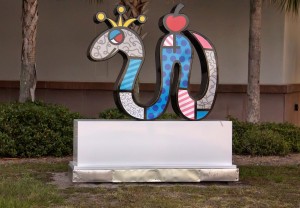 Set outside the Arts Complex is a enamel painted aluminum sculpture titled Big Temptation. The cartoon-like, colorfully patterned snake is the work of Miami-based Brazilian pop artist Romero Britto, who gave the piece to Florida Gulf Coast University after his retrospective in the Main Gallery in 2012. The snake is divided into nine sections by Britto's trademark black outlines. Among the patterns on the snake's skin are pink and white stripes and blue polka dots on a light blue background. Wearing a crown on its head, the serpent emits a sly look from its eyes and carries an apple on his back.
His Art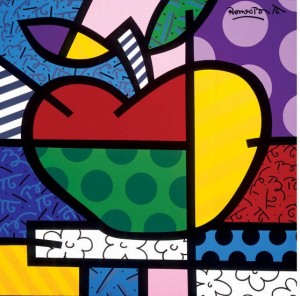 Romero Britto is a Miami-based Brazilian-born artist who combines elements of Cubism, pop art and graffiti painting to create sculptures and canvases that express hope and happiness. Over the course of his career, he has developed a visual language to express his unabashed faith in the world around him that consists of pulsating colors, bold patterns, playful themes and an inventive use of his signature within the confines of his paintings. The New York Times has written that his style "exudes warmth, optimism and love"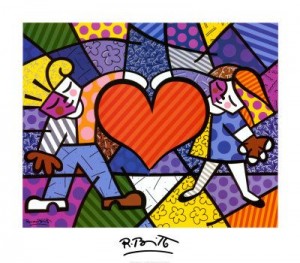 and has playfully described his style as "Matisse chanelling Picasso by way of Hello Kitty." Clearly influenced by the likes of Picasso, Braque and Matisse, collector Nancy Guggenheim posits that "Chagall's floating lovers seem to foreshadow so many of Brito's buoyant exultant couples." But not everyone is a fan. "He's a brilliant marketer, not an artist," counters University of Miami art historian Paula Harper."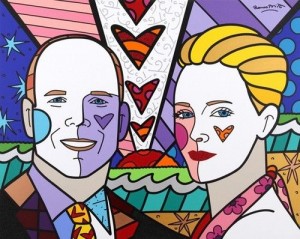 Britto counts a legion of celebs among the folks who collect his work, including Jennifer Lopez, Elton John, Emilio and Gloria Estefan, former presidents George Bush and Bill Clinton, the late Ted Kennedy and Whitney Houston, Arnold Schwarzeneger, Michael Jordan, Andre Agassi, the Guggenheim family, the Rothschilds, the Mitterands and former Whitney Museum president, William Woodside. His work has been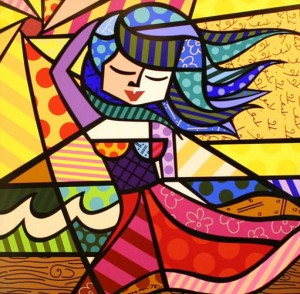 exhibited in more than 140 galleries on five continents, including the Salon de la Societe Nationale des Beaux Arts show at the Carrousel du Louvre in 2008 and 2010. In 2013, Maria Elena and Carlos Slim Domit made Britto the first living artist to exhibit at Museo Soumaya.
His museum exhibitions include:
Carrousel du Louvre, Salon Nationale des Beaux-Arts
Sonderausstellung der Kinder-Akademie Fulda, Germany
Louvre Museum, Salle Le Norte Paris, France
Today Art Museum Beijing, China
Sichuan Arts Museum Chengdu, China
Museum of Lu Xun Art Academy Shenyang, China
Museum of Guanghou Art Academy Guangzhou, China
Museum of Contemporary Art/MOCA Shanghai, China
Maison de Imerique Latine de Monaco- Monaco
Boca Raton Museum of Art Boca Raton, FL
Coral Springs Museum of Art Coral Springs, FL
Fine Arts Museum of Long Island Hempstead, NY
Florida Museum of Hispanic and Latin American Art Miami, FL
Museo de Bellas Artes- San Juan, Puerto Rico
Goodwill Games Museum, Lake Placid, NY
Museu Nacional de Belas Artes Rio de Janeiro, Brazil
Museo da Imagem e do Som Sao Paulo, Brazil
Officina de Arte Belo Horizonte, Brazil
Museo de Cinco Pontas Recife, Brazil
Benemerita Universidad Automoma de Puebla, Mexico
More than 20 cities hold Britto's sculptures in their public art collections and he has installations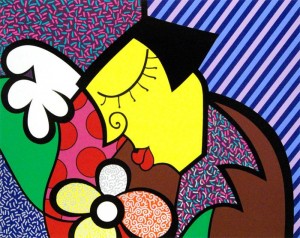 at the 02 Dome in Berlin, the John F. Kennedy International Airport in New York and the largest monumental sculpture in the history of London's Hyde Park.
His diverse resume also includes several series of postage stamp designs for the United Nations Postal Administration as well as a postage stamp in Brazil that commemorates the 450th anniversary of the city of Sao Paulo. Britto also created a living canvas performed by Cirque du Soleil in celebration of Super Bowl XLI.
About the Artist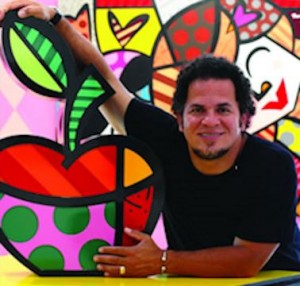 After visiting Paris in 1983 and exhibiting thereafter in a handful of galleries and private shows, Britto came to Miami in 1988. The following year, Michael Roux happened by Britto's first gallery in Coconut Grove. Founder of Absolut Vodka's high-profile Absolut Art ad campaign, Roux asked Britto to reinterpret the famous bottle. His design was seen by millions and his participation in the campaign with such iconic artists as Andy Warhol and Damien Hirst, Britto's career suddenly took off.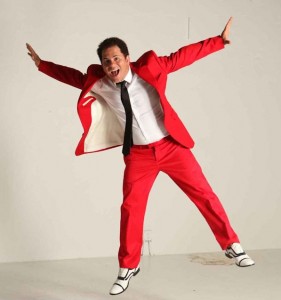 Other commissions soon followed, including Grand Marnier, Evian, Pepsi-Cola, Apple Computers, IBM, Disney, Mattel, Audi, Bentley, BMW, Movado, Enrico Coveri, Hublot, Technomarine and Royal Caribbean Cruises and BankAtlantic. He served as the official artist for the 2010 World Cup and was appointed Ambassador to the 2014 FIFA World Cup in Brazil. He has been profiled in numerous national publications including People Magazine, Art News, Variety, Leaders Magazine and FT Magazine, which including him in their list of 25 Brazilians to Watch.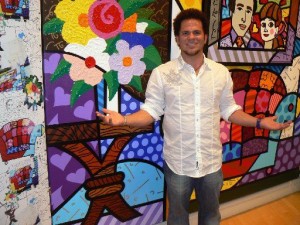 Believing that "art is too important not to share," Britto serves as an arts activist for charitable organizations worldwide. Over the course of his career, Britto has lent his name, reputation, time, talent and energy to more than 250 educational, charitable and philanthropic causes, such as the Andre Agassi Foundation for Education, the World Economic and Development Fund, Best Buddies International and St. Jude's Children's Research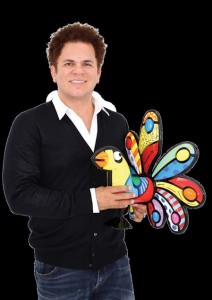 Hospital. He has also established his own foundation. Today, the Britto Foundation provides support to those who work to create, promote and encourage education and humanitarian-based initiatives that benefit children around the world. He has been named an inaugural founding benefactor of the Harvard International Negotiation Program, an initiative that seeks peaceful resolution of modern conflict. Through these endeavors, Britto demonstrates his commitment to developing and expanding the important role art plays in world issues.
Fast Facts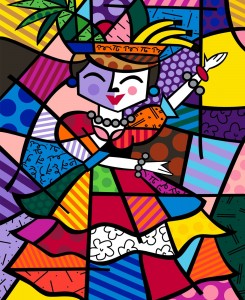 Among the likenesses that Britto has created are Art Basel founder Ernest Beyeler and Captiva's favorite son, Robert Rauschenberg.
In 2010 Britto published his first children's book, My Alphabet Playbook, which leads children through colorful collection of artistic learning.