Lizard
Located in the second floor lobby of the Cohen Center Student Union is a painted steel sculpture titled Lizard. It is the creation of Pennsylvania sculptor Bill Secunda.
About the Artist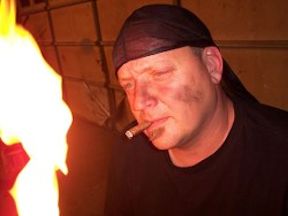 A self-taught metal sculptor, Bill Secunda delights in creating site specific pieces. Among the installations he's completed to date are an 18-foot fire-breathing monster emerging from a swamp in Alabama, a troll that spits water on passing visitors, a garden sculpture of two ticks jitterbugging on a globe for an entomologist in Georgia, a robotic BBQ grill, and several life-like sculptures at the Carnegie Museum of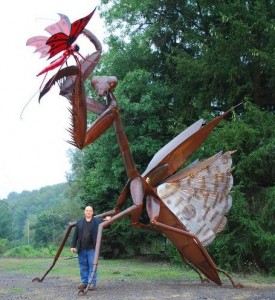 Natural History in Pittsburgh and at Disney's EPCOT. He also created three large insect sculptures for the St. Louis Zoo, as well as several twelve-foot steel cockroaches climbing the ABC Pest Control building in Dallas. A large 35-foot-diameter spider distracts drivers as they approach turn four of Barber Motorsports in Birmingham, and Ripley's Believe It or Not has purchased several pieces for their U.S. and international museums.
Working in the medium of individually welded nails, Secunda is admired for his ability to capture the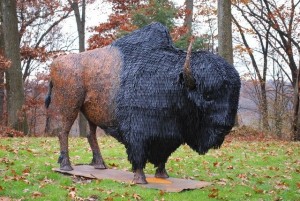 strength, agility and demeanor of the animals and insects he likes to portray. Whether from a distance or up close, his creations visually engage viewers from all angles.
As a youngster, Secunda spent many hours watching a neighbor fabricate and weld heavy equipment. He was intrigued. "When I got into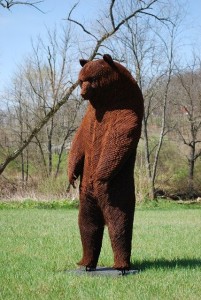 high school, I started taking night courses to get a job at Pullman Standard building railroad cars," Secunda elaborates. "Once in a while, I had a job where there wasn't a lot to do. I hated sitting around, so I always kind of put pieces of scrap together. I started making bugs out of scrap. That's how I got started."
His choice of nails as his medium was fortuitous too. "I wanted to build a bear and couldn't figure out how to do the fur," he explains. "I worked in a nail factory, and I realized that I could use nails and weld them to look like fur." Where he'd once incorporated found objects such as discarded hot water heaters and scrap metal into his sculpture, nails became his trademark and today he uses cut nails (a type of flat nail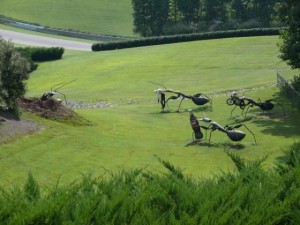 known as a masonry hard cut nail) almost exclusively. Some of his pieces are comprised by more than one hundred thousand individual nails. (Some of his insects, for example, are as large as 35 feet tall.)
Secunda has taken top ten honors at the 2009, 2010 and 2011 ArtPrize competition in Grand Rapids, Michigan, Best of Show at the 2004 and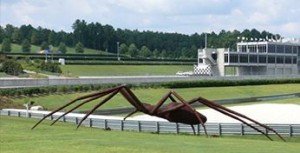 2006 Disney's Festival of the Masters, Best of 3D at the 2007 Bonita Springs National Art Festival, and Best of Show at the 2007 Art in the Park festival in Boulder City, Nevada.