Cosmos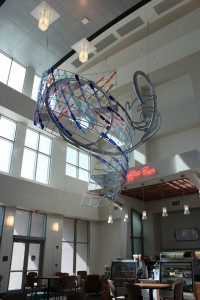 Hanging in Howard Hall on the Florida Gulf Coast University campus is a public artwork titled Cosmos. Representing "an abstract colorful cosmos of hypothetical stars and galaxies," the 15-foot-tall by 21-foot-wide modernist sculpture is comprised of recycled glass bottles and solar-powered electrical components stitched onto a framework of steel and welded aluminum that is suspended by stainless steel cables from beams overhead at three points of attachment.
From the white tiled floor of the student coffee bar, the piece does convey the look and feel of a galaxy of glass bottles floating upward in space like stars and cosmic bodies. However, viewed from the second floor mezzanine, the piece takes on a more dynamic and dramatic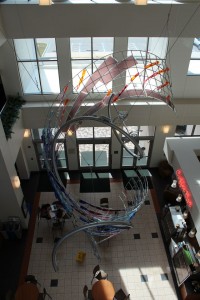 aspect, as if the assortment of midnight blue, green, purple, and rose bottles are being sucked into the vortex of some unseen black hole, a suggestion that is accentuated by the curlicues at either end of the central curved steel superstructure.
Affixed to the tail of that curved steel superstructure is a double spiral that, to Florida viewers, looks suspiciously like the symbol used by the National Weather Service and meteorologists to denote a hurricane. Interestingly, hurricanes do resemble double-spiral galaxies, which are thought to rotate or revolve around black holes. Some postulate that spiral galaxies express the principle of maximum work in quantum thermodynamics, vortex ether mechanics and other laws of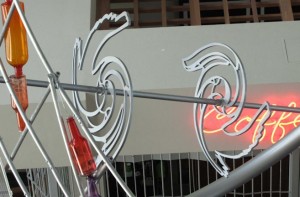 quantum physics. Regardless of the explanation, it is sufficient for the students and faculty who view Cosmos to note that some celestial systems do in fact possess the same shape as the hurricanes that periodically ravage the coast of Southwest Florida.
But the piece transcends extra-terrestrial themes. "While colored glass is naturally beautiful, bottles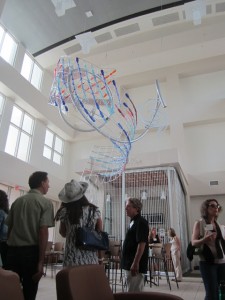 are also functional mass-produced objects that can bring up thoughts about contemporary culture and the challenge of sustainable living," states sculptor Marta Thoma Hall, who has developed a national reputation for incorporating recycled materials and utilizing renewable resources such as solar into her work. In fact, glass-bottle public art projects such as Double Wave, Water Source, Gila Shade, Two Tears and Water Drop Journey have resonated with city officials precisely because they serve to raise public awareness about ecological responsibility, conservation and sustainable living.
The work is kinetic, with the moving elements being powered by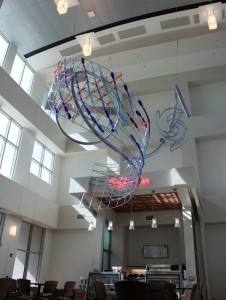 solar cells that are individually mounted on the art to catch sunlight. They are timed so that one element moves at the half hour and both elements move at the hour. The art rotates from several seconds to several minutes. As the kinetic spirals rotate, the colors change as the overlapping colors bottles cross each other and change position. The colors of the glass and acrylic bottles is semi-transparent so that different color combinations occur as they overlap each other. Fort example, pink tinted glass moving in front of blue tinted glass creates a purple effect. Yellow glass or acrylic moving in front of blue creates green. The ending position of the artwork is determined by the amount of sunlight coming in the windows that day, turning the spirals and gliding to a resting position that is random.
The overall weight of the piece is roughly 550 pounds. It was commissioned in May of 2011 and installed in 2012 at a cost of $84,800. Cosmos is part of the Florida Art in Public Buildings program, an initiative started in 1979 pursuant to section 255.043 of the Florida Statutes, which earmarks 0ne-half of one percent of the amount the legislature appropriates for the construction of state buildings for the acquisition of public artworks.
About Sculptor Marta Thoma Hall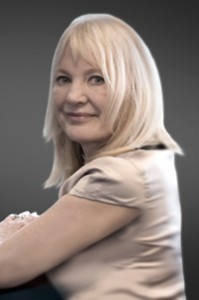 For more than three decades, sculptor Marta Thoma Hall has been creating celebrated public art installations and award-winning solo fine art exhibitions. As a nationally-recognized public artist, she has created integrated civic sculpture in Arizona, California, Florida and Washington State. Her work as an artist has taken her to New York, London, South America, and Asia. "I work with plastic, glass, and other recycled materials as much as possible. The bottles are safety treated for public art."
Her public art installations include:
Brain Works, 30′ glass and steel with solar in Bestor Art Park, San Jose CA (2013-14)
Water Source, Gila Blue, and Gila Mural, 150′ x 25′ with solar in Goodyear, Arizona (2011)
Journey of a Bottle, 25′ x 12′ suspended sculpture, in Walnut Creek Main Library (2010)
Journey of a Water Drop, 9′ x 15′ suspended sculpture, Blaine, WA (2010)
Hall graduated from the University of California, Berkeley with a B.A. in fine arts, but she learned extensively about economics from her father, who was a Professor of Economics at the University of Tehran. Today, Marta serves as President of Velodyne Acoustics, Inc., where she oversees the design and development of new products as the company expands into new markets. She looks forward to bringing her aesthetic and love of fine art to Velodyne's celebrated and legendary audio technology
Hall's Process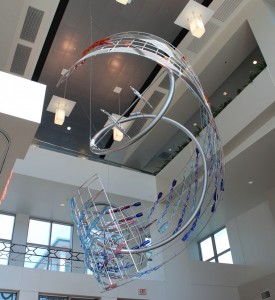 "My sculpture begins as a line drawing," states Marta Hall, who is assisted in her public artwork by husband, David. "The final sculptural composition changes depending on how the material moves, tells its story, and exerts its opinion."
"My recent steel sculptures are like line drawings made of various marks in space created by different weights of welded steel pipe and wire," Marta expounds. "Glass and plastic bottles are stitched onto this steel frame, like glass beads onto a tapestry. I learned to stitch and sew at an early age and it was a logical concept to thread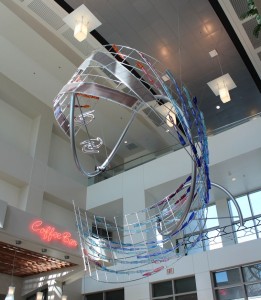 bottles with steel wire. Strung onto lines, the bottles are grouped together on the sculpture, creating tone and density that flow over the steel armature like transparent watercolors over a line drawing. The difference is that you can walk around the drawing."
In 1993, Hall participated in the Sanitary Fill Artist-In-Residency Program (now called the Recology Artist-in-Residency Program) at the Bay Area dump. She was inspired by the sight of bottles heaped into various discarded piles and created Earth Tear, an 8-foot-tall sculpture made of 250 plastic bottles and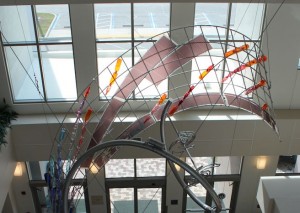 steel. "Transparent and tinted glass and plastic bottles are seductive like diamonds and gems. They are also mass-produced functional objects, quickly discarded and considered trash destined to become landfill. The sculpture embodies questions about what is beauty, what is art, what has value, and what is trash. It brings up questions about our culture, and how we are caring for the environment."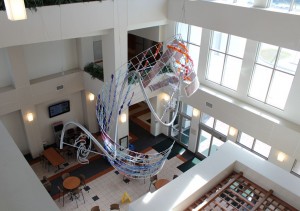 Permanently installed at the Recology Public Art Garden in South San Francisco, Earth Tear represents the seminal work in what Marta has come to call her "Green Art" series. "The [series] is a continuation of artwork informed by surrealism, cubism, modernism, pop art, and environmental art," Hall relates. "In 1989 I began making sculpture with 'ready-mades,' everyday items such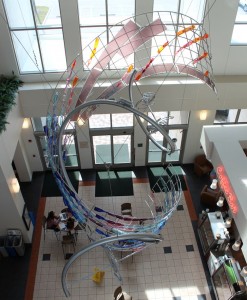 as spoons, industrial vents, fans, and flexible electrical conduit. By including such objects, I believe the work has the soul of a past life from its previous use and meaning in culture. Like in a dream, symbolic objects appear, and like a dream, the art can be the subject of varied interpretations."
"Hall's art evokes a sense of story and history, while mirroring and opening windows into the future," says Carrie Rehak, Ph.D, U.C. Berkeley. "Her art turns the ordinary into extraordinary, the uniform into the unique, and the utilitarian into sublime."
Cosmos is just the latest iteration of this long line of work.
About David Hall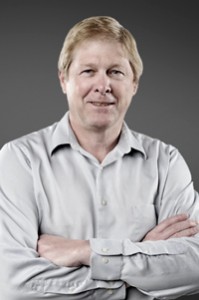 David Hall, founder and CEO, is the technology visionary behind Velodyne Acoustics, Inc. Hall built his first amplifier at the age of four and has been developing groundbreaking products ever since. In 1983, he introduced a revolutionary technology in subwoofer design, which served as the driving force behind the ULD-18. It incorporated a patented, accelerometer-based High Gain Servo System to control woofer cone movement. The ULD series was the first of many acclaimed subwoofer series over the past 30 years. Hall is equally comfortable writing computer code as he is at working in a machine shop.
Hall has continued his role as visionary, working tirelessly to bring his creative ideas to life. In addition to audio technology, he continues to pioneer the laser imaging space that many of the autonomous vehicles use today. He is currently developing self-stabilizing marine technology.
Hall graduated from Case Western Reserve University with B.S. in engineering. He is the father of three children and still enjoys a love for cycling and motorcycles. Hall continues to hold the world runner-up robot war championship title